Posted On: January 4, 2022 by Community HealthCare System in: News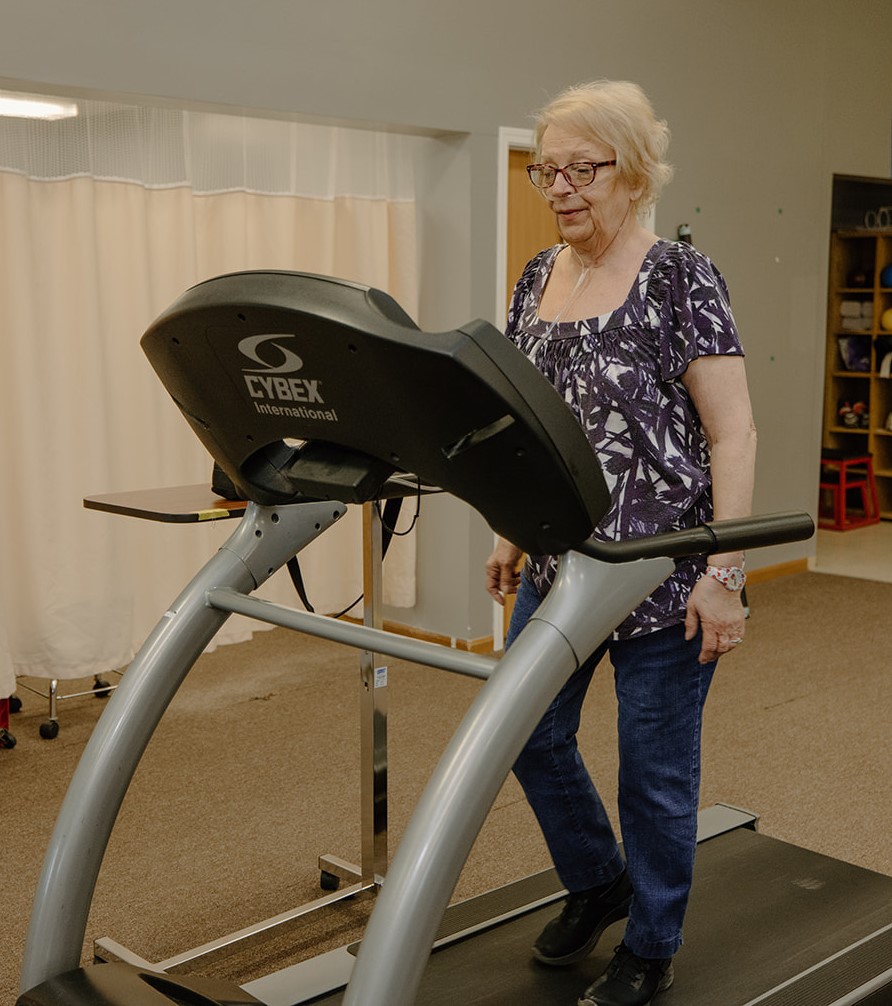 Getting oxygen into our bodies fuels even the most basic daily activities: Walking through a store, sweeping the floor, caring for pets. Breathing problems caused by lung disease can make even taking a shower or preparing a meal seem impossible, and those who suffer from such difficulties often lose energy and can become anxious or depressed.
Community HealthCare System now offers a program that can help. By adding Pulmonary Rehab to its Cardiac Rehab program, CHCS is ensuring that it can meet area patients' needs.
"Respiratory diagnoses were already common in our area, but the COVID-19 pandemic has highlighted just how much we needed to add pulmonary rehabilitation services. So we're happy to unveil our new Cardiopulmonary Rehabilitation Program," said Andrea Lutz, CHCS director of ancillary services.
The program is just in time to help many area patients. Meranda Schmitz, RN and Cardiopulmonary Rehab nurse, said COVID-19 is causing complications for many people with chronic lung conditions such as chronic obstructive pulmonary disease, or COPD; emphysema; interstitial lung disease; chronic bronchitis; and more. Schmitz and Respiratory Therapist Michelle Budreau are eager to give patients the tools help them regain strength and breathe easier.
Although pulmonary rehabilitation doesn't cure lung disease, it helps patients improve breathing and decrease symptoms. Nurses discuss patients' worries, symptoms, and goals, then they design an individualized program that includes exercise and education to help patients manage their condition and improve quality of life. Patients meet with a nurse or respiratory therapist twice weekly for two hours, and the program can last up to 18 weeks. Condensed programs are available.
Budreau has seen the effects of long-term lung problems on hospitalized patients.
"Time in the hospital is not sufficient to teach patients everything they need to know to manage their condition. Those who are recovering from COVID-19 are younger, and they are more anxious. We want people to know that they shouldn't be struggling three months out," Budreau said.
Schmitz said patients leave pulmonary rehab sessions knowing what to work on and how to enlist help from family members.
"Breathing and calming techniques help with anxiety, and the tools patients learn in the program help equip them to communicate with friends and family members to learn how to involve the family," she said.
Pulmonary rehabilitation programs are a gap in rural northeast Kansas that CHCS is helping to fill. Patients who have a lung condition like COPD or interstitial lung disease as well as those who have experienced a recent infection such as COVID-19 and who are still experiencing symptoms four weeks later should qualify for services.
"We are here to help. If you have a lung condition and think you would like to try pulmonary rehab but are unsure if you qualify, just call and talk with your provider or a member of our Cardiopulmonary team," said Chief Nursing Officer Mindy Olberding.
Cardiopulmonary Rehabilitation is available at Community HealthCare System's Onaga Community Hospital and meets in the Fitness Center. For more information, email [email protected] or call 785-889-4274, ext. 4177. Read more.