2023 OSHA SHARP: Safety & Health Achievement Recognition Program
Community HealthCare System continues to put patient, resident and associate health and safety first and has once again been recertified through a special program from the Occupational Safety and Health Administration. This is the 21st straight year for this achievement.
The On-site Consultation Program's Safety and Health Achievement Recognition Program (SHARP) recognizes employers who operate an exemplary safety and health management system. Since 2002, we have been recognized as the only Kansas hospital and one of only four nationally to achieve this prestigious certification.
---

2023 Home Healthcare Honors Elite
Our Home Healthcare agency has been named a 2023 HHCAHPS Honors Elite Award recipient, one of only 25 agencies nationally to receive the honor. This prestigious award, presented by HEALTHCAREfirst, recognizes home health agencies that continuously provide a positive experience and high-quality care as measured from the patient's perspective and determined by analysis of Home Health Consumer Assessment of Healthcare Providers and Systems (HHCAHPS) survey satisfaction measures.
CHCS has long-been recognized as an HHCAHPS Honors agency (2017-2018, 2020 and 2021). This is the second time they have received the Honors Elite award, with the last being in 2019.
---
US News & World Report Top-Rated
Eastridge Skilled Nursing Facility is once again among the nation's top nursing homes according to U.S. News & World Report. The Centralia nursing home, operated by Community HealthCare System, or CHCS, is one of 1,000 nursing homes out of 15,000 nationwide to earn this prestigious designation. In Kansas, Eastridge was one of only 7 homes to receive the honor.
---
Clinics Recognized
Our clinics located in Centralia, Frankfort, Holton, Onaga, St. Marys and Westmoreland were recently recognized as Patient Centered Medical Homes (PCMH). This is the 6th consecutive year the clinics have received this designation.
PCMH is not a physical "home", but a healthcare delivery model that puts patients at the forefront of care. PCMHs build better relationships between patients and their clinical care teams. According to the National Council for Quality Assurance (NCQA), PCMHs improve quality and the patient experience, increase staff satisfaction and help to reduce healthcare costs. Practices that earn PCMH recognitions have made a commitment to continuous quality improvement and a patient-centered approach to care.
---
High 5 for Mom & Baby Premier Facility
We have continued our commitment to improving the health of moms and babies by earning High 5 for Mom & Baby Premier recognition for the second straight year. High 5 for Mom & Baby is a program developed by the United Methodist Health Ministry Fund to increase and support breastfeeding in Kansas.
---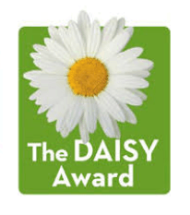 DAISY Award
Thank your nurse for extraordinary care—nominate a nurse (LPN, RN, or Nurse Practitioner) for the DAISY Award. DAISY Award honorees personify Community HealthCare System's remarkable patient experience. These nurses consistently demonstrate excellence through their clinical expertise and extraordinary, compassionate care. They are recognized as outstanding role models in our nursing community.
---
About the DAISY Foundation
The DAISY Foundation was established in 1999 by the family of J. Patrick Barnes, who died of complications of the autoimmune disease idiopathic thrombocytopenia purpura (ITP) at the age of 33. During Pat's eight-week hospitalization, his family was awestruck by the care and compassion his nurses provided. One of the goals they set in creating a foundation in Pat's memory was to recognize extraordinary nurses who make an enormous difference in the lives of so many people by the super-human work they do every day.
---
What is the DAISY Award?
The DAISY Award is an international program that rewards and celebrates the extraordinary clinical skill and compassionate care given by nurses every day. Community HealthCare System is proud to be a DAISY Award Partner. Nomination is all year long. Selection process takes place semi-annually.
To find out more about the program please go to DAISYfoundation.org.
Each DAISY Award Honoree will be recognized at a ceremony and will receive a certificate, a DAISY Award pin, a hand-carved stone sculpture titled, A Healer's Touch, and a copy of the nomination letter. The department of the recipient will receive cinnamon rolls, which were Patrick's favorite during his illness.