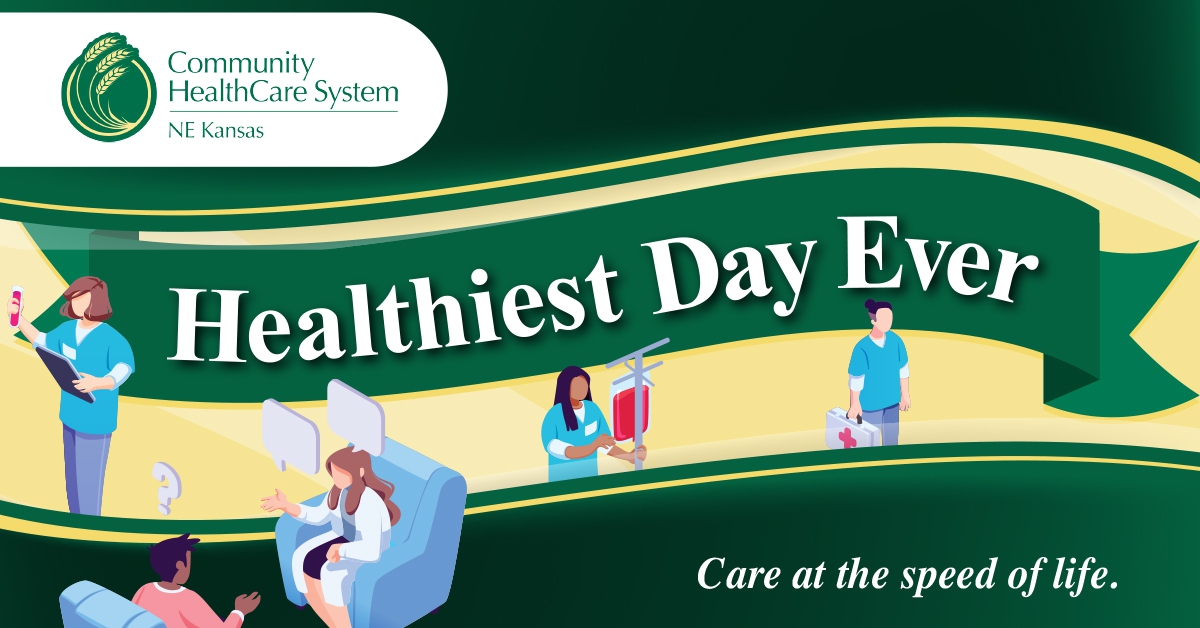 UPDATE, March 25: This event is postponed so we can focus on COVID-19. We will reschedule as soon as we are able! Thank you for your understanding.
Mark your calendars for Saturday, April 25, and join Community HealthCare System for a day dedicated to the health of you and your family. Our Health Fair starts early at Onaga Community Hospital with affordable labs and a variety of educational booths and activities.
Whether you're 18 or 85, regular screenings are important for wellness and preventive care. If you've been putting off tests due to cost or coverage concerns, this is your opportunity to get them done at a reasonable price. These lab tests will be available for $30 (cash or check payment due at time of test; no insurance accepted):
Complete blood count
Chemistry panel
Thyroid screen
Cholesterol panel
Hemoglobin A1c (screen for diabetes)
A prostate specific antigen test (PSA), to screen for prostate cancer, will be available for men for an additional $15. Please note that all lab tests require fasting. Don't eat or drink anything after midnight on the night before your tests.
"We're offering this event so all community members have the opportunity to access lab testing and practice prevention," said Michele Reisinger, advanced practice registered nurse (APRN). "The panel we will draw will allow us to screen for diabetes more extensively than many insurance providers allow."
Test results will be provided to you as a hard copy as well as to your CHCS provider upon request.
"Some patients are unable to get certain tests done at certain times because of Medicare or insurance limitations," Reisinger said. "Even if you've had a recent lab drawn, this is an opportunity to have the peace of mind knowing your levels are correct."
The health fair will also feature local mental health resources, nutrition tips, and exercise information. Meet with representatives from insurance companies, our Community Home Care Equipment store, and emergency medical services. Tour our Fitness Center and learn more about our online Patient Portal. There will also be activities for kids, prizes, and fun for the whole family.
The morning continues with a Community Baby Shower for expecting and new parents (with babies up to 1 year old). Learn about everything from safe sleep and car seat safety to breastfeeding and mental health resources. Get help with smoking cessation and prenatal nutrition. You can also meet with representatives from insurance companies; KanCare (Medicaid); the Special Supplemental Nutrition Program for Women, Infants, and Children (WIC); Parents as Teachers; and more.
Katie Kufahl, registered nurse (RN), certified lactation consultant and manager of the Community HealthCare System Birth Center, said the event will provide valuable resources to expecting parents.
"The more knowledge you have, the more comfortable and prepared you will be," Kufahl said. "As a nurse and mother of six, I wish I could have attended something like this before the birth of my first baby. New mothers have so many questions and concerns, so the more exposure you have to resources, the more confident you will feel."
Tours of the Birth Center will also be offered. We hope you take some time for your family's health and join us for an informative and engaging morning.