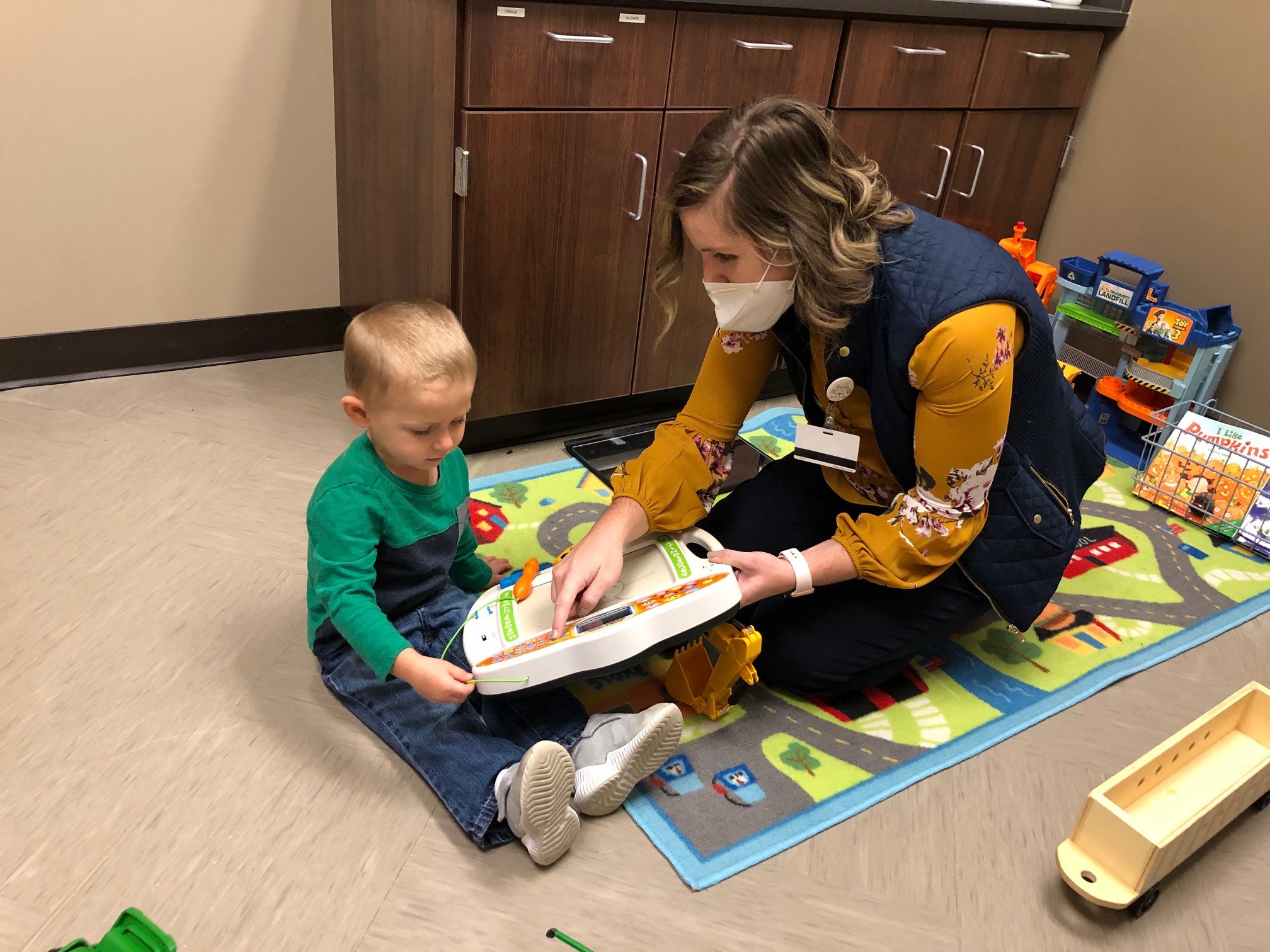 By Ashley Edelman, speech therapist: COVID-19 has undoubtedly caused many difficulties for families this past year. Children in our surrounding communities are also facing many new challenges. Quarantines, remote learning, COVID-related illness, and general disruptions to routine ways of living have taken a toll.
Children are dealing with increased social isolation from peers and family members and disruptions to everyday school routines, which puts them at risk for loss of language skills, speech sound development delays, and difficulties with developing proper pragmatic skills that are highly important to the development of each child. Children are also facing challenges with being less active due to increased remote learning demands, which can lead to deficits in fine and gross motor skills. Behavioral concerns may also arise, which can lead to further difficulties with overall development. The good news is that parents and adults can incorporate many simple activities into a child's daily routine to help limit these challenges.
As adult role models, parents, teachers, and healthcare professionals, we can all add simple steps into a child's daily routine prevent problems. To help strengthen speech skills, reading books, singing simple songs, looking at pictures, or simply talking about a child's environment to them can be helpful in providing needed language stimulation. Keep in mind that younger children benefit from simple speech (i.e., 1- to 3-word phrases), whereas older children may benefit from more in-depth conversations. This can be very simple and can easily be targeted with any chore you complete with your child. For example, you could say something like "put fork on table," for setting the table or "clean up plate," for cleaning up after dinner. Adding these simple language models to daily activities can make a big impact on your child's language development. You can also engage your child in social interactions by playing board games, taking turns completing chores around the house, and engaging in conversation about you and your child's day.
One way to target physical and mental development is to compare your child's home environment to the environment at school. When completing remote learning, children likely need a quiet environment with minimal distractions that is not located in a place where they would typically sleep. They may also benefit from learning that incorporates physical activity, as this is what is typical for many children in the school setting. Try taking periodic breaks from remote learning and encouraging physical activity. This can be as simple as completing a yoga routine targeted towards children from a YouTube video or taking a quick hike/jog around the neighborhood. If adverse weather is a factor, cleaning up the toys around the home in a timed game for increased physical activity could be a good way of adding an easy, yet productive activity to the day that would benefit your child physically. Anything that is simple and fun to get your children active can be helpful.
Although these suggestions may sound like difficult tasks to add into your already busy schedule, it is important to note that you don't have to make big changes. Adding one small activity daily from the above suggestions to your child's daily routines can be highly beneficial. Focus on keeping activities fun and engaging, and most importantly, reach out to professionals like your child's teacher, doctor, or local speech therapist or occupational therapist if these challenges are causing increased stress and anxiety in your home life.
Ashley Edelman is a speech therapist at Community HealthCare System and provides services in Onaga, Centralia, St. Marys, Frankfort, and Holton to patients from birth to the end of life. Ashley works with a variety of speech-related diagnoses (i.e., dementia, dysphagia, and speech/language delays). She enjoys working daily with adults to help limit cognitive and swallowing difficulties and with children who demonstrate speech/language delays and feeding difficulties. Ashley lives in Seneca with her husband and son. To inquire about speech or occupational therapy services at CHCS, please call 785-889-5048 or visit our Rehabilitation Services web page. Read a blog post about therapies CHCS offers for kids.