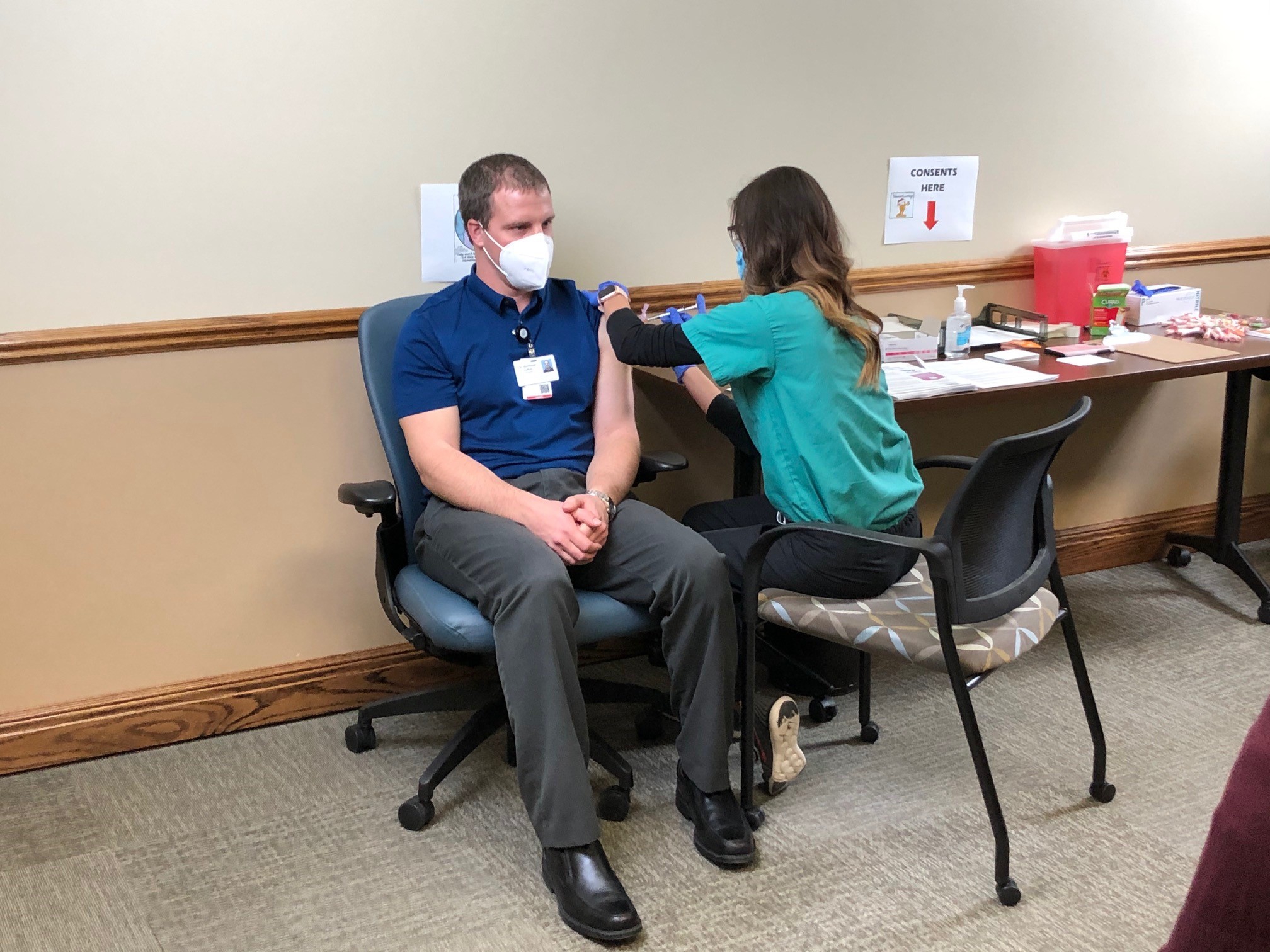 Community HealthCare System received an allocation of 150 doses of the Pfizer-BioNTech COVID-19 vaccine on Thursday, December 17, for healthcare workers. Dr. Nicholas Cahoj was the second associate to receive it after longtime CHCS physician Dr. Tom Walsh. Dr. Cahoj also took time to share his thoughts on the vaccine for those who are interested in learning more.
Why did you choose to receive the vaccine?
I've seen a number of patients test positive for Covid-19. While most patients recover without incident, several young and healthy patients have required hospitalization and intubation. I feel the vaccination is the best way to protect myself, my family, and my patients. It's also the quickest route to returning to a sense of normalcy in our professional and daily lives.
What should people know about side effects?
Adverse reactions are usually mild to moderate in intensity and resolve within a few days. The most common adverse reactions reported after vaccination in clinical studies included pain at injection site, fatigue, headache, muscle pain, chills, joint pain, and fever.
Who should be more cautious about receiving the vaccine?
The CDC recommends caution for those who previously had reactions to vaccines or injectable medications. Safety of this vaccine has not yet been established in children younger than 16 years or pregnant individuals. However, pregnancy is not a contraindication to vaccine receipt. The decision to vaccinate individuals 16 years and older who are pregnant or breastfeeding should be made on a case-by-case basis, taking into account the individual's preferences, risk of COVID-19, and the unknown fetal effects of the vaccine.
Eligible individuals with an immunocompromising condition can also receive the vaccine. Although the immunogenicity and efficacy of the vaccine are uncertain in this population, the potential for severe COVID-19 in this population likely outweighs the uncertainties.
Should people be worried about the fact that the COVID-19 vaccine is the first mRNA vaccine? What does that mean?
There are currently no licensed mRNA vaccines in the United States. However, researchers have been studying and working with them for decades.
COVID-19 mRNA vaccines give instructions for our cells to make a harmless piece of what is called the "spike protein." The spike protein is found on the surface of the virus that causes COVID-19.
COVID-19 mRNA vaccines are given in the upper arm muscle. Once the instructions (mRNA) are inside the immune cells, the cells use them to make the protein piece. After the protein piece is made, the cell breaks down the instructions and gets rid of them.
Next, the cell displays the protein piece on its surface. Our immune systems recognize that the protein doesn't belong there and begin building an immune response and making antibodies, like what happens in natural infection against COVID-19.
At the end of the process, our bodies have learned how to protect against future infection. The benefit of mRNA vaccines, like all vaccines, is those vaccinated gain this protection without ever having to risk the serious consequences of getting sick with COVID-19.
Should people be worried about the speed with which the vaccine was developed?
mRNA vaccines are being held to the same rigorous safety and effectiveness standards as all other types of vaccines in the United States. The only COVID-19 vaccines the FDA will make available for use in the United States are those that meet these standards.
Why are you optimistic about the COVID-19 vaccine?
Phase III trials have shown 95% efficacy for the Pfizer vaccine and 94% efficacy for the Moderna vaccine.
When will the vaccine be available for patients at CHCS?
The vaccine will be available for patients at a later phase. The first phase will vaccinate healthcare providers and long-term care residents.
Why is it important for a large cross-section of the population to get vaccinated?
The pandemic will likely end when we reach herd immunity, meaning 60-70% of the population will have antibodies against the virus, either from natural infection or vaccination.We will need a large cross-section of the population to get vaccinated to reach this level of immunity as soon as possible.
What have you learned about practicing medicine during the pandemic?
I have learned a great deal about the different testing methods, preparing for patient surges in the clinic and hospital, and caring for patients with advanced respiratory disease that we typically would not care for in rural hospitals.
What are you most looking forward to in getting COVID-19 under control?
Not wearing masks, traveling, attending sporting/social events, and playing poker with Dr. Walsh.
Dr. Nicholas Cahoj graduated from Kansas State University and the University of Kansas School of Medicine. He completed his residency at Via Christi Family Medicine in Wichita. Dr. Cahoj grew up in Atwood, Kansas. He appreciates family practice. "I enjoy the relationships that I get to build with patients and their families. I also enjoy the broad array of conditions that I see and treat," he said. Dr. Cahoj and his wife, Alyssa, have three daughters who they enjoy helping in their sports and activities. He also likes golf, hunting, and shooting. His favorite sport is football, and he has a chocolate lab named Dirk.