Posted On: March 8, 2022 by Community HealthCare System in: News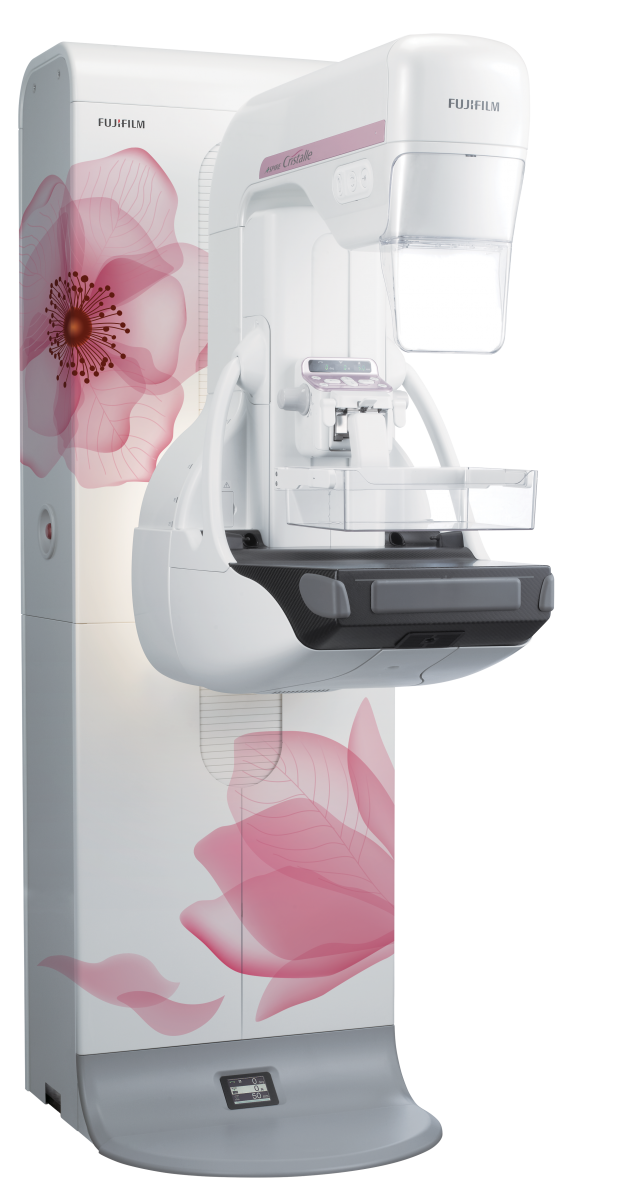 CHCS has installed FUJIFILM Healthcare Americas Corporation's ASPIRE Cristalle digital mammography solution at Onaga Community Hospital.
The ASPIRE Cristalle is an advanced mammography system that features Digital Breast Tomosynthesis (DBT), a state-of-the-art form of breast imaging that uses a low dose x-ray system to create three-dimensional images. Onaga Community Hospital radiologists can use 3D imaging to better visualize lesions that can be obscured in breast tissue, helping improve their ability to visualize and diagnose breast cancer.
"We're excited to offer an upgraded mammogram experience. Exams will be more comfortable and will deliver better images and lower radiation. Our team looks forward to helping women ensure that they catch breast cancer early," said Jason McKinsey, CHCS Radiology Manager.
The new solution is part of a larger systemwide imaging upgrade at CHCS. FUJIFILM DEVO digital x-ray machines were installed in St. Marys and Holton last year, and a Persona Premium x-ray/fluoroscopy machine was installed in Onaga. These new x-ray units provide exceptional image quality and a gentle radiation dose to the patient. The images are digital, so there are no image processing delays and physicians can view images immediately after they are taken.
Almost everyone knows someone who has experienced breast cancer. According to the American Cancer Society, an estimated 1 in 8 women will be diagnosed with invasive breast cancer in their lifetime. Moreover, approximately 1 in 39 women will die from the disease. Early detection through regular screenings, coupled with subsequent treatment, plays a significant role in overcoming the disease.
Fujifilm's ASPIRE Cristalle was designed with operational excellence, exceptional image quality, and a better patient experience in mind. Featuring a patented flexible and 4-way tilting Comfort Paddle, ASPIRE Cristalle is built to adapt to individual breast shape and minimize pinch points, making exams more comfortable. In addition, the ASPIRE Cristalle's detector is engineered with an exclusive Hexagonal Close Pattern (HCP) capture circuitry design, a smart technology that delivers an improved capture sensitivity and lower patient radiation dose.
"Fujifilm is committed to helping beat the battle of breast cancer through continual technological innovation. ASPIRE Cristalle is a leading-edge digital mammography solution that assists clinicians in acquiring a high-quality image the first time—all while keeping patients more comfortable. This, in turn, can help keep women compliant with annual screenings," said Christine Murray, Women's Health Product Manager, FUJIFILM Healthcare Americas Corporation. "We are thrilled to partner with Community HealthCare System in their mission to enrich the health and lives of the patients they serve. Offering women access to digital breast tomosynthesis is one more way CHCS can drive screening compliance and support early cancer detection."
Talk to your healthcare provider about the right time to screen for cancer. Current and new patients can make an appointment by calling 785-889-4272.