Posted On: April 28, 2023 by Community HealthCare System in: News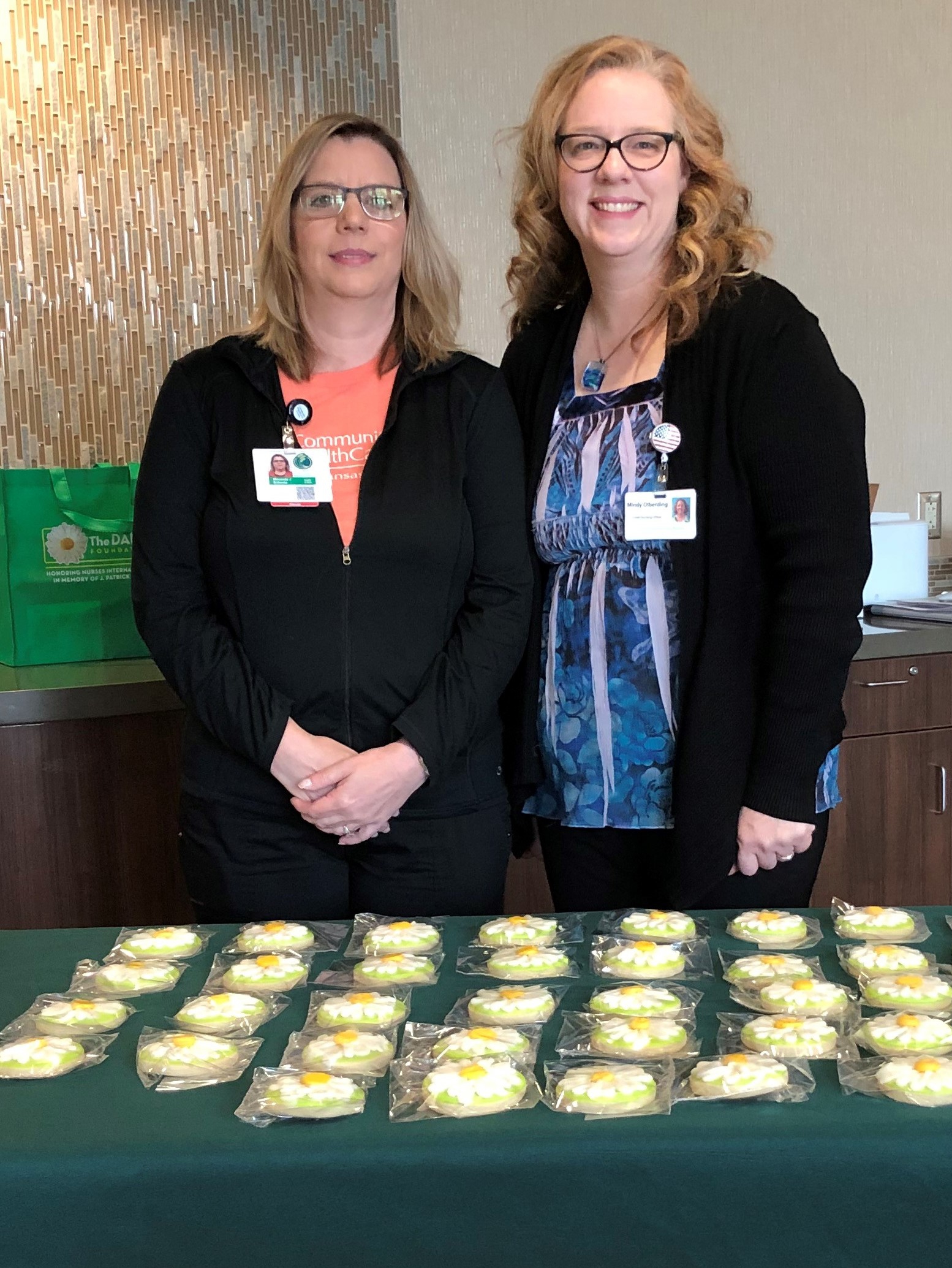 Community HealthCare System has recognized Meranda Schmitz, RN and Cardiopulmonary Rehab nurse, with the spring 2023 DAISY Award for extraordinary nursing. She was nominated by a patient who deeply appreciated her care.
"Meranda has gone above and beyond to help me get the care needed to attend Cardiac Rehab after I had stents placed following a positive cardiac stress test that I had in Onaga," the patient said.
The patient faced several challenges in addition to his heart problems. He did not have a phone or car, so Schmitz arranged transportation for his appointments, and she worked with social services to help him get a cell phone. The patient also could not see well because his glasses were broken, so she helped him arrange an appointment with an eye doctor.
"With all of these factors against me, I'm not sure I would have taken my health as serious[ly] or committed to improving myself if it wasn't for her," the patient said.
Schmitz's compassion, dedication, and desire to improve her patients' lives truly embodies what it means to be an extraordinary nurse. CHCS is proud to count her among our associates.
"Our Cardiopulmonary Rehab program is fairly new – Cardiac Rehab began in early 2020, and we added Pulmonary Rehab last year – and despite the challenges presented by the pandemic, Meranda has done a wonderful job of developing the program and serving her patients," said Mindy Olberding, chief nursing officer at Community HealthCare System.
"We routinely hear enthusiastic comments from patients about Meranda and the other nurses and therapists who serve Cardiopulmonary Rehab patients. The care they receive is truly life-saving and life-changing because of all they learn to help manage their conditions and improve their quality of life," Olberding said.
CHCS selects DAISY Award winners twice each year through a blind selection process. Seven nurses were nominated for the spring 2023 award. Other nominees in addition to Schmitz were Cheryl Bailey, RN, Onaga Acute; Debbie Cain, LPN, St. Marys Manor; Kelly Haug, RN, Community HomeHealth; Nicole Huey, APRN, Holton Clinic; Heather Siegrist, RN, Community HomeHealth; and Meghan Weiser, RN, Onaga Acute.
The DAISY Foundation was established in 1999 by the family of J. Patrick Barnes, who died of complications of the autoimmune disease idiopathic thrombocytopenia purpura (ITP) at the age of 33. During Barnes' eight-week hospitalization, his family was awestruck by the care and compassion his nurses provided. One of the goals they set in creating a foundation in Pat's memory was to recognize extraordinary nurses who make an enormous difference in the lives of so many people through the superhuman work they do every day. In pursuit of this goal, the family created the DAISY Award for Extraordinary Nurses. The simple award and thank you to nurses have grown into a meaningful recognition program embraced by healthcare organizations around the world.
CHCS nurses may be nominated for an award in three ways.
Call our administrative assistant, Marlene Wolfe, at 785-889-5002
Fill out a nomination form the next time you visit one of our facilities
The deadline for the fall 2023 DAISY Award nominations is September 8, 2023.
Photo caption: RN Meranda Schmitz, left, was presented with the spring 2023 DAISY Award by Mindy Olberding, Chief Nursing Officer. Schmitz was nominated by one of her Cardiopulmonary Rehab patients who said she helped him take his health seriously and improve his circumstances.