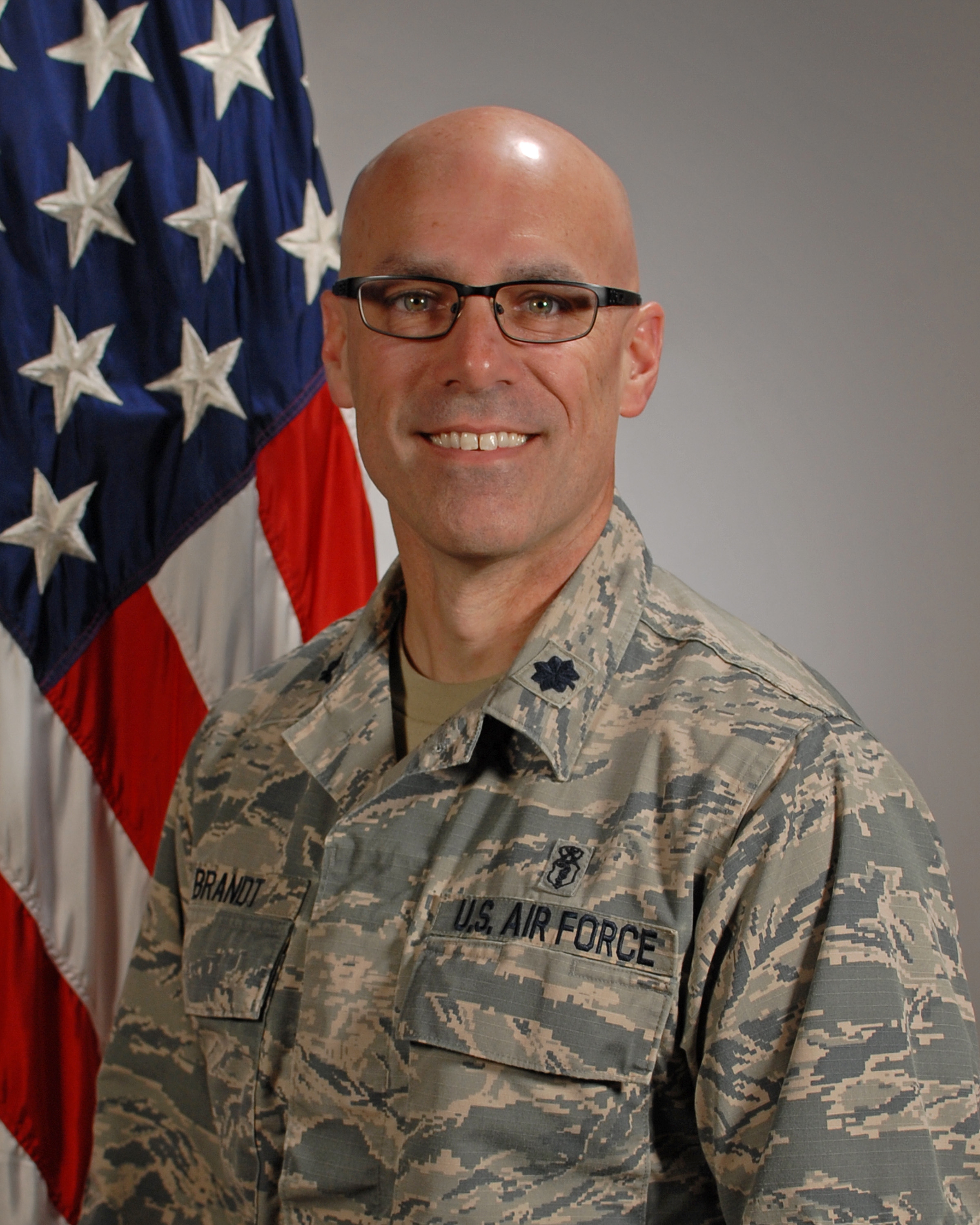 Jeremy Brandt is a physician assistant and licensed X-ray technologist. He serves as lead provider in the Frankfort Clinic as well as co-clinical advisor for the Northeast Kansas Healthcare Coalition.
He is also a Lieutenant Colonel in the Kansas Air National Guard 190th Air Refueling Wing, Forbes Field, Topeka, Kansas. He continues to serve after more than 20 years in the Armed Forces, and he deployed to Iraq in support of Operation Iraqi Freedom in 2004 with the 2-130 Field Artillery Battalion headquartered in Hiawatha. Jeremy values the experience he continues to gain in the National Guard.
Jeremy recently answered a few questions about his multiple roles.
What is your "job" with the Air National Guard? How often are you called into action?
Short answer: As my MDG commander (Colonel William "Bill" Hefner) likes to say, we put healthy people on healthy airplanes, launch and recover.
Long answer: I'm an Aeromedical Physician Assistant in the 190th ARW Medical Group. The guard has multiple missions, my duties vary depending on what mission we are fulfilling. When not activated or mobilized we focus on readiness, medical and non-medical training and readiness items – essentially the same required in the active duty Air Force, but we accomplish them in 24 days (a weekend a month). On these weekends (and for me, usually an extra day or two a month) my focus is also ensuring the medical readiness of all of our members to include physicals, occupational exams, occupational shop visits, and even flying on our air refueling missions to integrate with aircrew. We have a great medical group from top to bottom – administrators, technicians, nurses, other providers (PAs, APRNs, CRNAs and physicians), and our leadership.
When activated, those duties shift to a clinical focus, thus readiness and preparation are paramount.
I haven't deployed since 2004, which was with the Kansas Army National Guard. Opportunities continue to come up, but to date, since moving to the air side, all have been volunteer opportunities. As there is a time and place for everything, I have felt the need to let others take advantage of these opportunities but always make myself available should they go unfilled. Being home to support my family, patients, and CHCS is very important to me, and I try to make that my priority, but I am prepared for the fact that at any time I may need to serve in an active duty capacity.
How has your military experience helped you be a better healthcare provider? And vice versa?
Certainly, trauma exposure in Iraq helped me to be more comfortable and proficient in managing trauma cases, but really I think it comes down to just a broader range of exposures. I get a different view on the guard side. There are resources and opportunities I wouldn't have without that facet of my career and life, not the least of which is collaboration with an exceptional group of like-minded, though with vastly different backgrounds, professionals. But, as all guardsmen know, what makes the guard a special and effective force is the civilian experience we all bring to the table. The military is a huge, government-tied organization, and with this comes complicated rules and limitations. This necessitates creative problem solving. The ability to look at that situation with a variety of different viewpoints helps our team be very successful at what we do.
I should mention also that we are able to provide X-ray services in Frankfort due to my initial military job training as an x-ray tech. I love taking X-rays and being able to offer that service to the community.
It's hard to be more specific than that, because separating the two is impossible after 20+ years. Additional exposures and opportunities just help us to handle situations with perspective.
I would have to say that I've been truly blessed to work for CHCS for the past 22 years. The gift of being able to provide care to friends, family and neighbors is special. It is humbling to know you have the confidence of your patients and it is something I don't take for granted. Also, from an early age I've recognized that we have tremendous providers at CHCS. I am so blessed to have exceptional physicians, PAs and APRNs to collaborate with. The docs I work with are ALWAYS there when I need them but also allow me to practice medicine at the top of my training.
What do you want civilians to know about the National Guard?
We are a very relevant and active force. There are ongoing contingencies all over the world. I never take our active duty brethren for granted; however, without a doubt, the operational tempo over the past 15 years could not have been sustained without direct contribution from the guard. There was a time when the guard was a force used as a reserve, last-line entity, but not anymore. We train and prepare at an exceedingly high level to enable mission execution that is second to none. It is a lot to juggle some weeks, and we expect a lot from our airmen, but they never disappoint, always rising to the challenge.
How does your role as co-clinical advisor with the Northeast Kansas HealthCare Coalition help you in your role as a primary care provider?
As I mentioned above, this, too, helps give perspective. Not just a peek, but to also be serving a role in this sort of collaborative effort between healthcare entities including hospitals, EMS services, long-term care and more has been beneficial to me as a clinician, not just at CHCS but also in the guard. The relationships that form are exceedingly valuable. It isn't easy for what can sometimes be competing organizations to come together with transparency and move forward for the greater good. I've only been with the coalition for 10 or 11 months. What a year to jump in! I am grateful for not only the opportunity that was extended by the coalition, but also the support from CHCS enabling me to take part.
From a technical, more tangible angle, it has both exposed me to and allowed me to share experiences from past exposures to treatment and clinical best practices as it relates to all-hazards incidents. I enjoy the insights that being a clinical advisor has granted me.
What do you like best about each of your three roles?
I enjoy the variety. At CHCS, it's caring for friends and neighbors alongside an awesome team top to bottom. We have a great system, and I am proud to be a part! I really enjoy coming into clinic every day. We have a special team working to provide the best care for our patients. This year has been unique, but my team just keeps moving forward, never complaining, working hard, and making our clinic safer for our patients through their efforts.
At the Guard, it's the feeling of serving something bigger than oneself. The people I take care of directly, work beside, and most importantly, the people I help take care of indirectly – Americans!
At the Coalition, it's being able to share and put to practice some of the things I've learned and gained over the past 20+ years in healthcare and military service.