Posted On: July 7, 2021 by Community HealthCare System in: News
Community HealthCare System has completed an imaging technology upgrade at St. Marys Family Health Center and Holton Family Health Center. X-ray machines are now fully digital, which means that clearer images are available much more quickly.
Jason McKinsey, CHCS radiology manager, said that the days of processing cassettes and films are over. A digitized process from x-ray exposure onward means the process is much faster and more efficient, and the upgrade has other significant advantages for patients.
"Older CR [computerized radiography] x-ray machines required staff to move cassettes between each image and process each individual cassette. With the new Fuji DEVO equipment, a technologist can perform unlimited x-rays on the same digital plate. Digital x-ray has excellent image quality and very low image failure rates," McKinsey said.
"Using digital radiography also means that patients receive up to 50% less radiation," he said.
Amy Lee-Hersh, lead radiology technician at St. Marys Family Health Center, said the new system has been up and running well since late June.
"I've been doing this for 32 years now, and one of the best things is the image quality is so much better, and the x-ray process is faster—patients get in and out quickly," she said.
Hersch also noted that the digital process is less traumatic for someone with an injury.
"If a child has a broken wrist and you need multiple pictures, you don't have to lift up the arm and change film. It's a lot less traumatic, so the patient experience is better," Hirsch said.
In St. Marys, a Fuji DEVO portable machine is also available. According to McKinsey, a portable x-ray is helpful for St. Marys Manor residents who may be difficult to transport out of their rooms for imaging or for patients with COVID-19 who should be kept isolated in one exam room rather than moved through the facility to obtain x-rays. The portable machine offers a virtual grid and other features that a technician can apply to ensure quality images.
In addition to digital X-rays, imaging services that are available in St. Marys and Holton include CT scan, ultrasound, and mobile MRI. Additional diagnostic imaging services at Onaga Community Hospital include a permanent MRI, mammography, bone density tests, nuclear medicine, and more.
"We have no backlog, so patients can get in anytime," McKinsey said.
"If your provider says you need an X-ray, you can come over and get an X-ray during your appointment, and patients can get in for an MRI or other diagnostic imaging with a doctor's order right away," he said. Patients with orders from physicians outside Community HealthCare System can choose to come to Onaga for MRI or other imaging.
Imaging services are available during clinic hours in Holton and St. Marys. In Onaga, imaging services are available during clinic hours as well as after hours or on Saturdays.
"We're proud to offer quality imaging without a long wait for northeast Kansas patients. The improvements in St. Marys and Holton along with the excellent menu of services we offer in Onaga mean our patients are getting the best diagnostic imaging when they come to us," McKinsey said.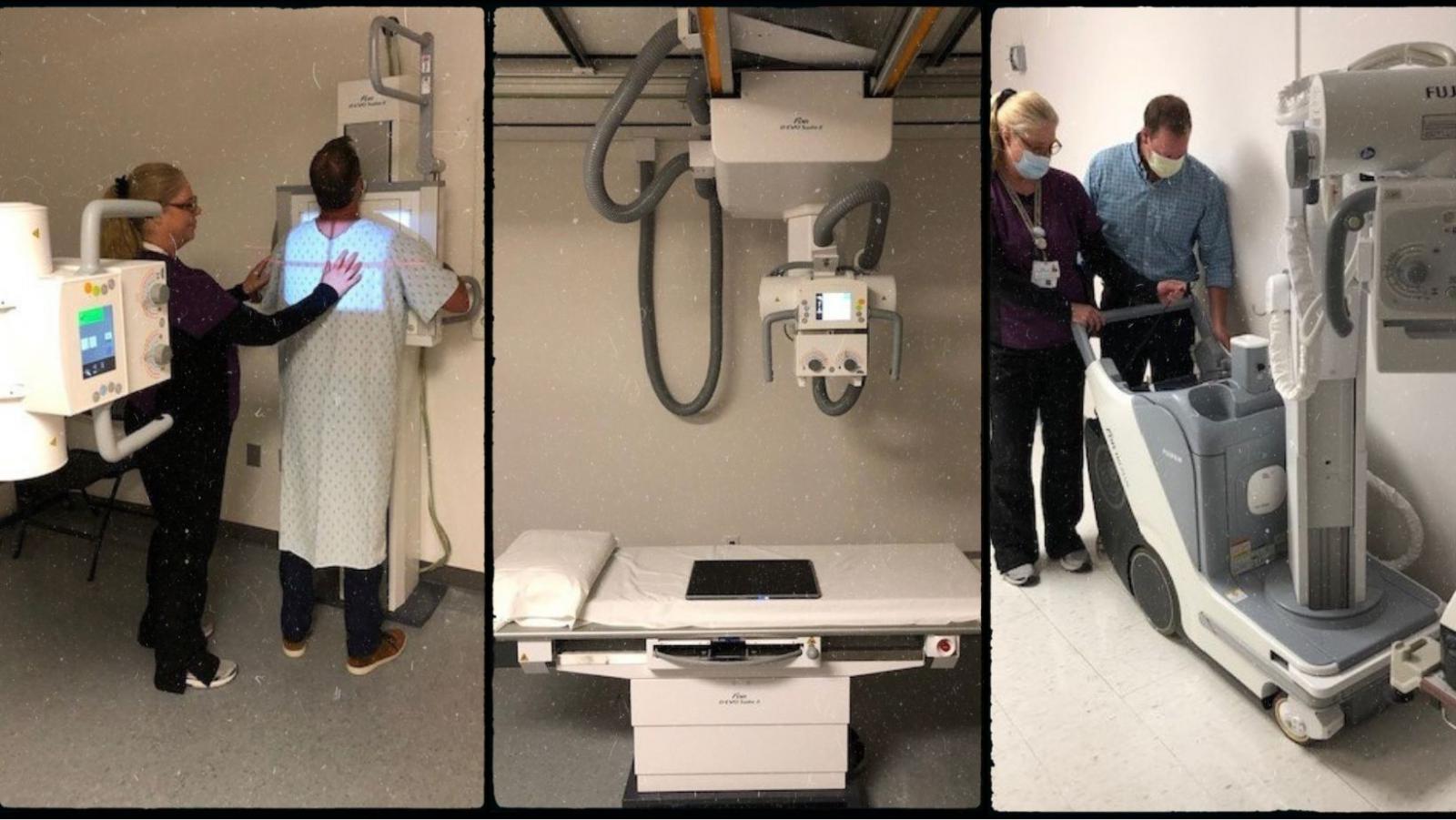 Photo captions: Above, new Fuji DEVO x-ray machines provide higher-quality images faster and with a much lower radiation dose for patients. Above right, a portable machine can provide high-quality images for patients who should not be transported because of contagious illness such as COVID-19 or because of other health conditions.