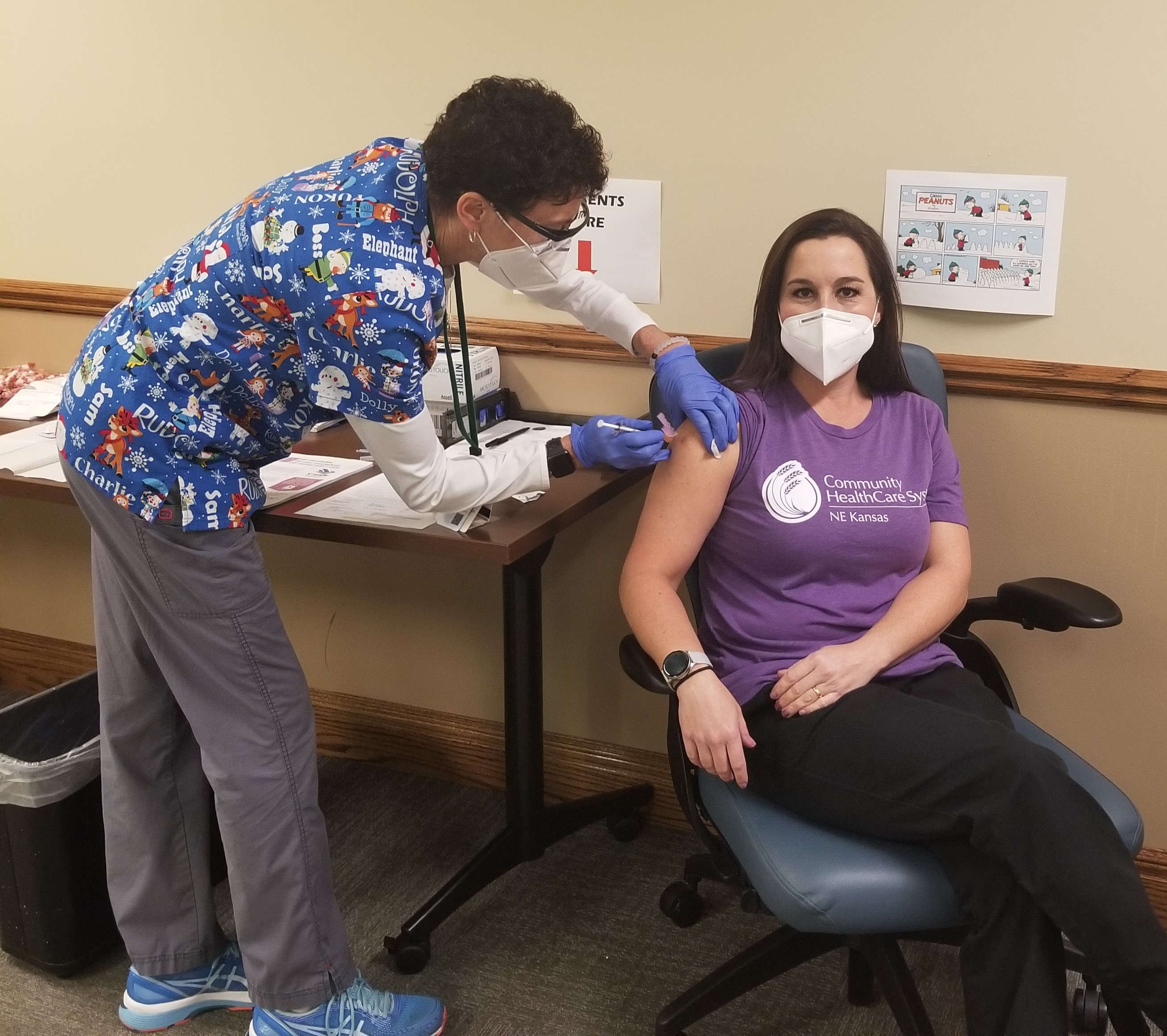 Community HealthCare System received an allocation of 150 doses of the Pfizer-BioNTech COVID-19 vaccine on Thursday, December 17, for healthcare workers. Advanced Practice Registered Nurse Nicole Huey received the vaccine on Friday, December 18. Nicole also took time to share her thoughts on the vaccine.
Why did you choose to receive the vaccine?
I feel immunization is the only way to get control of this virus as natural immunity does not produce long-term results.
What should people know about side effects?
They are worse with the younger group and include flu-like symptoms, but it is NOT active illness.
Who should be more cautious about receiving the vaccine?
I would encourage pregnant/lactating women to speak with their OB-GYN. I would not vaccinate active COVID cases.
Should people be worried about the fact that the COVID-19 vaccine is the first mRNA vaccine? What does that mean?
mRNA technology is over 30 years old. It has been given to many study participants with no adverse events in the past 7 years, so it may be the first vaccine, but it is not new. mRNA provides the necessary information to our cells so they can produce viral proteins and launch an immune response against the virus, enabling immunity to develop.
Should people be worried about the speed with which the vaccine was developed?
Although this vaccine was developed quickly, they did not cut corners. The actual mRNA technology has been around for many years. They started working on Coronavirus vaccine with the 2003 SARS and 2013 MERS outbreaks. It did not reach pandemic status at that point, so rapid production was not needed. The genetic code for COVID-19 was shared between researchers which promoted collaboration and rapid progress. COVID-19 also has the financial backing and study participants to advance the trial more quickly.
Why are you optimistic about the COVID-19 vaccine?
I am optimistic because I can see a light at the end of this very dark tunnel. I really think we need to work together with a common focus to care for the community as a whole.
Why is it important for a large cross-section of the population to get vaccinated?
We need immunity, which requires a large population.
What should people do until they are able to get the vaccine? How about after the vaccine? How long do we need to maintain precautions?
The 3 Ws must continue, diligently! Wear masks, watch your space and wash your hands. We need to continue precautions until enough of the population has completed their vaccines and numbers drop.
What have you learned about practicing medicine during the pandemic?
Change and flexibility is necessary. We must learn to roll with the punches and treat every patient's needs individually. There is no algorithm in a pandemic; guidelines change.
Nicole Huey, MSN, APRN, FNP-C, holds bachelor of science degrees in agricultural economics and French from Kansas State University and also studied agricultural economics and marketing at Ecole Superieure D'Agriculture de Purpan in Toulouse, France. Huey pursued a bachelor of science in nursing from Baker University and a master of science in nursing from the University of Southern Indiana in Evansville. She is certified by the American Association of Nurse Practitioners. Huey is particularly interested in cardiology, and she loves to take care of people. "I try to find ways to make patients' lives better so they can live every day to the fullest," she says.Huey is originally from Kansas City and lives in Topeka with her husband and two children.