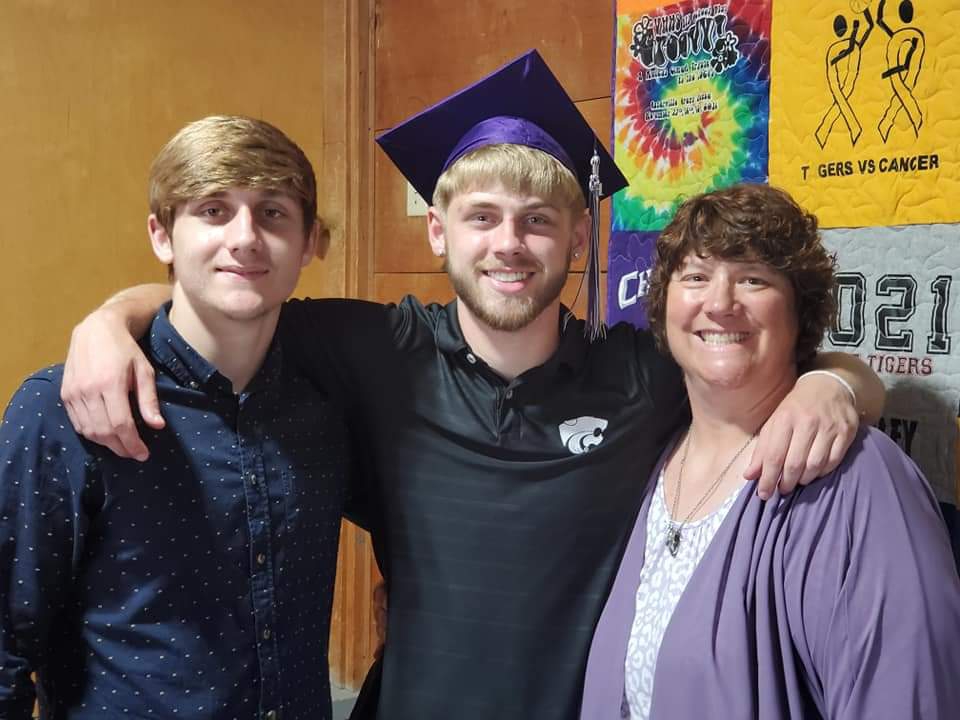 Hallie Beardsley was 42. She was a busy single mom to her two kids, and although she knew she needed to get a mammogram, she says she just "hadn't gotten around to it."
She's glad she finally made the time, because the mammogram revealed a large mass that proved to be a rare type of breast cancer. Beardsley said she "completely lost it and thought it was a death sentence," but her CHCS provider, Physician Assistant Jeremy Brandt, and surgeon Bernita Berntsen, MD, calmed her nerves. She had a lumpectomy then worked through her treatment, both chemotherapy and radiation, and tolerated it well. She was cancer-free at the end of 2015.
Beardsley's cancer journey wasn't over. It's a good thing that she kept up regular mammograms, because in 2019, a mammogram truly saved her life. This time, the screening revealed a fast-growing tumor that was a different kind of cancer entirely. She elected to have a double mastectomy and was treated with another round of chemotherapy. During the month between the mammogram and her surgery, Beardsley said her tumor tripled in size.
"I don't know how long the cancer would have stayed encapsulated. If I hadn't had that second mammogram and had just forgotten about it, that tumor would have killed me," Beardsley said.
Beardsley's children are now 19 and 17. When she was first diagnosed, they were in fifth and seventh grades. The second time, they were both in high school. Her kids inspired her to fight her disease.
"My kids lost their dad when they were little. I didn't want them not to have a parent left on this earth. It was never a question of whether I was going to fight or not!"
Helping others
Beardsley was trained as a radiology technologist but had worked at the school after losing her husband so she could share her kids' schedule. She recently returned to healthcare and is working as a radiology tech at Community HealthCare System in Onaga. She performs x-rays and CT scans and will soon be training to perform mammograms. Beardsley learned first-hand that a supportive radiology tech can make a scary experience a little easier. The second time her scans revealed cancer, Lisa McClain, another CHCS radiology tech, was with her.
"I knew Lisa from growing up here. She just sat there and held me while I cried. She knew what I had been through and that it was doubly devastating. She knew I had made it through once, and here we go again. She always does my scans now, and I feel comfortable and not as scared," Beardsley said.
Beardsley now has the chance to help others who are having a bad day.
"Part of the reason I went into healthcare is that I love helping people. You can always make someone's day better in the five minutes you are with them. People made me feel good when I was struggling. I can be that person to someone else," she said.
State of the art
CHCS Radiology Manager Jason McKinsey encourages women to talk to their primary care providers about mammograms. The American College of Obstetricians and Gynecologists recommends that for women at average risk of breast cancer, screening mammography be done every 1–2 years beginning at age 40. Mammograms are the only way to catch breast cancer early, which is when it is most treatable.
"Hearing Hallie's story reinforces the necessity for early detection of breast cancer, and we are here to help," McKinsey said.
Earlier this year, CHCS installed a state-of-the-art digital 3D mammography solution, the FUJIFILM ASPIRE Cristalle. The advanced mammogram uses a low-dose x-ray system that improves radiologists' ability to visualize and diagnose breast cancer. Exams are faster and more comfortable than in the past. Learn more about the system.
McKinsey is proud to call Beardsley a colleague and hopes her story will inspire other women to get around to their mammograms.
"When women come to CHCS for their wellness exams and discover they are due for a mammogram, we can often get them in on the same day, or they can call to schedule," he said.
Beardsley said women need to make the time.
"Don't ever think it's not going to be you. You need to get your mammogram! I'm cancer-free twice now because I got the mammogram and they caught my cancer early," she said.
Beardsley is thankful for the support she received from her parents and her community, but most of all, that she survived to see her kids grow up.
"I said I wanted to be a mom to my kids. And I am! Beyond that, everything else is good."
Learn more
Photo caption: Hallie Beardsley, right, has survived breast cancer twice and is thankful to be able to parent her sons, Carter (left) and Cameron (middle). Beardsley urges women to make sure they get their mammograms on schedule.