Posted On: December 31, 2019 by Community HealthCare System in: News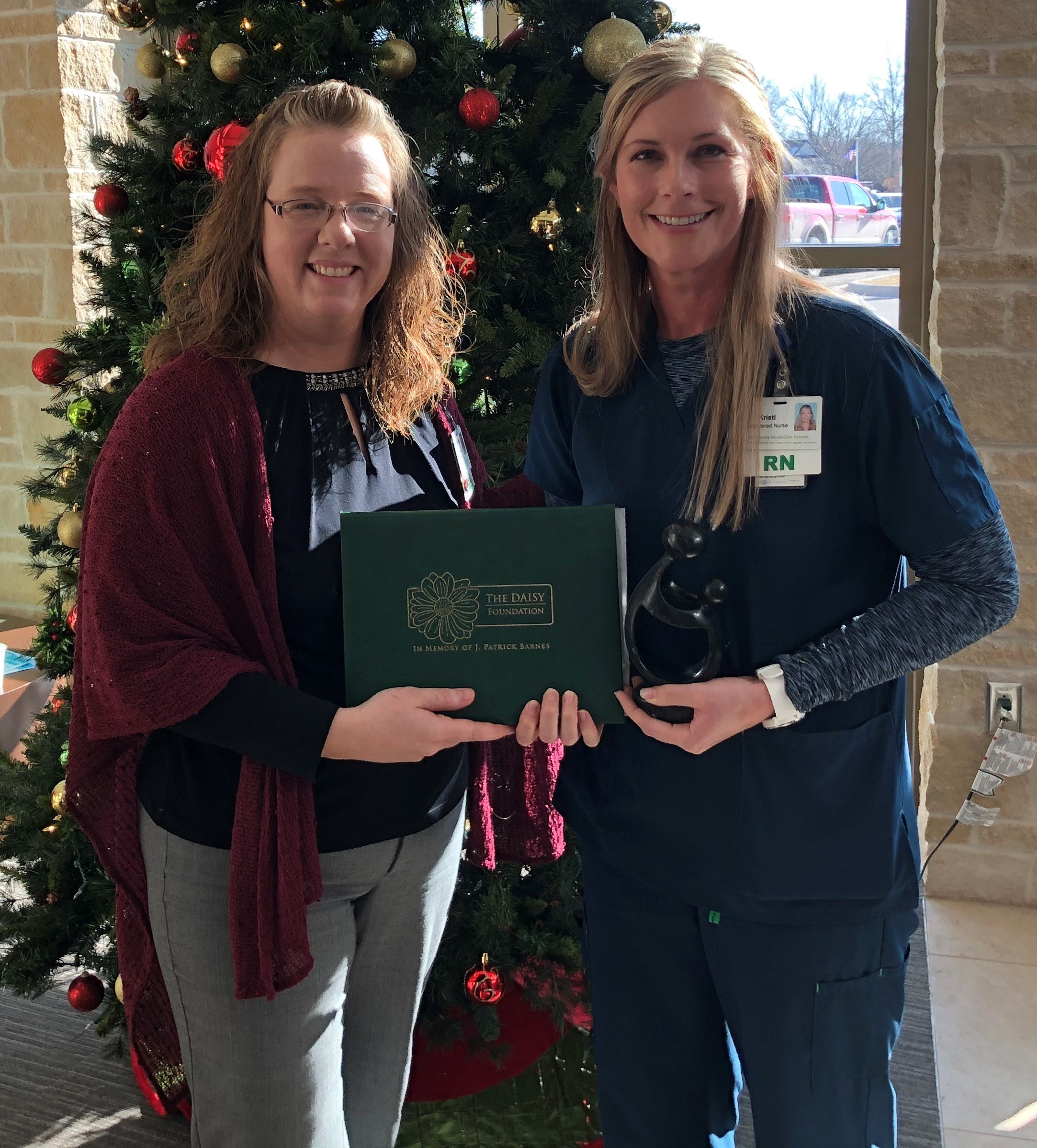 Community HealthCare System recently recognized Kristi Hutfles with the DAISY Award for extraordinary nursing. Hutfles, a registered nurse who delivers home health care for Community HomeHealth, was nominated for providing strength and support for a patient.
Hutfles was nominated Tom and Joyce Shupe. Tom faced two surgeries while also battling Parkinson's disease. According to the nomination, Hutfles helped both Tom and Joyce find a path forward. "She was such as support," said Joyce Shupe. "She talked to … [our] neurologist and helped them understand the medicines and how Tom was responding. They were able to make adjustments and he regained his health," Shupe said.
The Shupes are deeply grateful for Hutfles' additional set of eyes and her help in making wise observations, but her months of assistance went beyond providing medical care. "She gave us strength to do our part in the recovery. Parkinson's is progressive, and it is often a roller coaster," Shupe said.
Hutfles truly embodies what it means to be an extraordinary nurse, and CHCS is proud to have her as an associate and a part of the CHCS family.
"We are always amazed by the stories from patients of the extraordinary care they receive from our nurses. Kristi clearly lives out the CHCS mission to Enrich the Health and Lives of the People We Serve," said Mindy Olberding, chief nursing officer at Community HealthCare System. "We are blessed to give patients and families the ability to say thank you to their nurses."
CHCS selects DAISY Award winners twice each year through a blind selection process. Six nominations for five different nurses were received for the fall 2019 award from co-workers, patients, and patients' families. In addition to Hutfles, the following nurses were nominated:
Katie Kufahl, RN and Onaga Birth Center nurse manager
Debra Rezac, Advanced Practice Registered Nurse, Onaga Clinic
Jamie Todd, RN, Onaga Clinic
Amanda Rempe, RN, Onaga Hospital
The DAISY Foundation was established in 1999 by the family of J. Patrick Barnes, who died of complications of the autoimmune disease idiopathic thrombocytopenia purpura (ITP) at the age of 33. During Barnes' eight-week hospitalization, his family was awestruck by the care and compassion his nurses provided. One of the goals they set in creating a foundation in Pat's memory was to recognize extraordinary nurses who make an enormous difference in the lives of so many people through the superhuman work they do every day. In pursuit of this goal, the family created the DAISY Award for Extraordinary Nurses. This simple award and thank you to nurses has grown into a meaningful recognition program embraced by healthcare organizations around the world.
CHCS nurses may be nominated for an award in three ways.
Call our administrative assistant, Marlene Wolfe, at 785-889-5002
Fill out a nomination form the next time you visit one of our facilities
The deadline for spring 2020 DAISY Award nominations is April 1.