Posted On: December 30, 2020 by Community HealthCare System in: News
UPDATE: Governor Laura Kelly announced Kansas COVID-19 vaccine phases on January 7 (see graphic below). We remain in Phase 1, and we are told that this phase will last through the end of January. Phase 2 will include people age 65+ as well as "high-contact critical workers." Examples: Firefighters, police, first responders, grocery store workers, K-12 teachers and childcare workers, and workers from agriculture, the U.S. Postal Service, and retail. More information is available on the new KDHE Kansas Vaccine website.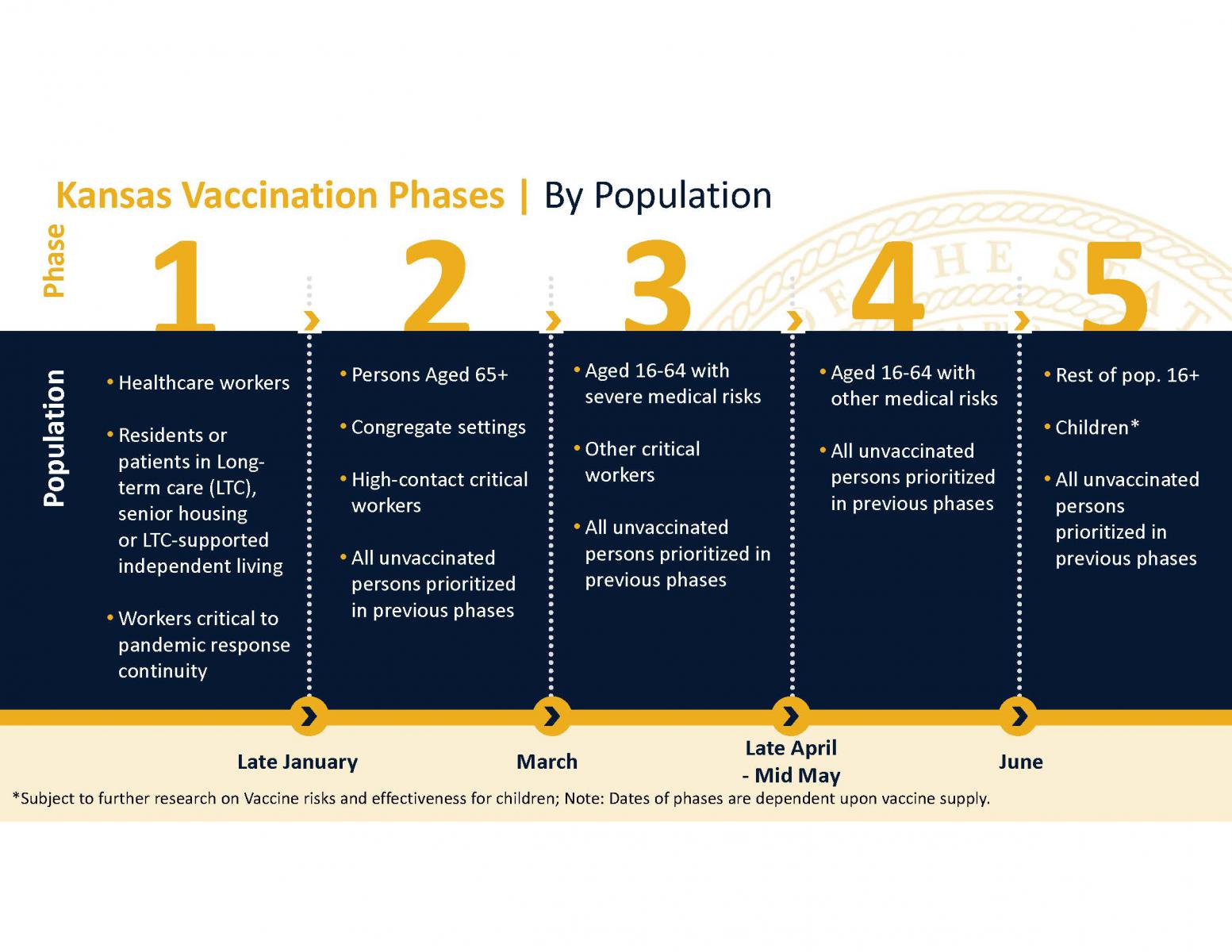 Christmas arrived early at Community HealthCare System in the form of 150 doses of the Pfizer-BioNTech COVID-19 vaccine on December 17, and vaccination of long-term care residents and staff has begun. But timing of arrival of doses for patients and guidelines on how to prioritize administration of vaccine have not been made clear, so CHCS is unable to answer questions from patients.
"We are working closely with the Kansas Department of Health and Environment and the Kansas Hospital Association to get timely information, but the vaccine rollout is still in development," said CEO Todd Willert.
According to Willert, KDHE is working on a prioritization plan. CHCS and other hospitals and healthcare providers around the state are eager to learn more, but they have no choice but to wait as state authorities work with the federal government to finalize logistics.
"We are grateful to have received doses for our front-line workers and other staff, and we're pleased that vaccinations in long-term care and assisted living facilities are proceeding. We know many of our patients want to know when they can receive the vaccine, but we just can't answer those questions right now," Willert said.
Despite the uncertainty, CHCS is doing what it can to prepare to distribute the vaccine.
Chief of Provider and Clinic Operations Merica Surdez said that CHCS has established a task force dedicated to COVID-19 vaccination of patients.
"Our task force will continue to gather information and ensure that we are adequately prepared to offer the vaccination as soon as we are able," Surdez said.
Surdez said that CHCS will share information widely as updates are available. In the meantime, patients should continue to take precautions to protect themselves against COVID-19. She also encourages patients to learn more about the vaccine.
"If you are interested in receiving the vaccine or have questions regarding the best decision for you, we encourage you to consult your healthcare provider," Surdez said.
Willert said CHCS is ready to enter a new phase of fighting COVID-19.
"In northeast Kansas, we love our football, and it offers a ready analogy. For the past eight months, we've been playing defense. We've been reading and reacting. On December 17, arrival of the vaccine meant we finally got to hold the ball, and we aren't letting go. It's exciting to finally be on offense! Now we have the tool we need to beat the virus. As one of our providers told me later, 'this is the best Christmas present ever,'" he said.
"We can't wait to give that gift to our communities," Willert said.
Find information from KDHE on the COVID-19 vaccine.
Photo caption: Dr. Tom Walsh (top) and Dr. Nicholas Cahoj (bottom) were the first two CHCS associates to receive the Pfizer-BioNTech COVID-19 vaccine on December 17. Both reported minimal side effects following the vaccine. A few days later, Dr. Walsh said, "I feel great. I didn't experience any significant pain at the injection site. I'm currently asymptomatic 12 days post-vaccination." Find Q&As with Dr. Walsh and Dr. Cahoj.