Posted On: September 3, 2021 by Community HealthCare System in: Patient story
When you're a parent, you know what it feels like to worry. You wonder if your child is eating or sleeping enough, or if you are making the right decisions. You worry about teaching them the right things. You also might wonder about developmental milestones: Is your baby rolling over or crawling on time? Interacting with you enough? Saying enough words?
If you have worries, talk to your healthcare provider. Pediatric speech therapy is available for children who need a little extra help, and your provider can refer you. Two moms recently took time to share how speech therapy at CHCS has helped their young daughters. Although their problems are very different, speech therapy is helping both young patients get positive results.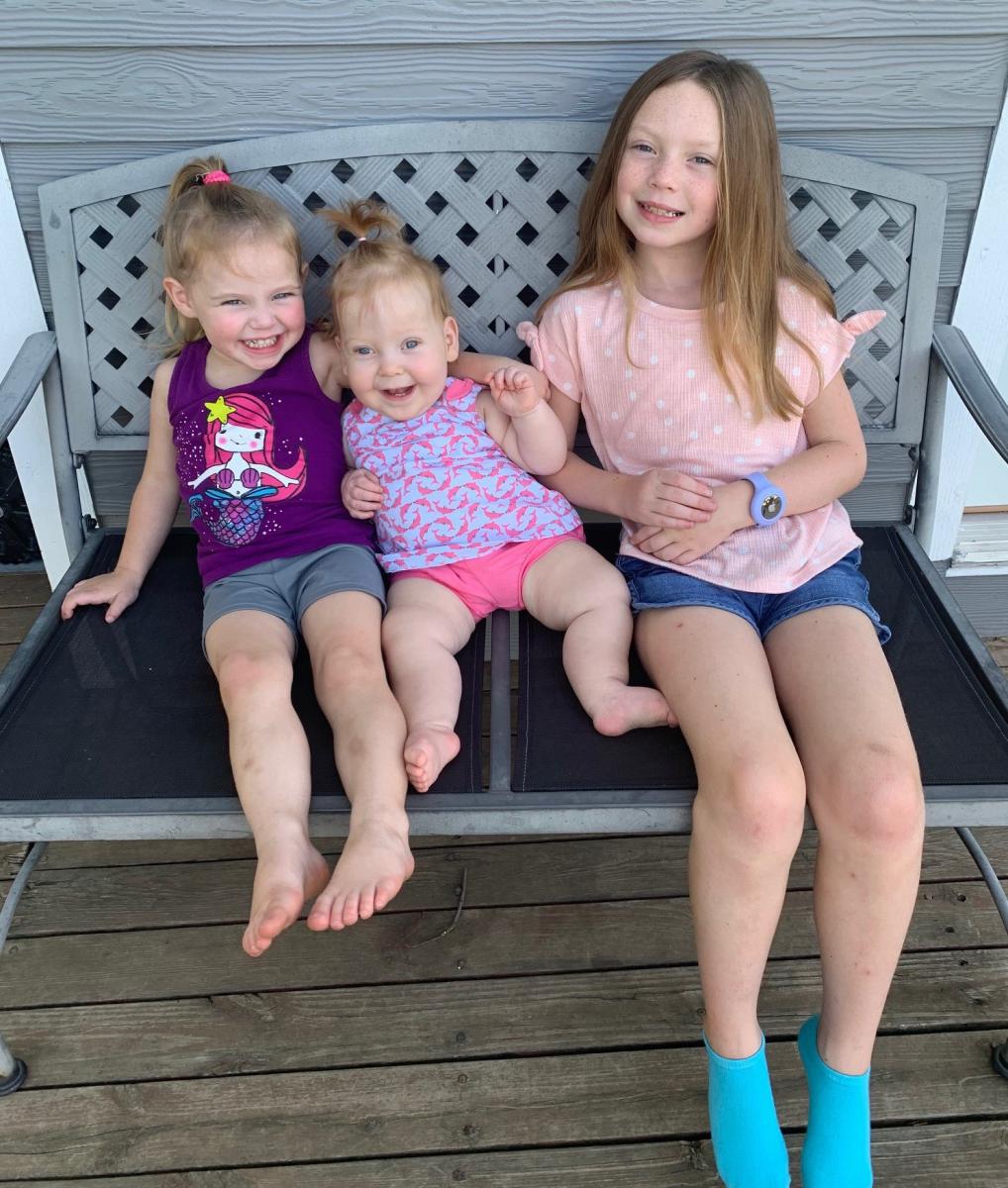 Jenna Sauer is from Centralia. She and her husband, Harley, already had two girls when their family welcomed Maddy, who was born with spina bifida and hydrocephalus. (Maddy is between her sisters in the photo at right.) These conditions have resulted in developmental delays for Maddy. Sauer said it's been hard to wrap her head around Maddy's various problems and needs and what those will mean in the future. Maddy will need a walker and wheelchair later, for example, to help her gain mobility. But in her early life, feeding has been a huge difficulty. Maddy has problems with new foods and with different textures, plus she struggles to communicate her needs and desires.
Sauer said she has found new hope because of speech therapy. Maddy has worked with Ashely Edelman, speech therapist at Community HealthCare System, for five months, and it has made a big difference. "The service is just outstanding. It's eye-opening how awesome they are, and it's made a huge impact on our family," Sauer said.
Edelman has helped Maddy start to overcome feeding problems in several ways. She showed Sauer how to put food in both sides of Maddy's mouth so she wouldn't thrust it out right away, for instance, and is helping her make the transition from a bottle to a sippy cup. She is also working with Maddy to help her learn to communicate with sign language. "We've worked with peek-a-boo and different interactions with her hands," Sauer said, including signs for "more" and "all done." Maddy has become much happier and more outgoing.
"She is more alive! It's all clicking, and she is able to do all these new things and enjoy different foods," Sauer said.
Edelman said "there is nothing quite like" seeing a pediatric patient like Maddy light up at the first correct production of a new word or trying and liking a new food. "Seeing the joy and improvement that can be made through early intervention is unlike any other experience," she said.
Sauer said that she feels better about Maddy's future. "I was very worried she wouldn't be like the other kids, she would have a lot of issues, I wouldn't understand her, and she wouldn't be able to eat like the other kids. Now I see light at the end of the tunnel, and I think she will be able to do the things other kids can do with the help of speech therapy," she said.
Aside from what Edelman has taught Maddy, Sauer feels more informed, too, because Edelman showed her how to respond to Maddy's babbling to help her learn some words and further develop her speech.
Teaching parents how to help their children make progress is another benefit of speech therapy.
"It's so rewarding to teach parents how to continue what their child learned in therapy. Parents are so good at implementing techniques and strategies we teach them," Edelman said, which is why she spends at least 10 to 15 minutes in each session providing helpful information and strategies for parents to use at home.
Sauer said Edelman checks on her after Maddy's other appointments and is always sure to tailor therapy to Maddy's needs. Maddy also receives physical and occupational therapy at Community HealthCare System, and the staff always do "everything they can" to get the best outcomes for Maddy.
"You don't just feel like another person—you feel like you are part of their family," Sauer said.
**************************************************************************************************************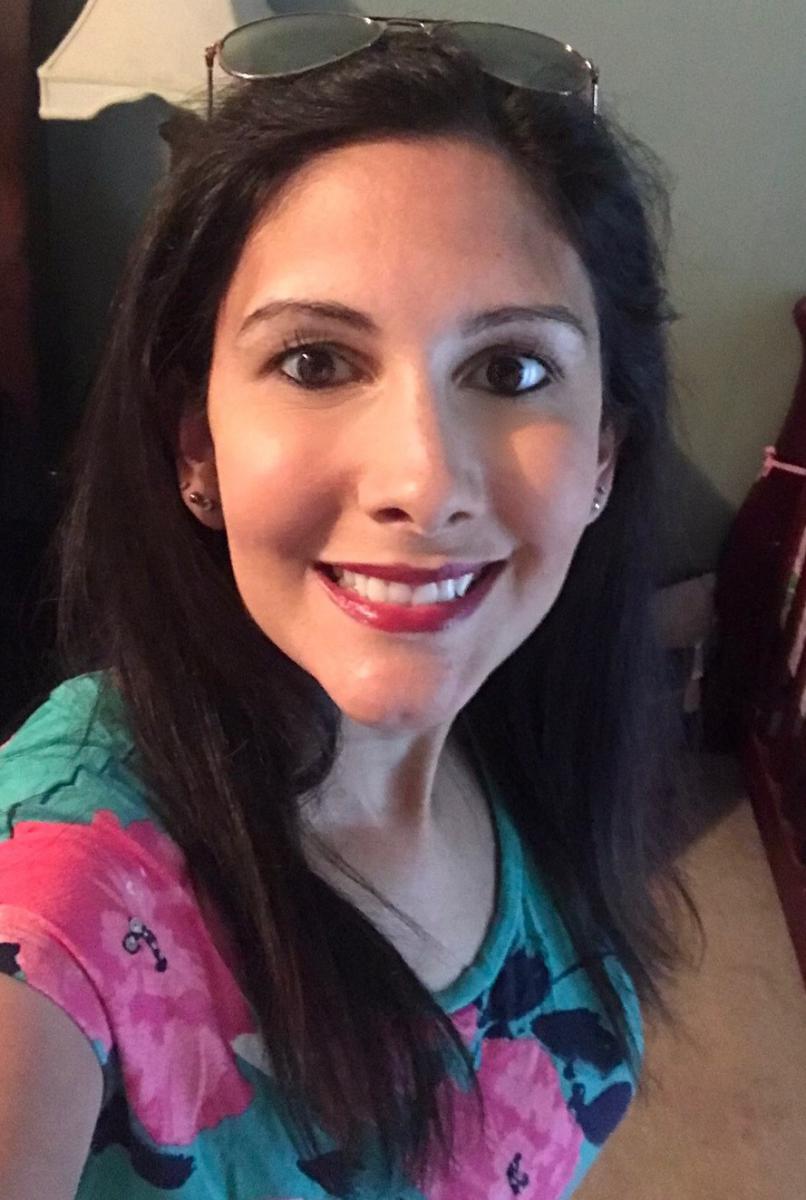 Bernadette Murphy (pictured at right) lives in St. Marys with her family. Her youngest daughter, who is now four, was not talking like other kids her age when she was three. She was recommended for speech therapy. She started attending speech therapy at CHCS twice a week about two months ago, and she is already more confident.
"She says three to four words, sometimes five words at a time. My husband and I have noticed she's trying! She sill has a way to go, but we've seen progress," Murphy said.
CHCS speech therapist Jenna Rethman has worked with Murphy's daughter and explained that she has a phonological disorder that affects the way she processes and produces sounds in words.
"She explained how we work on it, and we started working on more repetition," Murphy said.
Murphy particularly appreciates the flexibility of CHCS speech therapy. They aim for 45 minutes at each session, but if the young patient's attention span wanders, they adjust. And Rethman allows Murphy to remain in the room, which means Murphy is able to see what her daughter is learning so she can implement strategies at home.
Murphy likes the customized, one-on-one therapy Rethman provides.
"Jenna is always doing new things to get [my daughter] motivated and doing new things to interact with her," Murphy said.
Rethman said she loves being a small but important part of a very big picture as kids learn how to communicate with peers and family and have more confidence. She also likes working with their parents to learn more.
"I like to gauge what goals parents have for their children and incorporating that into sessions. I also like to check in each session to see if there's been any significant changes or successes at home. I like to know how skills worked on in therapy are carried over in the home and provide recommendations so parents can help maximize patient success," Rethman said.
Rethman added that many people don't realize the diverse capabilities of speech therapy: Social skills, feeding/swallowing, language, voice, and even providing alternative communication devices can be part of a child's therapy.
"Think about your day-to-day life. We are constantly communicating, and communication is the foundation for success in social, professional, or academic contexts. As speech therapists, we are passionate about providing intervention that could help kids who are struggling," Rethman said.
Read a Q&A with a CHCS speech therapist to learn more about the service.