Posted On: March 14, 2022 by Community HealthCare System in: Patient story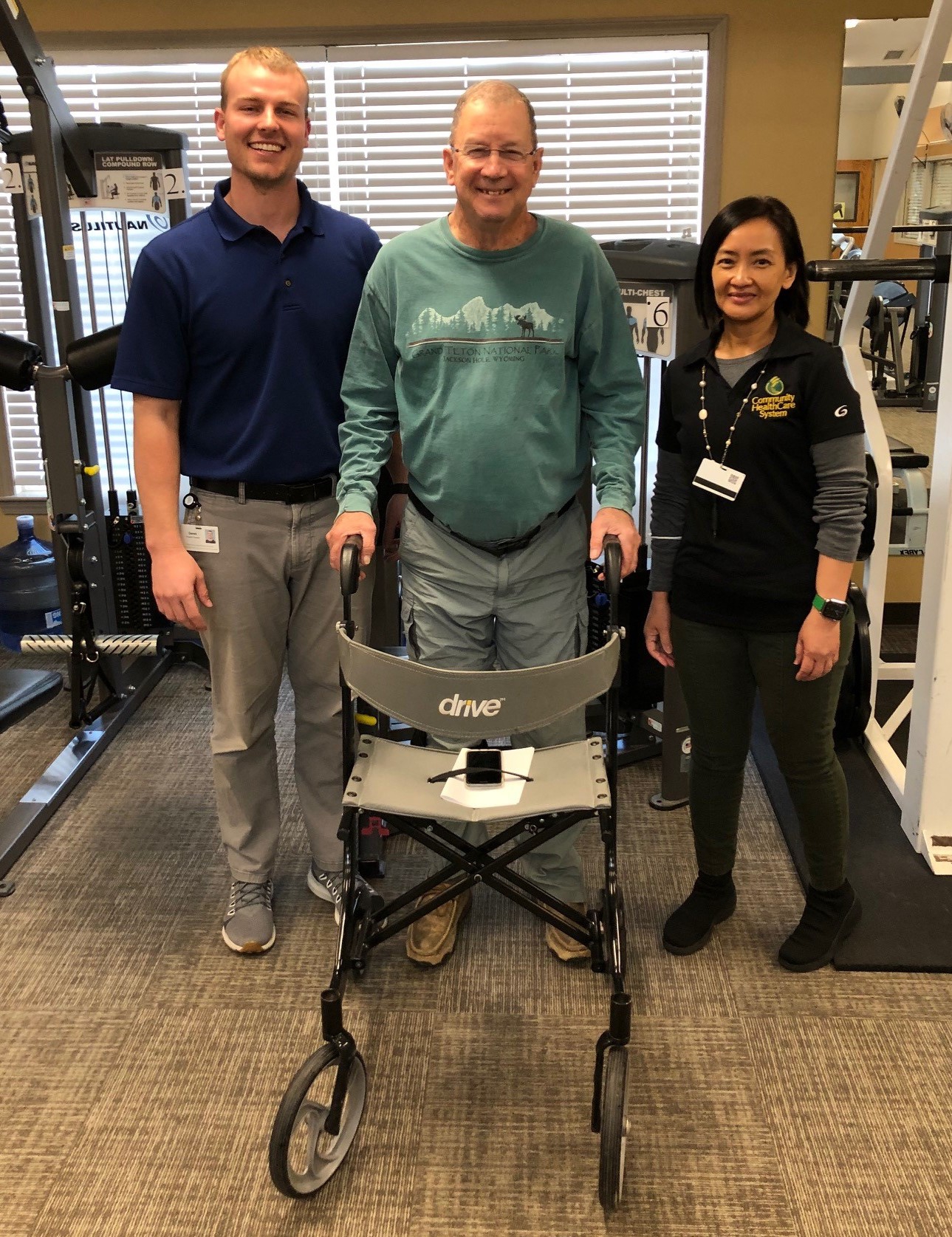 If you visit the Onaga Rehabilitation and Fitness Center on weekdays during the lunch hour, you're likely to see Bob Avery hard at work on the weight machines. He travels to the Fitness Center several times a week from his home near Olsburg to do strengthening exercises, and he sees a physical therapist once a week. He's come a long way since a harrowing accident nearly five years ago left him with a partial spinal cord injury.
Avery, a lifelong rancher who also shod horses for more than 30 years, was on horseback in an arena enjoying himself with friends when he roped a big steer. "It didn't end well," Avery explains. He was jerked over the front of the horse and landed on his head. He's careful to note that the horse wasn't at fault. "I don't think the horse did anything wrong. It wasn't her mistake—it was mine! I had done this for 50 years and roped thousands of steers," he said.
When Avery couldn't move his feet, his friends called an ambulance, and that crew saw Bob's injuries and called a helicopter to fly him to the University of Kansas Medical Center in Kansas City. Two surgeries were required to stabilize his damaged C7 and T1 vertebrae. After surgery, Avery recuperated at Madonna Rehabilitation Hospital in Lincoln, Nebraska, returned for another surgery, then went back to Madonna for another two and a half months.
Avery recalls a delightful day when he caused his therapist to scream in surprise when he moved his leg on his own, and eventually he was able to regain enough movement to be able to walk with a walker. Avery then came home, and he chose Community HealthCare System for his physical therapy. He's been happy with the decision. He has worked with different therapists, and all have been helpful. Derek Surdez has been his primary therapist, and he scored major points with Avery about halfway through the first session when he said, "We need to get you walking better."
Avery said Derek knew what he wanted, recalling that Madonna therapists were skeptical when he announced that his goal was to walk again.
"I stuck with that. Walking can be defined differently. I knew I wasn't going to run a marathon again, but I wanted to get up and motor on my own. Someone said it wasn't very realistic, and I said, 'we'll just have to see,'" Avery said.
Surdez and the rest of the team have helped push Avery so he can continue to make progress.
"I think Derek is great. All of those physical therapists -- I'm amazed at their knowledge of the musculature system and what affects what. Derek does a good job of evaluating why this foot isn't going where it's supposed to go, and what we need to work on," Avery said.
When you see Avery today, it's hard to believe that he was told he may not survive, then that he may not be able to walk again. He moves well with his wheeled walker, and he offers cheerful greetings to neighbors in the Fitness Center. He continues to gain more feeling in his feet, and he makes sure he maintains his strength by exercising. It's obvious that Avery has a positive attitude despite his challenges and that his optimism and grit have helped fuel his progress. He also credits his wife, Becky, and the support of extended family during the most difficult parts of his rehabilitation journey.
"Being married to Becky is the best thing. She is wonderful. I wouldn't want to do this without her," Avery said.
Avery also appreciates the Fitness Center, noting that it's nice to be able to exercise at the same place where he gets therapy. He likes the personal attention.
"When I'm out there on my own during the noon hour, Derek or Maribelle or Nikki have come over for five minutes, and I ask a question, and they work with me. I'm not sure you get that everywhere!" he said.
As spring arrives in the Flint Hills, you might find Avery maintaining his or his neighbors' pastures with his specially modified skid loader. The Averys also have travel plans in Washington State this summer and want to explore Nevada's Highway 50, known as the Loneliest Road in America. They will also enjoy the sight of cows and calves returning to their place at the beginning of May.
Avery never got depressed or gave up. He says from the beginning, he recognized that he needed to "deal with it and go on."
"I told everybody, I'm so thankful I was 71 instead of 21. I got to live my life exactly as I wanted and being as physical as I was. It's not like I just lost everything – that's the biggest thing for me," he said.
Community HealthCare System offers physical, occupational, and speech therapy in Centralia, Frankfort, Holton, Onaga, and St. Marys. Learn more about available services.
Photo caption: Bob Avery, middle, has appreciated the help of CHCS physical therapists Derek Surdez, left, and Maribelle Collado, right.