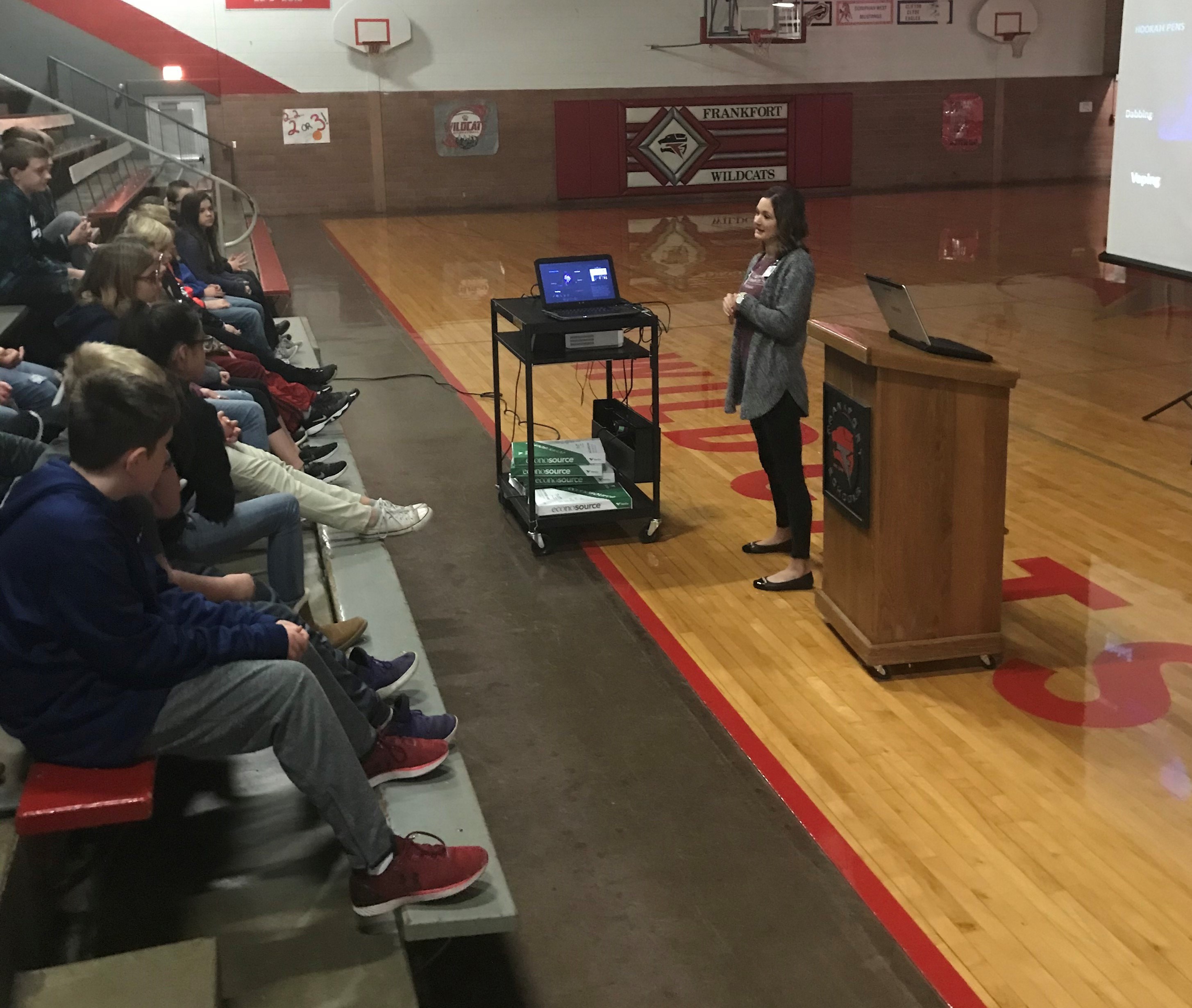 Vaping has become a burning issue in communities and schools around the country. Community HealthCare System has been asked to serve as a resource to schools and parents in our communities and to help students, teachers, and families understand the risks and dangers of vaping.
On November 14, Merica Surdez, APRN presented information on vaping to grades 5 through 12 at the Onaga school. Merica was able to present to four different age groups; 5th and 6th, 7th and 8th, 9th and 10th, and 11th and 12th grades. The presentations were coordinated through the CHCS Live Well Committee and its partnership with the USD 322 Wellness Committee. Onaga wanted to help the kids understand the dangers associated with the recreational habit. Merica also visited Frankfort on December 5.
In each session, Merica asked the kids if they knew someone who vaped, and in every session, almost all of the kids raised their hands. In the 5th and 6th grade session, not one hand was left down. This shows the need to be able to educate kids early on the dangers associated with vaping.
Merica's presentation included a description of vaping, different types of vaping, associated costs and dangers, and the effects that vaping has on the body. She also helped the kids to understand that even the "flavors" that make vaping so popular are derived from hazardous chemicals. Merica relayed information on all of the young, healthy teenagers and adults that have been hospitalized or even died due to vaping-related conditions.
After the presentations, Merica said the students asked many great questions and that she was amazed at how many kids knew someone who vaped. Merica discussed how the 5th and 6th graders knew a lot of adults who vaped or had parents who vaped. The kids asked a lot of questions about the second-hand effects of vaping. Merica thought the sessiosn were a success, and she is excited to present to Centralia on January 14.
Find resources and information about vaping and how to talk to youth about vaping from the Centers for Disease Control.
Find information about Merica and the rest of our medical staff.