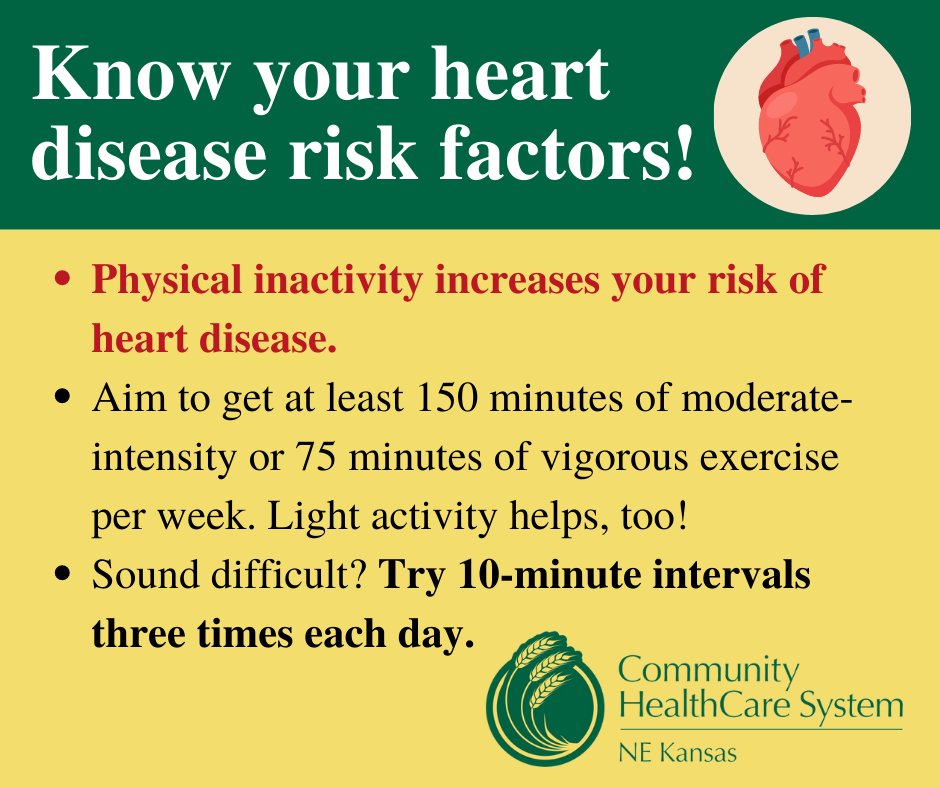 By Meranda Schmitz, RN
Heart disease is the leading cause of death in the United States. February is American Heart Month, so we are featuring weekly information about heart disease risk factors along with tips to help reduce your risk.
Many factors increase your risk of heart disease. Some factors are controllable, whereas others – such as family history – are not. Controllable risk factors for heart disease include high cholesterol levels, high blood pressure, physical inactivity, diabetes, being overweight, uncontrolled stress, depression, anger, smoking, and alcohol use.
The first risk factor we'll discuss is physical inactivity. Many of us should be getting more exercise. It may not be as difficult as you think!
The American Heart Association recommends the following for exercise.
Get at least 150 minutes per week of moderate-intensity aerobic activity or 75 minutes per week of vigorous aerobic activity, or a combination of both, preferably spread throughout the week. This can be accumulative exercise, which means that you can break it up into 10-minute intervals 3 times per day, for example. Finding time for brief "exercise snacks" is much easier than setting aside a long block of time dedicated to exercise.
Add moderate- to high-intensity muscle-strengthening activity (such as resistance or weights) on at least 2 days per week. Build your strength and decrease your heart disease risk at the same time!
Spend less time sitting. Even light-intensity activity can offset some of the risks of being sedentary. If you work at a desk, stand up every 30 minutes or take a short walk when you are able.
Looking for even more benefits? Try to be active at least 300 minutes (5 hours) per week.
Don't try to do this all at once! Increase your amount of exercise and your exercise intensity gradually over time.
Exercise carries many benefits, including the following.
Lower risk of heart disease, stroke, type 2 diabetes, high blood pressure, dementia and Alzheimer's, several types of cancer, and some complications of pregnancy
Better sleep, including improvements in insomnia and obstructive sleep apnea
Improved cognition, including memory, attention, and processing speed
Less weight gain, obesity, and related chronic health conditions
Better bone health and balance, with lower risk of injury from falls
Fewer symptoms of depression and anxiety
Better quality of life and sense of overall well-being
Need options for exercise? CHCS has excellent Fitness Centers in Onaga, Frankfort, and Centralia. The centers have a wide variety of equipment, and the Onaga facility includes a pool. Call 785-889-5048 for more information, or stop by to take a look.
Another great option is our Heart to Heart Therapy program. This program is for those with heart disease as well as those with risk factors for heart disease. This is managed by our Cardiopulmonary Rehab program in conjunction with Fitness Center staff who assist you with exercise planning, blood pressure monitoring, and education. Call Meranda at 785-889-5502 for more information.
If a Fitness Center isn't your thing, that's OK. Go for a walk or ride your bike, or explore the many free exercise videos on the internet, including seated exercises. The point is to move to improve your heart health!
Learn more about cardiac care at CHCS.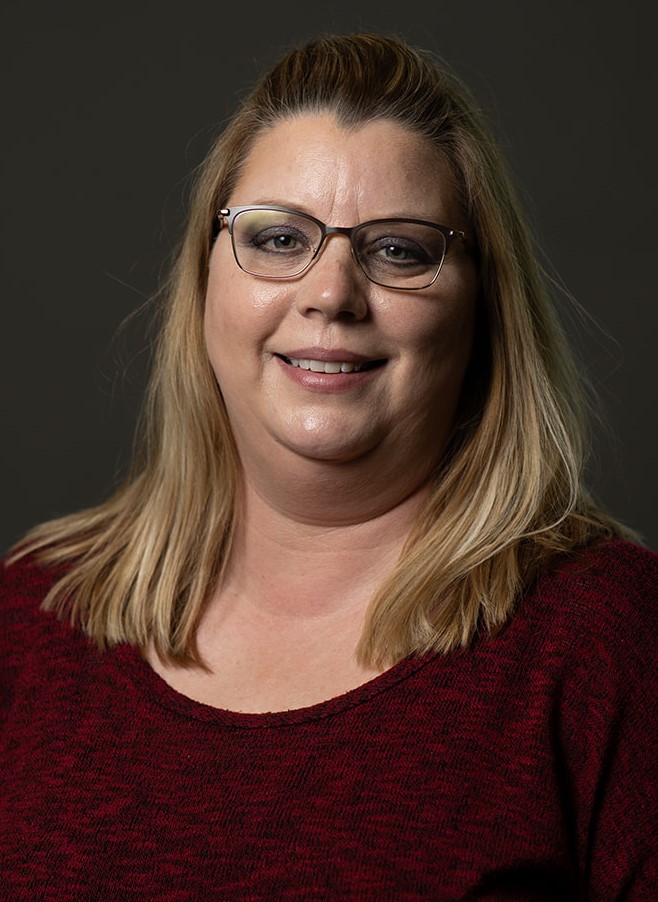 Meranda Schmitz, RN, helped establish the Cardiopulmonary Rehabilitation program at CHCS. She has been a nurse for 25 years and lives in Westmoreland with her husband and son. Her favorite thing about working with Cardiopulmonary Rehab patients is helping them make progress and meet their goals. Want to learn more about available programs? Reach Meranda at [email protected] or 785-889-5502.