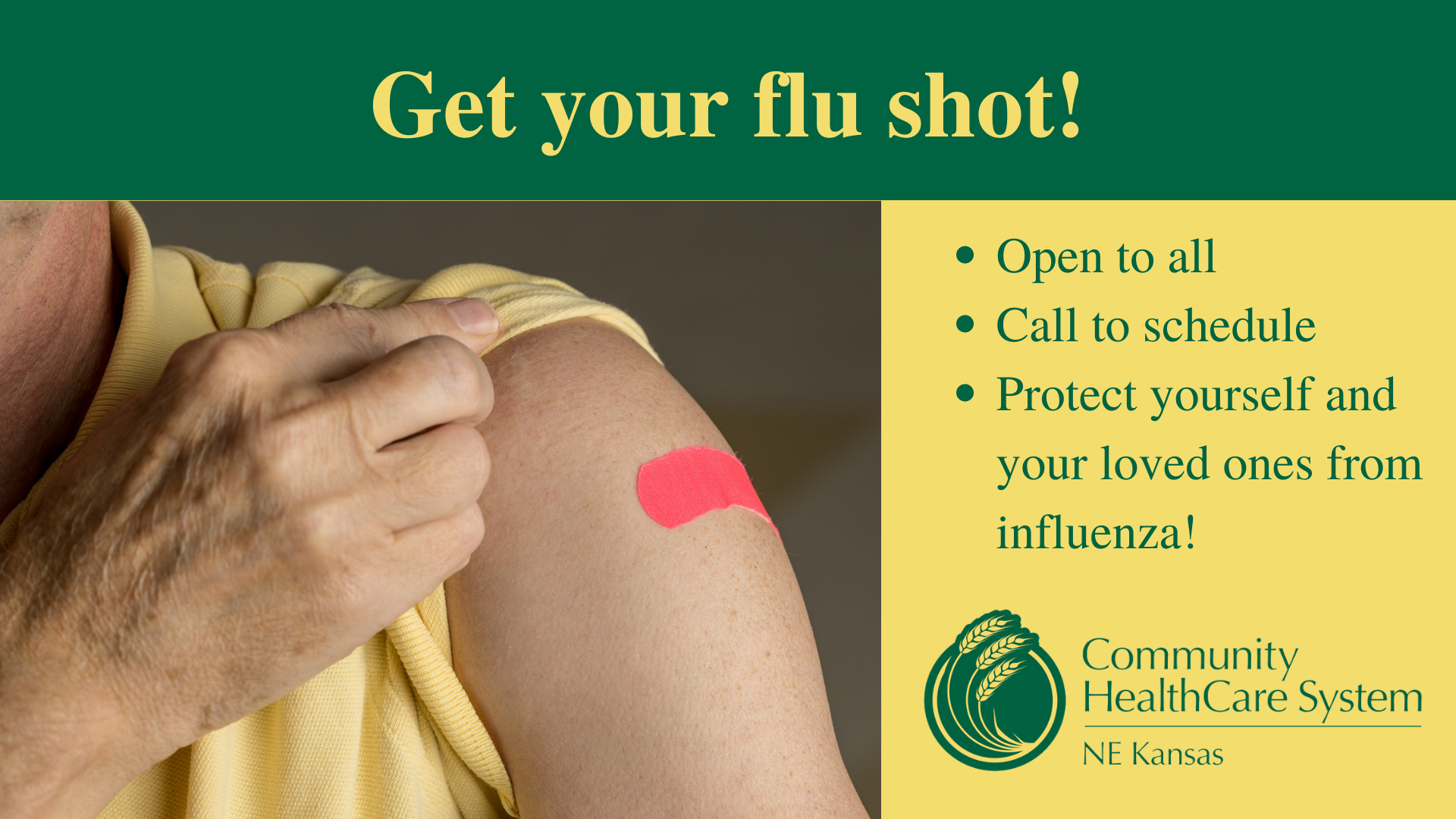 It's never a good time to be seriously ill or hospitalized with the flu, but 2021-22 could be particularly challenging as patients with COVID-19 continue to fill beds. RSV, or respiratory syncytial virus, infections are also on the rise in our area. Health experts in northeast Kansas and nationwide are worried about the upcoming influenza season and hope people will help prevent a large number of flu hospitalizations by getting a flu shot.
Karen Elliott, RN and infection prevention nurse at Community HealthCare System, urges everyone over the age of six months to get a flu shot.
"Aside from handwashing, the number one thing I can recommend for staying healthy during flu season is getting a flu shot," Elliott said.
Flu shots not only reduce illnesses, doctor visits, and missed work and school, but they also protect those who are more vulnerable. Most importantly, flu vaccines keep people out of hospitals, which are already overburdened with COVID-19 patients.
"The biggest reason to get it is that a flu shot can prevent you from getting very, very sick and can prevent hospitalization," she said.
According to Elliott, last year's flu season was mild because many people were wearing masks, sanitizing hands frequently, and taking other precautions. This year's flu season could be much worse.
"Everyone is tired of taking precautions and revolting against masks. We lucked out last year, but we are concerned about the flu this year because people do not have any immunity," Elliott said.
Flu shots are available to all at Community HealthCare System clinics in Onaga, St. Marys, Holton, Frankfort, Westmoreland, Centralia, and Corning. Special flu shot clinics will also be held at some locations. Please call in advance to schedule to help clinics maintain social distancing. We will update this post as we add flu shot clinic dates.
Holton Family Health Center will hold a drive-through flu and COVID-19 vaccine clinic on September 15. Subsequent dates are to be determined.
Onaga Clinic will hold flu shot clinics on September 28 and October 5 from 8:00 a.m. to 4:00 p.m.
St. Marys Family Health Center will hold flu shot clinics October 21 and November 4 from 8:00 a.m. to 5:00 p.m.
For Frankfort Clinic, Westmoreland Clinic, Centralia Clinic, and Corning Clinic, please call the clinic to schedule a nurse visit to receive a vaccine. Find contact information.
Both influenza and COVID-19 vaccines will be available at the Community HealthCare System Health Fair at Onaga Community Hospital on October 9 from 7:00 a.m. to 10:00 a.m. Thank you to Pottawatomie County Public Health for coming to administer the vaccines.
Merica Surdez, CHCS chief of provider and clinic operations, said CHCS is eager to provide flu shots.
"Our clinics want to help protect our communities from influenza. We're aiming to make it as easy as possible for all to receive a flu shot, so patients have options to attend the Health Fair, go to special flu shot clinic dates, or call clinics to schedule a nurse visit," Surdez said.
"Be sure to protect yourself and your family this year," she said.