Posted On: October 27, 2022 by Community HealthCare System in: News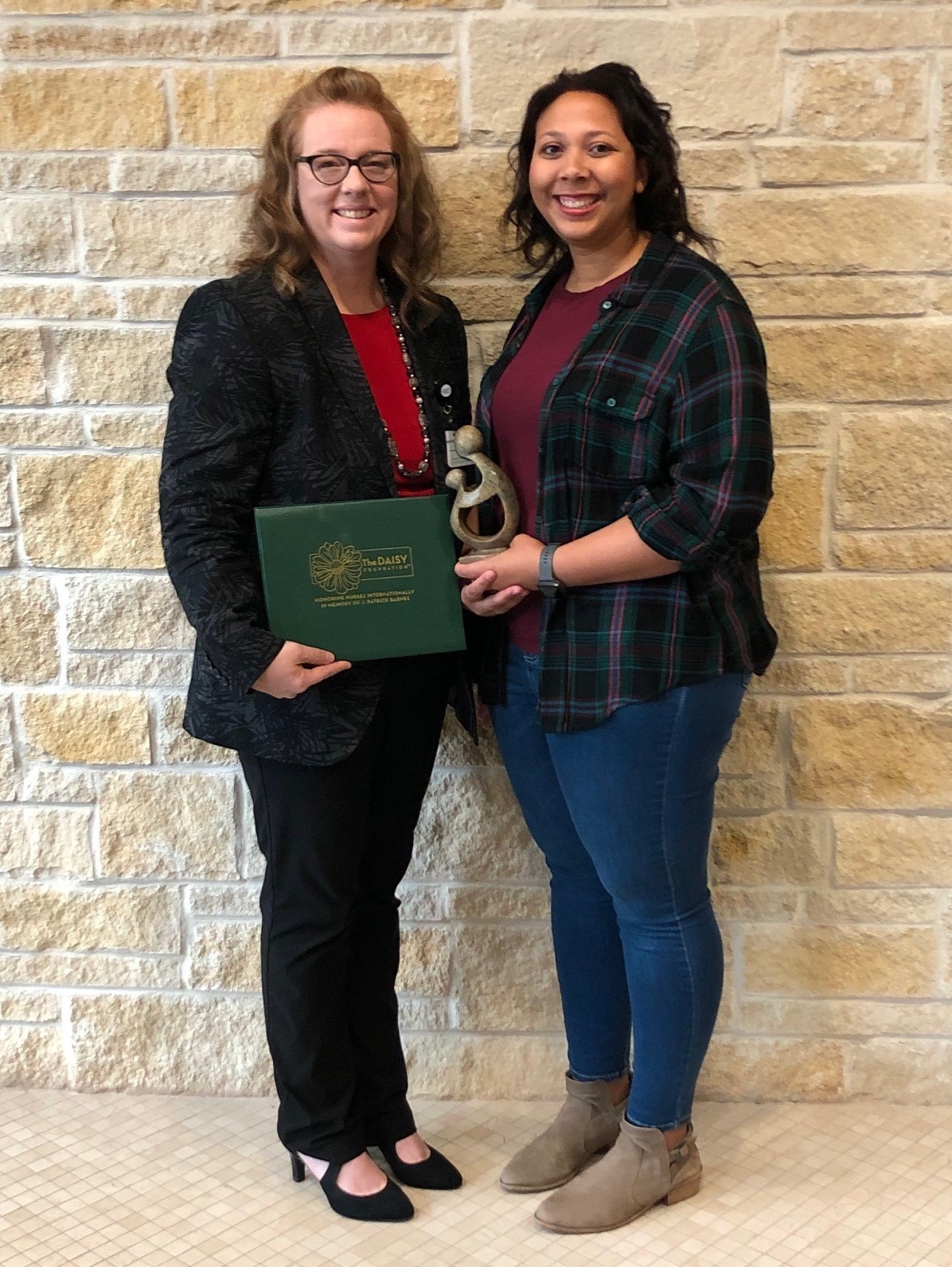 Community HealthCare System has recognized Alexis Whorton, RN and Community HomeHealth manager, with the fall 2022 DAISY Award for extraordinary nursing. She was nominated for helping a local family navigate securing hospice care for a loved one with metastatic melanoma.
"I contacted Alexis for some assistance and answers to questions regarding the hospice care process. Alexis had previously helped us with home health care. She has been a lifesaver for our family," wrote Jane McClain in the nomination.
McClain, a Licensed Practical Nurse at Redbud Plaza Assisted Living, nominated Whorton on behalf of the family of Merlen McClain. She noted that Whorton not only helped the family contact hospice, but also provided ongoing support.
"She has gone above and beyond for our family. She continued to call and follow up … and offered to help with whatever we are needing. Alexis is a kind, caring, and compassionate nurse. Our family feels truly blessed to have had her help through an emotional process," McClain said.
Whorton's compassion and dedication truly embodies what it means to be an extraordinary nurse. CHCS is proud to count her among our associates.
"Having patients and families express thanks to their nurses is inspiring, and we are always impressed by the care our nurses provide. We routinely hear wonderful comments about our Community HomeHealth nurses, and we're thrilled to recognize their efforts to make day-to-day life easier for their patients," said Mindy Olberding, chief nursing officer at Community HealthCare System.
Community HomeHealth has long been recognized as an elite home care provider. It has been named an HHCAHPS (Home Health Care Consumer Assessment of Healthcare Providers and Systems) Honors recipient four times for delivering high-quality care and using a patient-centered approach. Community HomeHealth nurses have been recognized as DAISY Awardees three times in the last four years.
Olberding said that home health nurses develop special relationships with patients and families.
"These nurses help vulnerable individuals through a difficult time and help them maintain dignity and quality of life. They care deeply for their patients," Olberding said.
CHCS selects DAISY Award winners twice each year through a blind selection process. Five nominations for five different nurses were received for the fall 2022 award from co-workers, patients, or patients' family members. Other nominees in addition to Whorton were Danielle Baxter, Onaga Clinic RN; Jody Becker, Onaga Community Hospital RN; Tiffany Ronnebaum, Onaga Community Hospital RN; and Marie Wessel, Onaga Community Hospital RN.
The DAISY Foundation was established in 1999 by the family of J. Patrick Barnes, who died of complications of the autoimmune disease idiopathic thrombocytopenia purpura (ITP) at the age of 33. During Barnes' eight-week hospitalization, his family was awestruck by the care and compassion his nurses provided. One of the goals they set in creating a foundation in Pat's memory was to recognize extraordinary nurses who make an enormous difference in the lives of so many people through the superhuman work they do every day. In pursuit of this goal, the family created the DAISY Award for Extraordinary Nurses. The simple award and thank you to nurses have grown into a meaningful recognition program embraced by healthcare organizations around the world.
CHCS nurses may be nominated for an award in three ways.
The deadline for the winter 2023 DAISY Award nominations is March 1.