Posted On: August 27, 2020 by Community HealthCare System in: General
Samantha Correll is a Clinical Support Specialist. She works at Holton Family Health Center and handles outside physician referrals for Holton, Onaga, and Westmoreland. She has a number of other talents and interests and recently took time to answer a few questions.
What do you do outside your work at CHCS?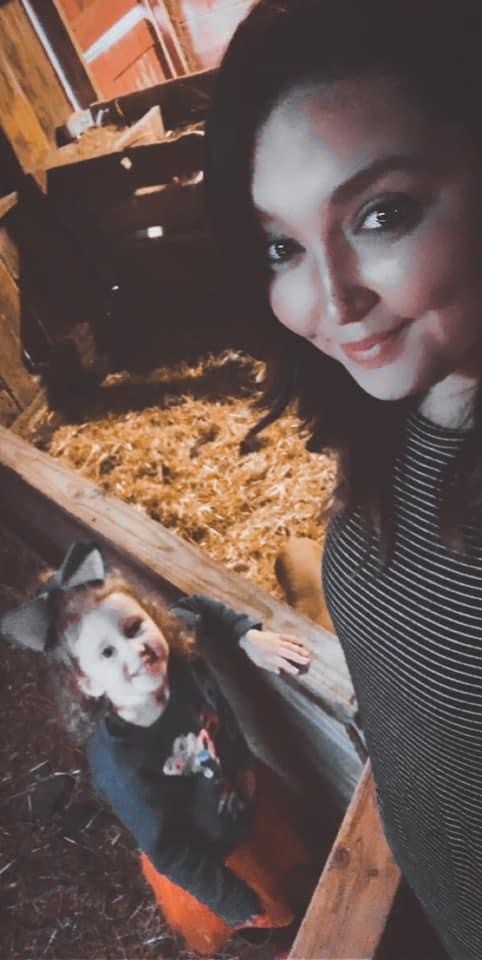 My husband, Jacob, and I own a small farm south of Denison, Grey Oak Farm. We have lived there for 10 years. We have 2 children, Greysen (9) and Oakleigh (4). (Oakleigh is pictured with Sam in the photo at right. Sam says Oakleigh likes doing chores and is the "official sticker girl when we label cake pops.")
How did you get involved in baking/catering? What is your favorite thing to make?
I started cake pops and cupcakes around 10 years ago. It started just as a hobby. I enjoyed doing them for friends and family, and it has grown. My absolute favorite thing to make is PIE! I don't love to eat sweet, but I do love to bake and create pretty treats. (Note: Sam's business is called Grey Oak Farm & Kitchen and will soon have its own Facebook page.)
Why are you interested in exotic poultry? What species do you have, and how did you get started?
My husband grew up with many different breeds of poultry. We started with a few chickens, and it has expanded many, many times now! We have roughly 15 breeds of chickens (five different colors of eggs!), geese, ducks, guineas, three breeds of quail, peacocks, and five different varieties of turkeys. We have recently added goats to our growing farm. Our son is involved with 4-H, and that has been our drive to continue to breed show-quality stock. He also shows rabbits in 4-H.
What do you like about growing and preserving your own food?
Gardening is a passion. I grew up gardening with my dad and in the kitchen canning with my mom. Being self-sufficient is a continued goal for our family. We have raised most of the meat in our freezer and have processed quite a bit of it ourselves. Our shelves are lined with veggies and fruit that we have canned. The salsa and pickles don't last long around our house! I love learning about new homesteading practices, and we will continue to grow and branch out in the years to come.
Many Community HealthCare System associates do amazing things outside of their everyday work. Our occasional series of profiles helps us learn more about the great people who work here. Read previous profiles of an IT associate who serves as a paramedic and a nurse practitioner who is also a faculty member at Washburn University School of Nursing.