Posted On: July 27, 2020 by Community HealthCare System in: General
Leah Zwonitzer is a clinical application support analyst in the CHCS Information Technology, or IT, department. Leah said the job is acting as a go-between from nursing and medical staff and our electronic health record systems (Cerner and PointClick Care). Leah conducts troubleshooting; helps with builds, order set changes, documentation within charts, and workflow changes; and trains new hires in using the systems. In addition, Leah teaches Advanced Care Life Support, first aid, and other classes in our communities and to our associates.
Leah is also a paramedic for Jackson County EMS and is scheduled for about 72 hours a month (every Wednesday from 7 p.m. to 7 a.m. plus a 24-hour shift every third Saturday). Paramedics are the highest EMS certification followed by EMT-A (Advanced), and then EMT.
Leah recently answered a few questions about her work as a paramedic. Take a moment to learn more about an amazing CHCS associate!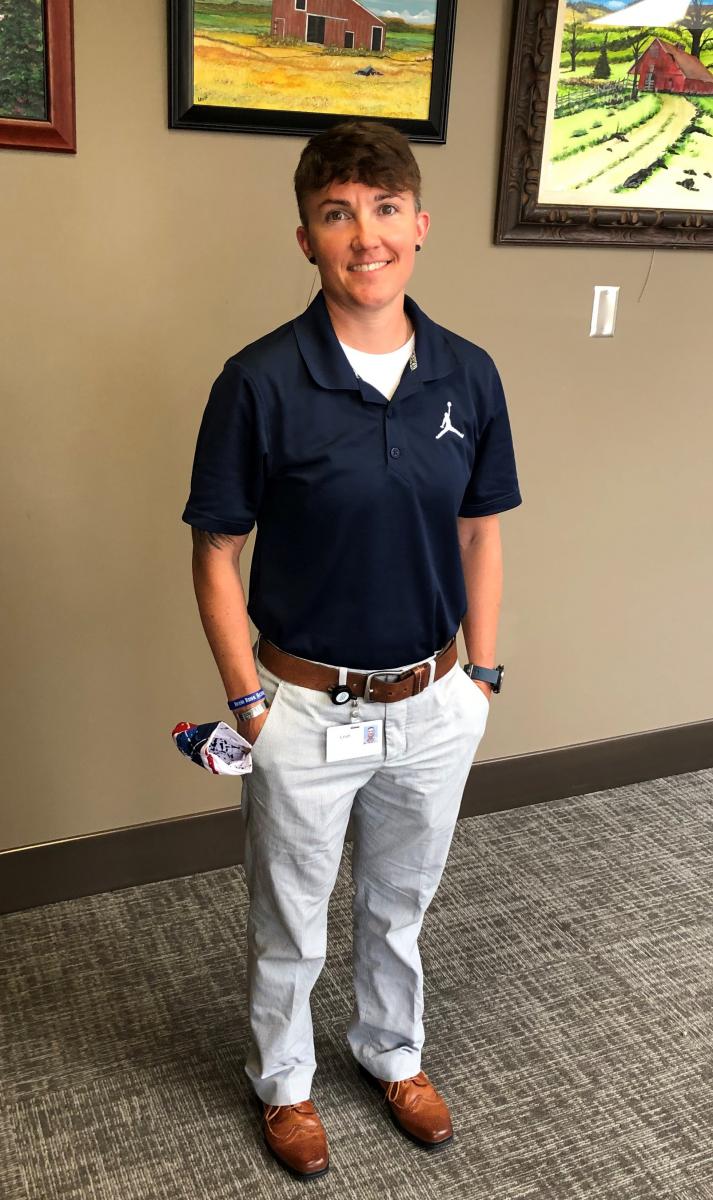 What are your duties, and how did you train? How much ongoing training is required?
Duties include management and operation of my ambulance and crew, direct patient care, communication with hospitals and staff, as well as with surrounding first responder agencies and law enforcement. I began my career in EMS with an 8-month EMT course and then went on to complete an 18-month paramedic course, including class time as well as field training. I have also completed a critical care paramedic course that allows me to take care of more critical patients like those on ventilators, balloon pumps, blood transfusions, etc. This allowed me to achieve my flight paramedic status, as I worked on medical helicopter as well. Ongoing training includes the upkeep of my various license additions such as ACLS, PALS, PHTLS, NRP, BLS, KS state license, and my national license. These courses and licenses have to be renewed every two years via a refresher course. My state and national license are renewed by 120 hours of continuing education.
What do you like about the job?
I love the job. I developed a like at an early age as my dad did volunteer fire and rescue for many years in Holton. Watching him help people like that was amazing to me. People calling or in need of EMS are often experiencing one of the worst days of their lives, and being able to lend a hand and help them in any way I can gives you a sense of honor. Being able to serve a community in that way is certainly a sense of fulfillment. Plus, EMS scenes are often very complex and even chaotic. People are often critically ill or injured, and having to make time-sensitive treatment decisions appeals to my adrenaline junky side.
What precautions have EMS personnel had to take during COVID-19?
Our dispatchers have been doing their best to get us the most accurate info from the 911 caller; however, we are wearing procedure masks on every call. If COVID is suspected, we then send only one crew member in for direct patient care. We are donning a full Tyvek suit, boot covers, double gloves, goggles, face shield, and N95 masks. The transporting compartment of the rig is then prepared by sealing all cabinets with tape, and any gear not being used for patient care is moved to the outside compartments. Exhaust fans are run for the duration of the transport, and only minimal procedures are completed as far as patient care is concerned. We have to radio ahead and get confirmation that we have an accepting facility before transport begins, and all patients assessed not to be emergent are encouraged to shelter in place and contact their primary care physician. After transport, everything has to be disinfected with Clorox and Lysol as well as a 30-minute black light treatment once we are back in the station.
What do members of the public need to know about how to help EMS in an emergency?
​I think the most important thing people can remember when interacting or helping EMS is try to remain calm. This is the most difficult part for these folks, as they are often experiencing the worst day of their lives. Make sure to always stay on the line with the 911 operator, as they are trained to talk you through many things from hemorrhage control to CPR until help arrives. If you are a chronically ill person or have a significant past medical history, make a list of your conditions, medications, and allergies. This makes it easier for us to try and figure out what may be going on with you if you are unresponsive or unable to tell us yourself. Lastly, always yield to emergency vehicles. Slow down, signal, and pull to the right if one is behind you. Getting to the emergency is the most dangerous part of our job.
What else can you tell us about yourself?
I grew up in Onaga and have worked at CHCS since November of 2015. I played basketball for two years at Bethel College, and I am a fitness buff! I like running and lifting weights. I recently got into triathlons, finishing a sprint triathlon (1/4-mile swim, 10-mile bike, 5K run) in Shawnee Mission. I also do 5K and 10K runs such as The Bix in Davenport, Iowa. My adrenaline junky side is part of it. The health side of it is that I take care of sick patients all the time, so I don't want to be unhealthy! Because of all the lifting patients and gear as a paramedic, it's easier to do the job as a healthy person.