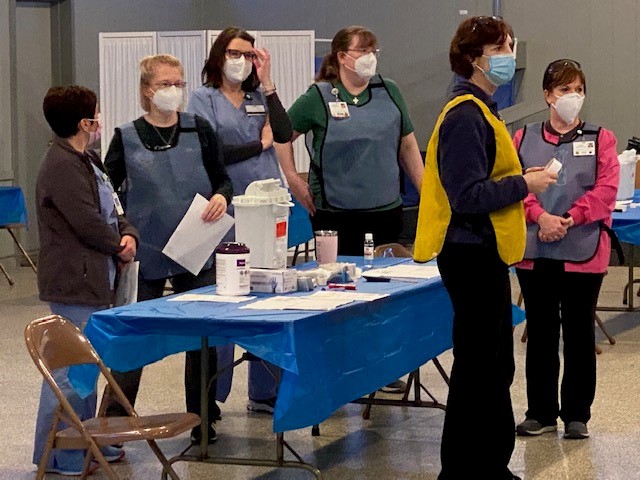 The early February sun shone on the first Phase 2 COVID-19 vaccine clinic in Pottawatomie County, an event that one vaccine recipient said felt "like a party."
Vicki Flattery said everyone from the staff to those arriving for the vaccine was "excited and festive." "It's a great vibe," she said.
Pottawatomie County Public Health collaborated with county healthcare leaders for months to ensure smooth delivery of vaccine. The event at the Onaga Community Center was staffed by Pottawatomie County Public Health, Community HealthCare System, and Wamego Health Center on February 1. It was the first of many mass vaccination clinics in the works. As the county receives more doses, more clinics will be available around the county.
Leslie Campbell, Pottawatomie County Health Department Director, said she is grateful for the collaboration from Community HealthCare System, or CHCS, and Wamego Health Center.
"Both [CHCS CEO] Todd Willert and [Administrator] Steve Land said 'we will help you,' and we just started working on doing it together," Campbell said.
Organization was key. From parking and entering the building, registering and filling out paperwork, receiving instructions and vaccine, and staying for the 15-minute waiting period for safety, vaccine recipients visited several stations spaced around the building.
"When you break each piece out, it goes a lot faster," Campbell said.
The Pottawatomie County Sheriff's Department assisted with traffic flow and parking. "They did an awesome job outside so we don't have too many people waiting in registration. Other clinics in the area had problems with that," Campbell said.
Several recipients remarked that the clinic ran smoothly.
"This was well organized. I was impressed. I think we were worried about sitting in line and waiting like we've seen on TV. That didn't happen here," said Eugene Berges.
Debbie Berges echoed her spouse's sentiments and noted that good information was available. "The setup flowed very well. Everyone was friendly and answered questions if we had them. I had several, and she answered them politely and clearly," she said.
Community HealthCare System staff assisted with scheduling patients who had signed up through Pottawatomie County to receive the vaccine as well as with registration and administration, setup and teardown, and supplies. Scheduling 300 recipients was a difficult task. Merica Surdez, CHCS chief of provider and clinic operations, and Melody Couper, Pottawatomie County Health Department LPN, spent many hours working through the list and coordinating phone calls.
Mindy Olberding, chief nursing officer, said CHCS nurses were excited to help.
"It feels like a great service we are providing. It's been a tough year, and it's good to see people on the healthy side and be able to do something to prevent illness instead of seeing them when they are very sick. We'd rather see them like this than barely able to breathe," Olberding said.
Willert said he's proud of his staff for stepping up to make the collaboration work.
"We've had many hours of meeting and planning, and it's great to see it come to fruition. We're thrilled to be on the offensive against the pandemic," Willert said.
Along with Olberding and Willert, Campbell noted that giving vaccine is good for her staff's morale.
"It's tough to be the messenger for some things. After months of people being upset when you put them in quarantine – and their kids, too – having the vaccine and being the good messenger makes it so much better," Campbell said.
Campbell hopes everyone who has the opportunity will receive the vaccine.
"Think of your community: the more herd immunity we have, the better off everyone Is going to be. Protect those who can't get a good immune response because they are on cancer treatment, for example, and think of your neighbors," Campbell said.
Those who are concerned about safety should visit with their physicians to find out what's right for them. Campbell noted that Pottawatomie County Public Health has not seen any severe reactions so far.
"We are very prepared, but we have not had any issues other than a sore arm, minor body aches, and maybe a temperature," Campbell said.
Chris Flattery received the vaccine along with his wife, Vicki. "We've said since the beginning that everyone should get it. The more, the merrier!" he said.
When the pandemic subsides, Vicki is looking forward to more festivities. She knows a party atmosphere when she sees it because of her experience with a beloved family business, Ottoway Amusements.
"I'm looking forward to carnivals again. There were no carnivals or local festivals last year, and our vendors are suffering. It trickles on down. If there are carnivals again, that means the rest of the country is back on track!" she said.