Posted On: October 20, 2020 by Community HealthCare System in: News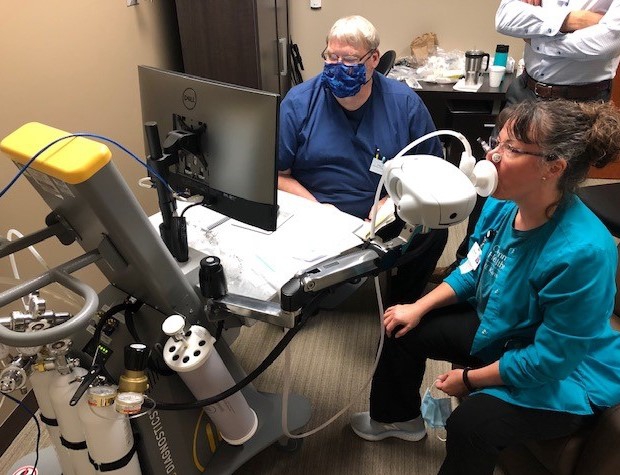 CHCS recently acquired a new pulmonary function test, or PFT, machine. The Ultima Pulmonary Function System by MGC Diagnostics helps us provide the most up-to-date testing of how well a patient's lungs are working.
According to Registered Respiratory Therapist, or RRT, Michelle Budreau, a PFT measures lung volume, or the maximum amount of air a patient can get into his or her lungs. The test also measures muscle strength, which plays a role in our breathing; diffusion, which is how well a patient is breathing in oxygen and expelling CO2; and other important markers of lung function.
Budreau and colleagues Troy Myers, RRT, and April Wesley, RRT, received training on how to use the machine. "We learned everything from how to take care of the machine with weekly and monthly quality control testing to how to do patient testing," Budreau said.
Because the PFT requires patient effort to achieve accurate results, the training concentrated on explaining the test and instructions clearly so patients can understand and follow directions. "If the patient cannot understand or follow directions, you may not get good numbers, which could lead to misdiagnosis, so it's very important to communicate well with patients," Budreau said.
CHCS staff will use the machine for a variety of patients. PFTs may be used to check lung function before surgery or other procedures in patients with lung or heart problems or other health conditions, or in patients who are smokers. A test for lung function can be used to assess treatment for asthma, emphysema, and other chronic lung problems. Patients with shortness of breath symptoms, recurrent lung infections, wheezes, or coughs may need a PFT, and those who have had lung transplants or cystic fibrosis need to have regular PFTs. Because some people may have continued respiratory issues after having the COVID-19 virus, the machine will be useful after the pandemic in monitoring lung function long-term. It will also be helpful in providing lung function tests for those who are required by their employer to complete yearly tests.
"We are happy to be able to offer the latest testing technology so we can provide patients with the best possible service and diagnosis," Budreau said.