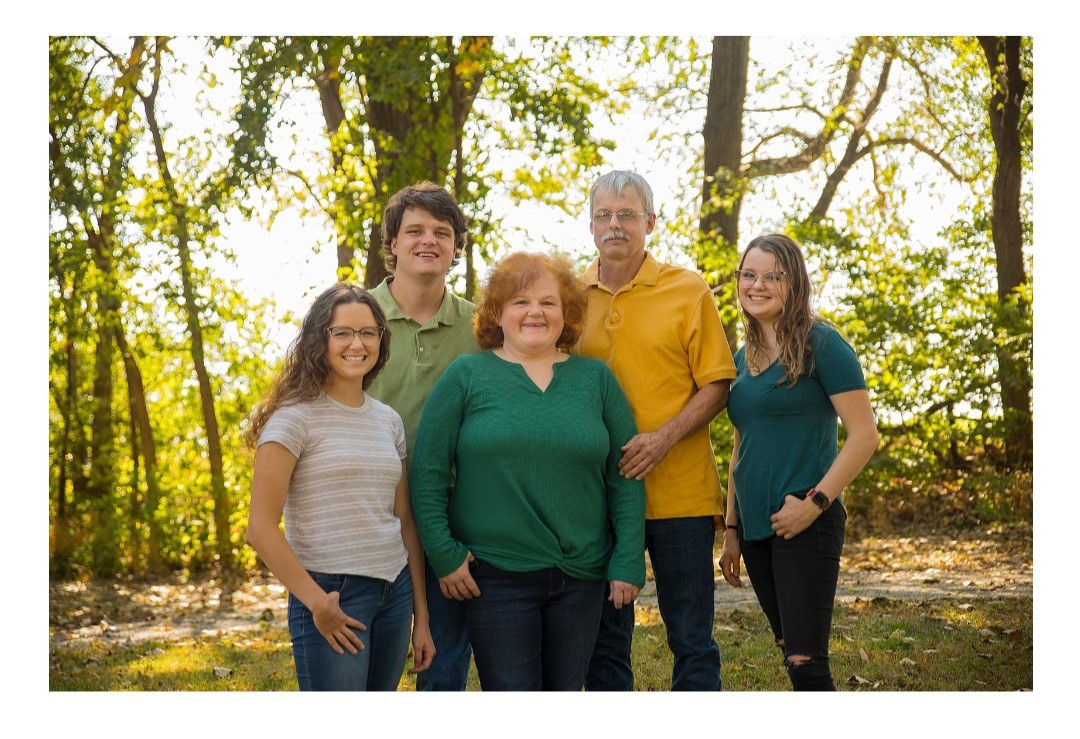 Hannah Huerter has two immediate family members who have Type 1 diabetes, which means their bodies don't produce enough insulin. She knows many tools and technologies are available to help diabetics manage their condition and maintain good health, but the tool she recommends most often may seem unusual: Communication.
"We had a lot of family discussion. Once a week, we sat down together as a family to talk about diabetes and whether they were having a good week. Everyone got involved! If you were home, you took part in the discussion," Huerter said.
Huerter's husband, Mark, was diagnosed at age 30 after experiencing excessive weight loss and unquenchable thirst. At the time, the couple had been married for a year and had just had their first baby. Their daughter Courtney was diagnosed when she was 12. Like Mark, Courtney had unexplained weight loss, plus a sore that wouldn't heal. A blood sugar test revealed a reading of more than 500; normal is less than 140. They sought medical attention immediately.
The family realized quickly that Courtney's experience would not be the same as Mark's.
"We realized she was a 12-year-old girl, and we had to figure out what we were going to do to help her out. It worked to keep the communication door open," Huerter said.
The family, including two older children, made changes in their diet and increased their activity level by going on walks together. They used smaller plates at times, and they limited potatoes and other starches and increased their protein intake. Huerter, a talented baker, said she couldn't make homemade bread as often. When she did, she made smaller loaves.
Huerter is often asked by other moms how to help kids and other family members manage diabetes, and she always tells them that communication is key. Frequent communication helped keep Mark and Courtney's blood sugars down because the family could adjust their menus and exercise, but it also helped by controlling stress.
"Talking gets whatever is bothering them off their chest. Stress has a lot to do with blood sugars," Huerter said.
As Courtney used new technology such as a wearable continuous glucose monitor, she helped Mark learn, too. She and Mark took different approaches to managing their diseases, which Huerter said was appropriate because every diabetic is different. But sharing approaches and the ups and downs that come with managing a chronic disease helped them both.
Today, Mark is doing well, and Courtney is attending Washburn University and studying business. Courtney communicates with her roommates so they know what to do if she suffers from low blood sugar, and she still talks to her mom or her sister about how her blood sugars are doing. Mark is doing so well that Dr. David Allen "wants him to be the poster child for adults," Huerter said.
"He doesn't let diabetes control his life. He has a handle on it," she said.
How your provider can help
Michelle Reisinger, advanced practice registered nurse and a member of the graduate-level nursing faculty at Washburn University, said she admires the Huerters for taking a family approach to managing diabetes.
"Diabetes does not limit itself to any one group of people. The temptations of poor dietary choices and sedentary lifestyle pose risk factors for developing diabetes. Regular health supervision and communication with your primary care provider can make a difference," Reisinger said.
Anyone who has tried to build or maintain a healthy lifestyle knows that it's hard work and requires effort. Reisinger said that sometimes her main role is to listen to patients.
"Primary care providers are a part of the team who often coach patients, but more importantly, serve as a 'cheerleader' to celebrate successes and support during times of frustration or perceived failure. Being accountable for chronic disease states requires motivation and accountability, and it requires a team approach," she said.
According to the Centers for Disease Control and Prevention, diabetes is a major problem and is the most expensive chronic care condition in the United States, where it is estimated to cost $1 of every $4 spend on healthcare. More than 88 million adults, or 1 in 3, have pre-diabetes, and 34 million, or 1 in 10, individuals of all ages in the United States have diabetes. But the good news is that making changes can reduce the risk of developing diabetes and its complications.
Reisinger noted the following tips for people who are managing diabetes or who think they could be suffering from diabetes.
Listen to your body: If you are having excessive hunger, thirst, urination, and/or weight loss, schedule an appointment with your healthcare provider.
Be proactive in self-management: Make small short-term goals related to diet and exercise that are sustainable over time.
Compliance is key! Follow up regularly to prevent complications of diabetes. As with any chronic disease state, "You can control the disease or the disease can control you."
Most importantly, people should develop a relationship with a family practice physician and be sure to get regular checkups.
"Working with your provider to assess your health and get regular checkups and labs can help catch problems like diabetes early, and we can help you manage," Reisinger said.
Photo caption: Hannah Huerter is pictured above with her family. Hannah is in the middle. From L to R, the other members of her family are Chelsea, Cody, Mark, and Courtney.