Posted On: August 19, 2020 by Community HealthCare System in: News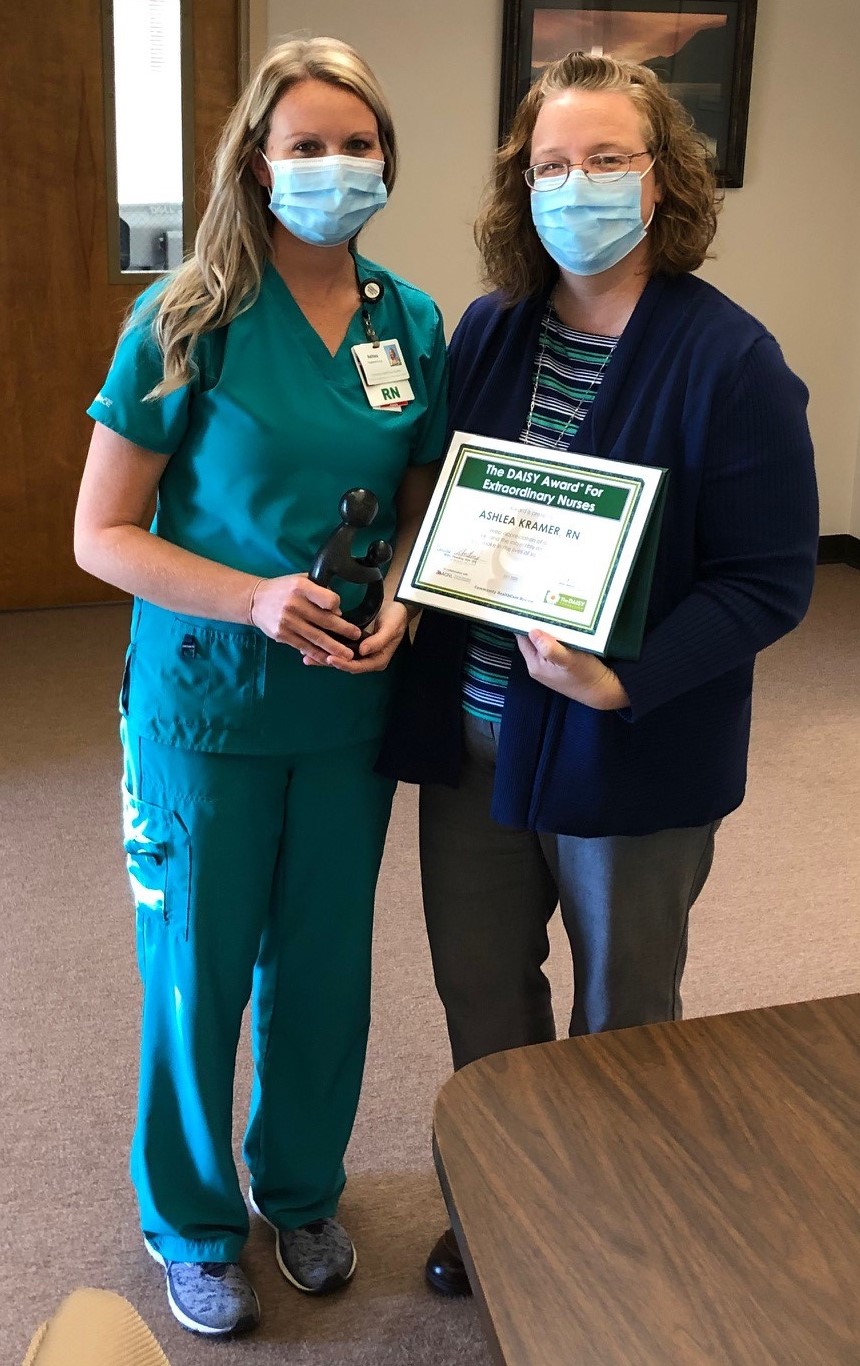 Community HealthCare System, or CHCS, has recognized Ashlea Kramer with the DAISY Award for extraordinary nursing. Kramer, a registered nurse who delivers home health care for Community HomeHealth, was nominated for providing excellent care for a cancer patient.
Kramer was nominated by Gail Carter. Carter met Kramer in November 2019, when Kramer started caring for her late husband, Gary, who was battling cancer. "She had the knowledge that we didn't. Gary was close to her because he knew she was only wanting him to get better," Carter wrote in the nomination.
As Gary's cancer progressed, Kramer made sure that Gary received needed treatment by coordinating with his oncologist as well as Veterans Affairs. "She made calls to the VA to see that he had what he needed to be comfortable from day one. If I needed her, she was here for me, also … only a call away explaining to me what I need[ed] to do or calling who needed to be called," Carter said.
Kramer remained in touch with the family at the time of Gary's passing as well as afterward. Carter deeply appreciated that Kramer called to check on her. "If anyone deserves this honor, it's Ashlea Kramer. She is in our hearts forever," Carter said.
Kramer truly embodies what it means to be an extraordinary nurse, and CHCS is proud to have her as an associate and a part of the CHCS family.
"We are always amazed by the stories from patients of the extraordinary care they receive from our nurses. Ashlea clearly lives out the CHCS mission to Enrich the Health and Lives of the People We Serve," said Mindy Olberding, chief nursing officer at Community HealthCare System. "We are blessed to give patients and families the ability to say thank you to their nurses."
CHCS selects DAISY Award winners twice each year through a blind selection process. Four nominations were received for the spring 2020 award from co-workers, patients, and patients' families. In addition to Kramer, the following nurses were nominated:
Crystal Haven, RN, St. Marys Community Hospital
Caroline Cain, RN, St. Marys Community Hospital
Christie Rabe, RN, St. Marys Community Hospital
The DAISY Foundation was established in 1999 by the family of J. Patrick Barnes, who died of complications of the autoimmune disease idiopathic thrombocytopenia purpura (ITP) at the age of 33. During Barnes' eight-week hospitalization, his family was awestruck by the care and compassion his nurses provided. One of the goals they set in creating a foundation in Pat's memory was to recognize extraordinary nurses who make an enormous difference in the lives of so many people through the superhuman work they do every day. In pursuit of this goal, the family created the DAISY Award for Extraordinary Nurses. This simple award and thank you to nurses has grown into a meaningful recognition program embraced by healthcare organizations around the world.
CHCS nurses may be nominated for an award in three ways.
The deadline for fall 2020 DAISY Award nominations is November 27, 2020.
Photo caption: Chief Nursing Officer Mindy Olberding, right, presents the DAISY Award to Ashlea Kramer, left.