Posted On: February 26, 2021 by Community HealthCare System in: News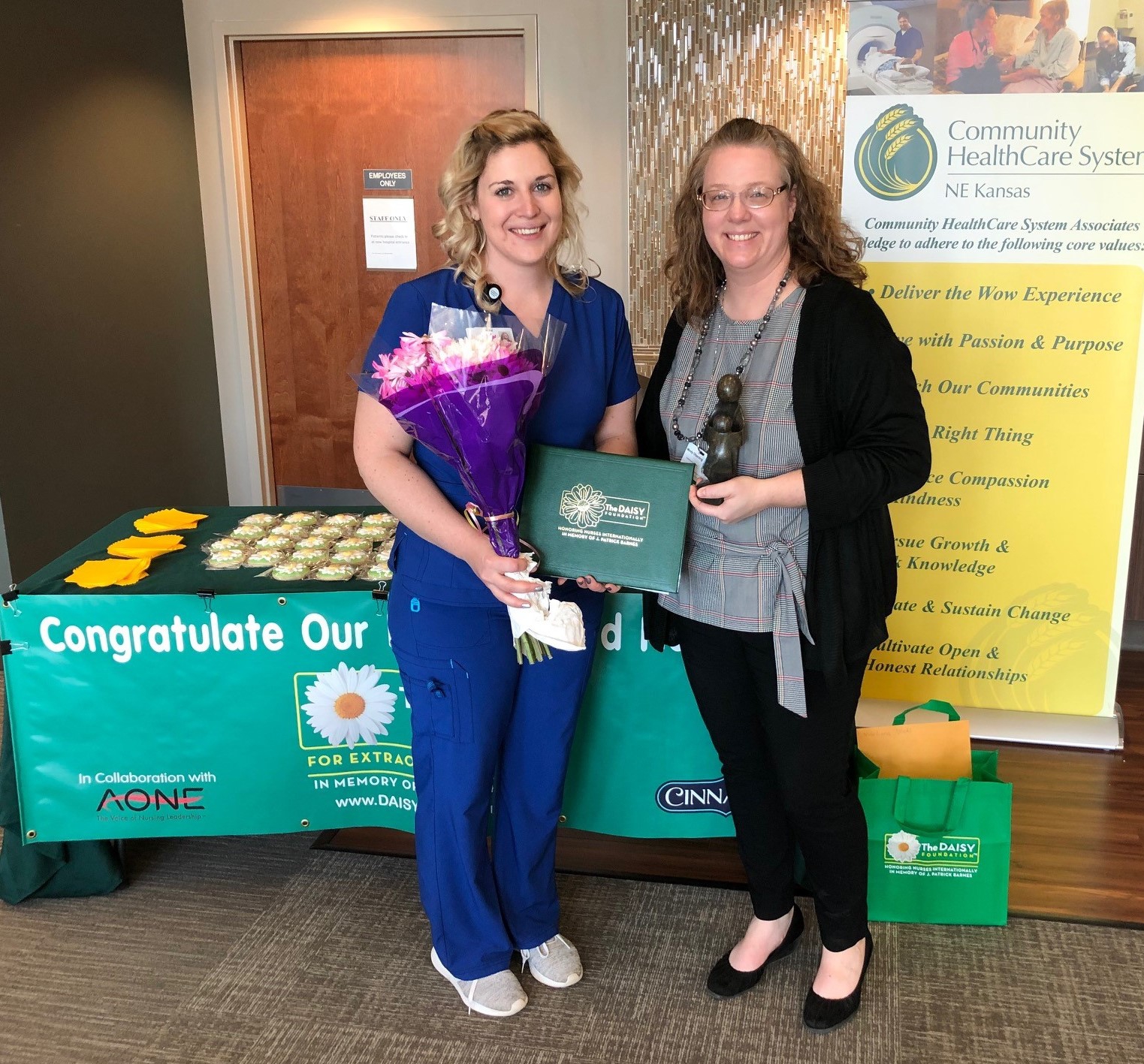 Community HealthCare System, or CHCS, has recognized Marlaina Wahl with the winter 2020-21 DAISY Award for extraordinary nursing. Wahl, a registered nurse who delivers home health care for Community HomeHealth, was nominated for providing compassionate care and improving quality of life for a patient as well as helping the patient's family through a difficult time.
Wahl was nominated by Cody Patterson and Katie Fitzpatrick for her work with their family member, Harry Woods. According to Patterson and Fitzpatrick's nomination letter, Wahl always took time to talk with Harry about how he was doing, and Harry would often tell them to "make a note about something in particular so we could ask Marlaina."
"Marlaina was able to get Harry to open up about his pain and get him to take some of his medications he did not really want to take. Marlaina also helped get some medical equipment which helped make life better for Harry by making it easier and safer for him to get around the house," they said.
When Harry's condition deteriorated, Marlaina provided guidance and support to the family. "As a former hospice nurse, Marlaina had the experience to recognize where we were headed and made suggestions on what to consider," Patterson and Fitzpatrick said.
Wahl remained with the family to provide comfort care and navigate the transition to hospice care. She made sure the family knew what to do before she left, and she checked back with them later to see how they were doing.
"She didn't have to do that, but she did. It was nice being able to hear her voice," Patterson and Fitzpatrick said.
Wahl truly embodies what it means to be an extraordinary nurse, and CHCS is proud to have her as an associate and a part of the CHCS family.
"We love hearing patients and families express their thanks to their nurses, and we are always impressed by the stories of the wonderful care nurses provide. Marlaina clearly lives out the CHCS mission to Enrich the Health and Lives of the People We Serve, and we thank her for her dedication," said Mindy Olberding, chief nursing officer at Community HealthCare System.
CHCS selects DAISY Award winners twice each year through a blind selection process. Four nominations for three different nurses were received for the winter 2020-21 award from co-workers, patients, or patients' family members. Other nominees in addition to Wahl were Deanne Tanking, RN and case manager/skilled rehab coordinator at Onaga Hospital, and Jenna VanDonge, RN with the Onaga Hospital Surgery Department.
The DAISY Foundation was established in 1999 by the family of J. Patrick Barnes, who died of complications of the autoimmune disease idiopathic thrombocytopenia purpura (ITP) at the age of 33. During Barnes' eight-week hospitalization, his family was awestruck by the care and compassion his nurses provided. One of the goals they set in creating a foundation in Pat's memory was to recognize extraordinary nurses who make an enormous difference in the lives of so many people through the superhuman work they do every day. In pursuit of this goal, the family created the DAISY Award for Extraordinary Nurses. This simple award and thank you to nurses has grown into a meaningful recognition program embraced by healthcare organizations around the world.
CHCS nurses may be nominated for an award in three ways.
Call our administrative assistant, Marlene Wolfe, at 785-889-5002
Fill out a nomination form the next time you visit one of our facilities
The deadline for spring 2021 DAISY Award nominations is June 1.