Posted On: August 27, 2021 by Community HealthCare System in: News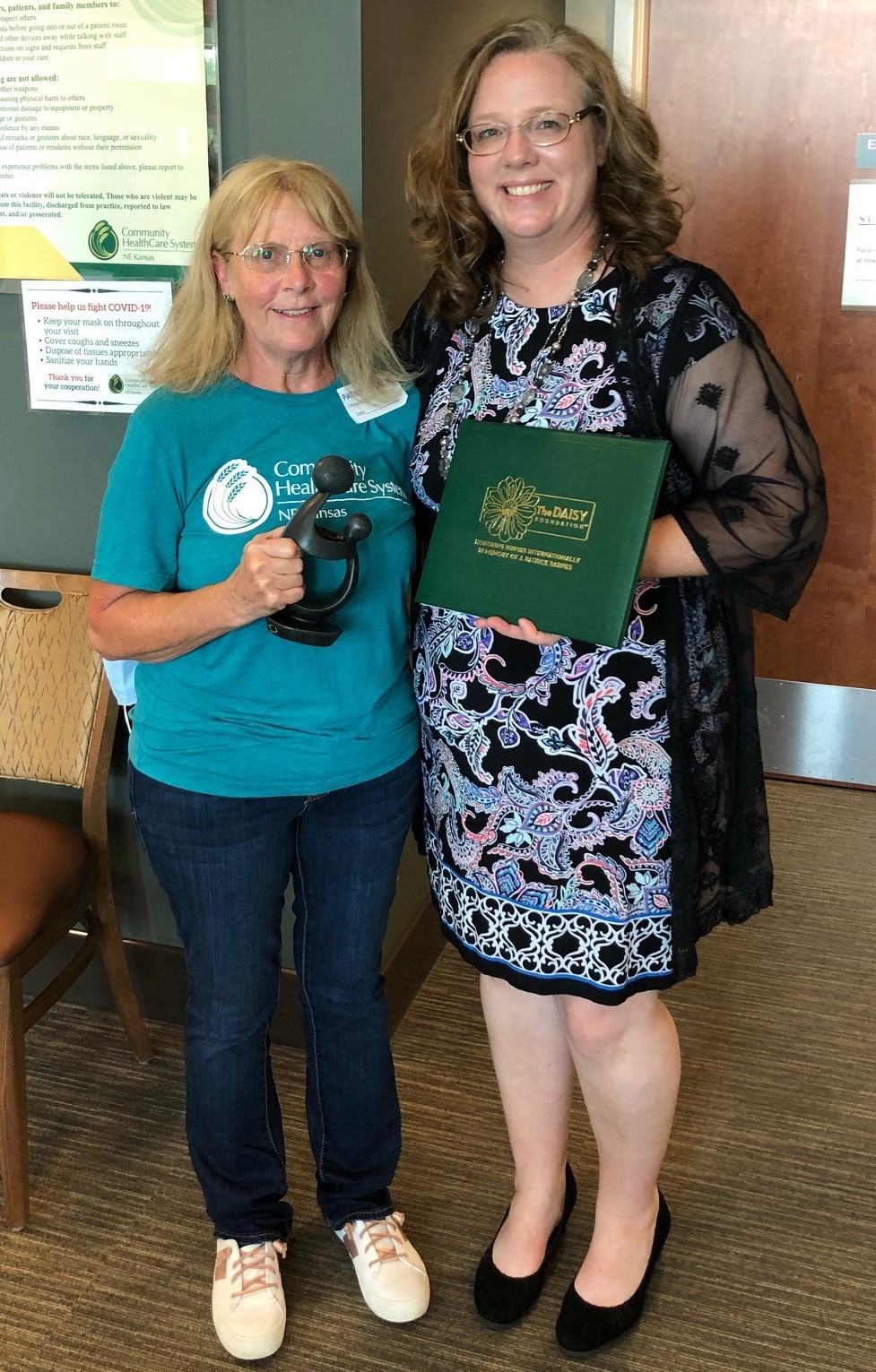 CHCS has recognized Jane McClain with the summer 2021 DAISY Award for extraordinary nursing. McClain, a licensed practical nurse who cares for residents at Redbud Plaza Assisted Living, was nominated for meeting residents' varied needs and always providing a listening ear.
McClain was nominated by several different Redbud residents, including Maureen Barnes, Donna Bates, Richard Boeckman, Ramona Tessendorf, and others who wished to remain anonymous. Laurie Horgan and Sherry Wells, daughters of Donna Bates, also nominated McClain. According to the nomination letters, McClain makes sure residents' medical needs are met and that they understand their medications. She regularly goes above and beyond in tending to residents' other needs, too, even bringing supplies and making waffles for breakfast when one resident said she missed that menu option.
"She keeps track of our doctor appointments and makes sure that we are there on time … and if you want, she will be at the appointment so you understand the doctor's treatment plan," one resident said.
Several residents commented that McClain is always present when needed and always has time to listen and help.
"Jane is a very caring nurse, always there to help you, and she is always willing to listen to our problems," another resident said. Another noted, "Jane always takes the time in her busy day to do what needs to be done to improve the life of the patient. That could mean emails and phone calls with family about medication issues, CPAP [continuous positive airway pressure] machines not working properly, or [someone] hungry for an item like a waffle."
In her efforts to improve residents' lives, McClain truly embodies what it means to be an extraordinary nurse. CHCS is proud to have her as an associate and a part of the CHCS family.
"Having patients and families express thanks to their nurses is inspiring, and we are always impressed by amazing care nurses provide. Jane clearly has helped Redbud residents through some difficult times during the pandemic, and we thank her for her dedication," said Mindy Olberding, chief nursing officer at Community HealthCare System.
CHCS selects DAISY Award winners twice each year through a blind selection process. Thirteen nominations for six different nurses were received for the summer 2020-21 award from co-workers, patients, or patients' family members. Other nominees in addition to McClain were Katie Kufahl, RN and Birth Center Manager; Jamie McMullen, RN and Director of Nursing at St. Marys Manor; Alicia Rendon, APRN, St. Marys Manor; Marlaina Wahl, RN with Community HomeHealth in Onaga; and Brenda Rosine, RN with Community HomeHealth in St. Marys.
The DAISY Foundation was established in 1999 by the family of J. Patrick Barnes, who died of complications of the autoimmune disease idiopathic thrombocytopenia purpura (ITP) at the age of 33. During Barnes' eight-week hospitalization, his family was awestruck by the care and compassion his nurses provided. One of the goals they set in creating a foundation in Pat's memory was to recognize extraordinary nurses who make an enormous difference in the lives of so many people through the superhuman work they do every day. In pursuit of this goal, the family created the DAISY Award for Extraordinary Nurses. The simple award and thank you to nurses have grown into a meaningful recognition program embraced by healthcare organizations around the world.
CHCS nurses may be nominated for an award in three ways.
Call our administrative assistant, Marlene Wolfe, at 785-889-5002
Fill out a nomination form the next time you visit one of our facilities
The deadline for fall/winter 2021 DAISY Award nominations is November 30, 2021.
Photo caption: Chief Nursing Officer Mindy Olberding (left) presents the DAISY Award to Jane McClain, LPN for Redbud Plaza Assisted Living.