Posted On: August 9, 2022 by Community HealthCare System in: News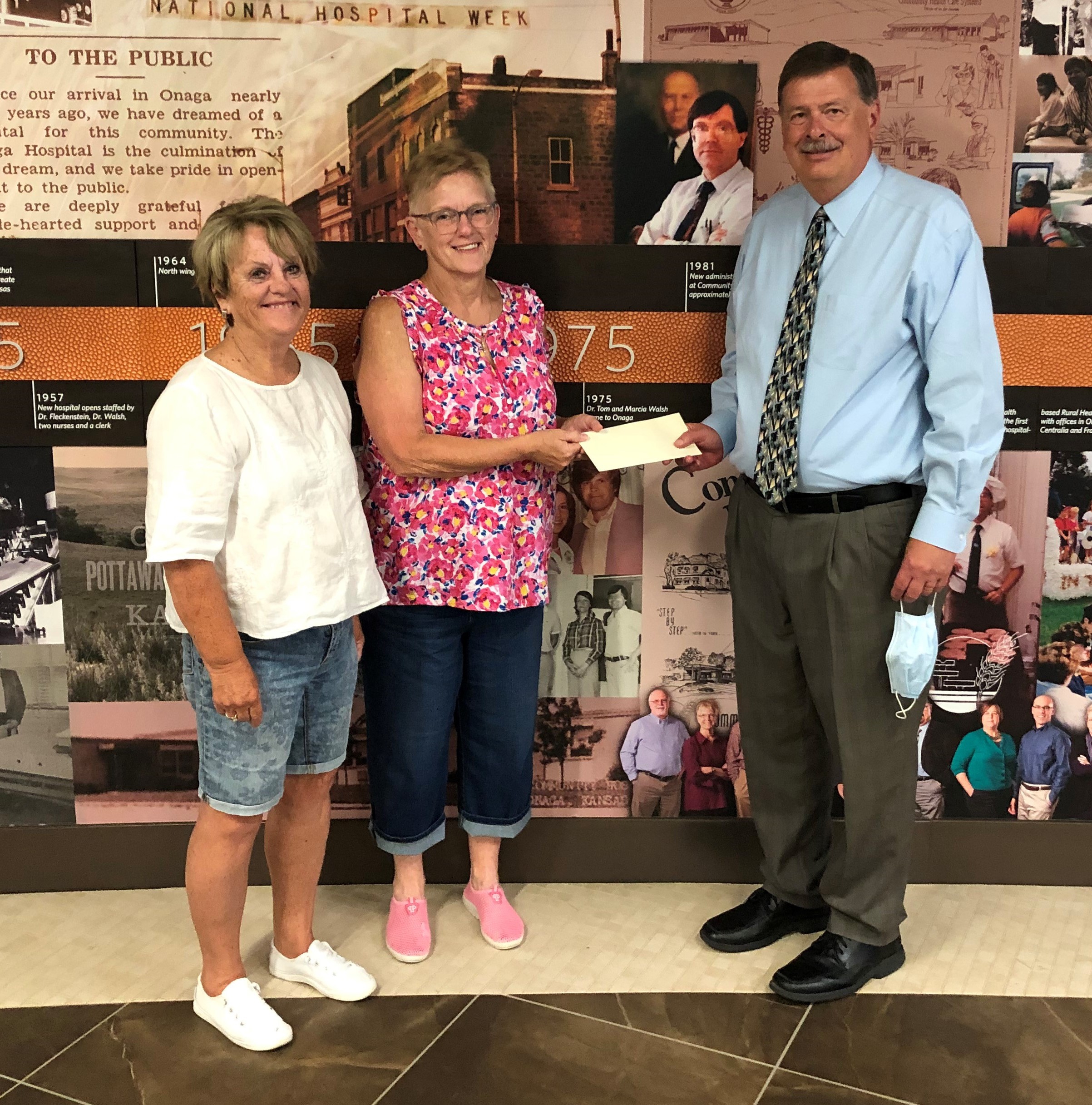 Community HealthCare System recently received a donation of just over $106,300 from the estate of Robert "Bob" L. Williamson. Williamson, who was living in Holton and was formerly from Netawaka, passed away June 30 at the age of 94. Williamson's daughters, Nanette Williamson and Patty Sorensen, delivered the donation.
Williamson was a General Superintendent for Eldridge Construction in Kansas City as well as a farmer and stockman. His daughters said he was a hard worker.
"He worked night and day. He would go to Kansas City and work, then come home and milk cows and farm. He was very successful, and he was a good financial manager," Nanette Williamson said.
When not engaged in growing crops or milking cows, Bob enjoyed woodworking and fishing. Bob was a talented furniture builder; among other pieces, he made a beautiful table with wood hinges that he engineered himself.
Bob enjoyed 56 years of marriage to his wife, Carol Joy Clark, who preceded him in death in May 2007. The care Carol received at Onaga Community Hospital as well as the special relationship Bob has with longtime physician Dr. Tom Walsh inspired him to give back to the organization. A previous donation helped establish an endowment for Community HealthCare System with the Caring Community Foundation.
Nanette recalls how touched her father and other family members were by the care they received when Carol was living her final days.
"One of the nurses would go home and cook and bring us in food. It wasn't only mom they were taking care of—they were taking care of the family, too, because they knew what we were going through," she said.
Dr. Walsh said he has fond memories of Bob.
"I'm truly humbled by his generosity and thoughtfulness. I will always remember his loyalty as a patient, but most importantly, his friendship," Dr. Walsh said.
CEO Todd Willert was honored to accept the donation.
"We deeply appreciate this gift from Bob's estate and the community memorial contributions that added to it. We will continue to strive to serve our patients with kindness and treat them like family, just as the nurses caring for Carol did 16 years ago," Willert said.
"CHCS is thankful to benefit from the success and stewardship of hardworking patients like Bob, and for all they do for our northeast Kansas communities," Willert said.
Photo captions: Top of page: CHCS CEO Todd Willert, right, accepts a generous donation from the estate of Bob Williamson from Williamson's daughters, Patty Sorensen, left, and Nanette Williamson, middle. Bottom: Bob and Carol Williamson.