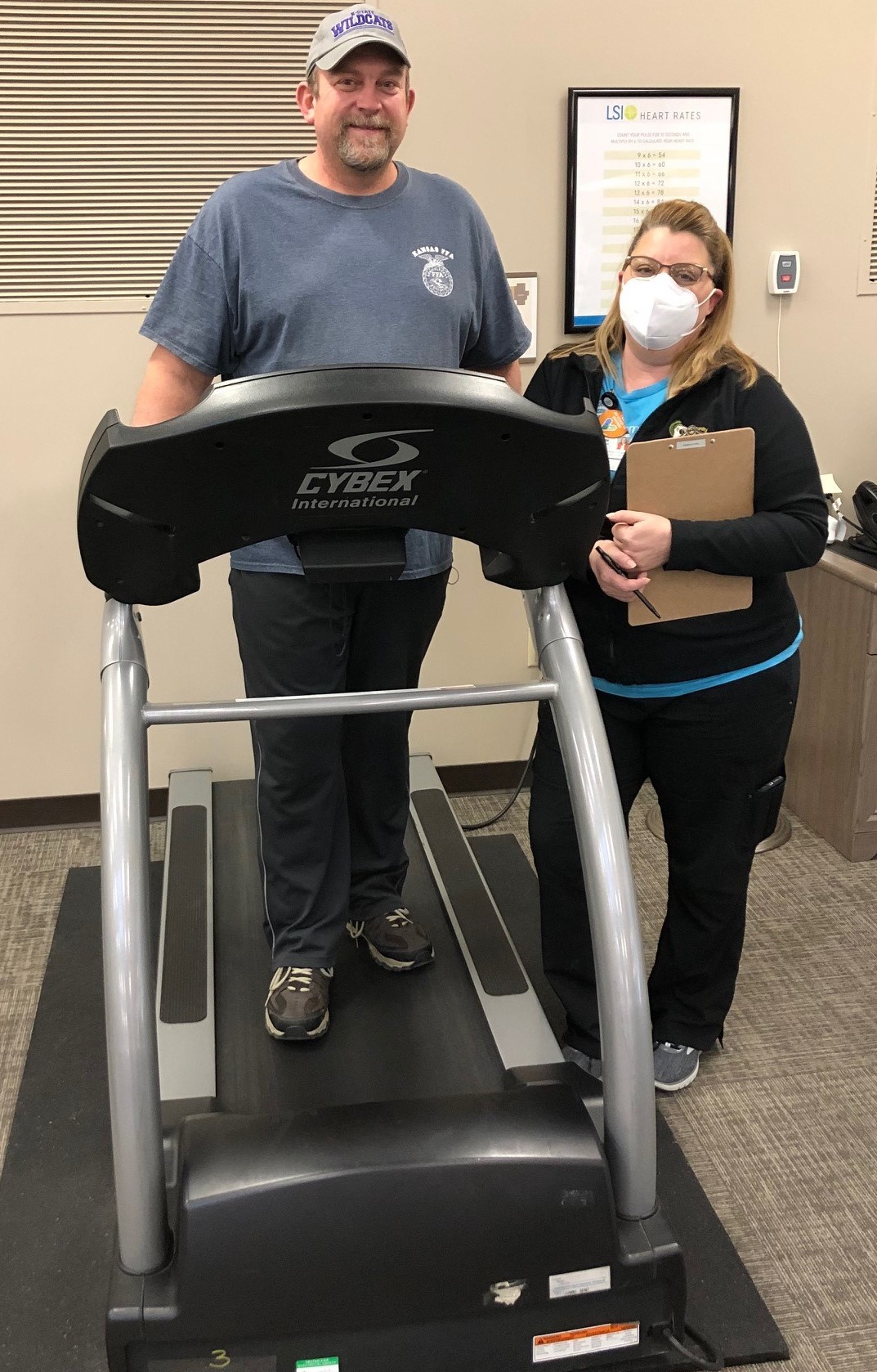 As he was recovering from COVID-19 last fall, Keith Figge heard some strange news at a follow-up checkup at CHCS: He had a heart murmur. An appointment with a cardiologist revealed that he had a prolapsed mitral valve.
Figge, who was born and raised in Onaga and has served as Onaga High School's agricultural education teacher and FFA advisor for 27 years, smiles easily and enjoys a good laugh. But that day, he was scared. He was referred to a surgeon, who convinced him that surgery was required in the near future. When Figge said he'd prefer to do it right away, he remembers the surgeon saying something that struck him as an oxymoron: "You're a perfect candidate for heart surgery."
Figge had no symptoms from his prolapsed valve, and the cause is unclear — his surgeon did not think COVID-19 caused the problem — but the repair required a large incision in his chest. He found support from his wife and two daughters as well as from others in the community who had similar experiences, plus he received excellent care at the University of Kansas Health System St. Francis Campus.
"I had amazing nurses, and the staff was good. My surgeon came to see me with her team, and they always had time to talk with me," Figge said.
As he improved, his care team recommended Cardiac Rehab.
Cardiac Rehab is a medically supervised program for people who have had a heart attack, heart failure, heart valve surgery, or other procedures. The program helps participants improve their health and make lifestyle changes. Figge wasn't sure it was a fit for him.
"I wasn't a big exerciser," Figge said. "I'm a big guy, but I really wasn't out of shape. I farm on the side and do outdoor work."
Now that he's about 7 weeks into the 12-week program, Figge is glad he chose to participate in the Community HealthCare System Cardiac Rehab Program. Simply put, it makes him feel better.
"There were two weeks between heart surgery and rehab, and I didn't do anything. I didn't feel good," he recalls. "Now, I look forward to it. I've made progress."
Cardiac Rehab Nurse Meranda Schmitz works with Figge during his lunch hour break from school. She helps make sure that he is exercising at the right level and that his heart rate is in the correct range. She also offers education and moral support.
"Meranda set me up nice and slow. She likes to talk with me while I'm doing things, and she always has a positive attitude," Figge said.
Although he said it was hard at first to stop work in the middle of the day for his appointments, Figge said it has improved his outlook. His healing chest incision means that he still can't lift much weight with his arms, but Meranda has provided other exercises on special equipment in the Onaga Rehabilitation and Fitness Center. Figge said his workouts make his circulatory and digestive system feel better, and he even fits in extra exercise sessions when he can. Perhaps most importantly, Figge's progress means that he is feeling much less anxious and more positive.
"Meranda has been very important to my recovery," he said.
He's looking forward to spring. "My goal is that I want to get on the farm to help my dad and brothers without being concerned about what's going to happen to me," Figge said.
After his scary experience and all he's learned, Figge also hopes to spend more time with family and build more activity into his routine. "My wife and I have said we will definitely be walking in the evenings more in the summer. It's a way of thinking about things and relaxing your mind more because you are exercising," he said.
Figge also wants to serve as a resource for others. As an experienced teacher, he wants to share all he's learned. His advice to those facing open heart surgery? Talk to someone.
"Find out in your community who has had something similar and visit with them. Anyone will visit with you one-on-one to help. Thank goodness I had some people I could talk to about it before it happened to me," Figge said.
Learn more about Cardiac Rehab at CHCS.