Posted On: October 28, 2019 by Community HealthCare System in: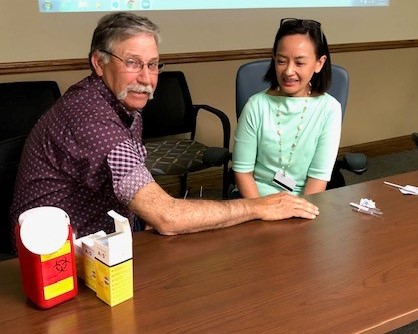 October is National Physical Therapy month, and we want to recognize the impact this profession has on our healthcare community.
Physical therapists service a large spectrum of diagnoses that may include spinal cord injuries, chronic conditions, strokes, total joint rehabilitation, and back pain. Therapists strive to restore function and improve outcomes to achieve patient-centered goals.
Physical therapists at CHCS have additional certifications in LSVT (Parkinson's) program and manual therapy, as well as a recent certification in dry needling. This practice is a skilled intervention that uses a thin needle to penetrate the skin and stimulate underlying trigger points and muscular and connective tissues for the management of neuro-musculoskeletal pain and movement impairments. We are currently offering this service in the Onaga location; see above for a photo of Maribelle Collado performing dry needling therapy on Justin Boswell, chariman of the CHCS Board of Directors.
Community HealthCare System employs 15 wonderful physical therapists and assistants to work in our service area: Maribelle Collado, Patrick Hansen, Derek Surdez, Jen Hutfles, Andrea Lutz, Chelsea Kufahl, Nikki Marten, Sue Figge, Linda Christen, Ginger Flach, Stephani Rumbo, Teresa Koch, Chelsey Glatczak, Madie Draper, and Matt Salerno. Thanks for all you do!