Posted On: March 6, 2023 by Community HealthCare System in: News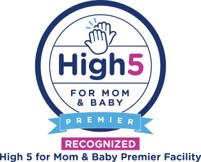 Community HealthCare System has continued its commitment to improving the health of moms and babies by earning High 5 for Mom & Baby Premier recognition for the second straight year. High 5 for Mom & Baby is a program developed by the United Methodist Health Ministry Fund to increase and support breastfeeding in Kansas.
"We're honored to receive this recognition from the United Methodist Health Ministry Fund for our efforts to support successful breastfeeding. We've participated in the High 5 program for the past seven years, and we are proud to achieve Premier status for the second year in a row," said Mindy Olberding, chief nursing officer at Community HealthCare System, or CHCS.
The High 5 program provides resources and a framework to help Kansas hospitals and birth facilities implement 10 evidence-based practices proven to support successful breastfeeding, thus improving maternal and infant health outcomes. Facilities that receive Premier recognition complete a voluntary evaluation and pledge to follow all ten of the practices, including demonstrating staff competency in lactation support, ensuring immediate and sustained skin-to-skin contact between mother and baby after birth, delivering individualized infant feeding counseling to all families, allowing mothers and infants to remain together 24 hours a day during their time in the hospital, giving babies no food or drink other than breastmilk unless medically indicated, and more.
Educating new moms so they feel comfortable feeding their babies is important to Katie Kufahl, registered nurse, certified lactation consultant, and CHCS Birth Center manager.
"Breastfeeding provides numerous health benefits for both infants and mothers. Breastfeeding decreases ovarian cancer, breast cancer, and type II diabetes risk in women, and breastmilk provides hormones and antibodies that help protect babies from illness. It's not always easy, but we make sure we help moms learn what they need to know while they are in the hospital and then provide support after they go home," Kufahl said.
Katie Shoenhoff, Director of Programs at the United Methodist Health Ministry Fund, agrees.
"Breastfeeding plays a crucial role in the overall health of babies and mothers," Shoenhoff said. "Following the ten High 5 for Mom & Baby practices demonstrates Community HealthCare System's commitment to infant and maternal health by helping moms successfully initiate and maintain breastfeeding."
According to the National Center for Biotechnology Information (NCBI), 60% of mothers stopped breastfeeding sooner than they planned. The kind of support CHCS offers help mothers meet their breastfeeding goals.
Along with the recognition of being named a High 5 for Mom & Baby Premier facility, CHCS will receive ongoing education and training opportunities, support, and resources as well as scholarship opportunities to further staff education.
"We are happy to invest time and effort into support for breastfeeding, and we appreciate the recognition and the resources the High 5 program provides," Kufahl said.