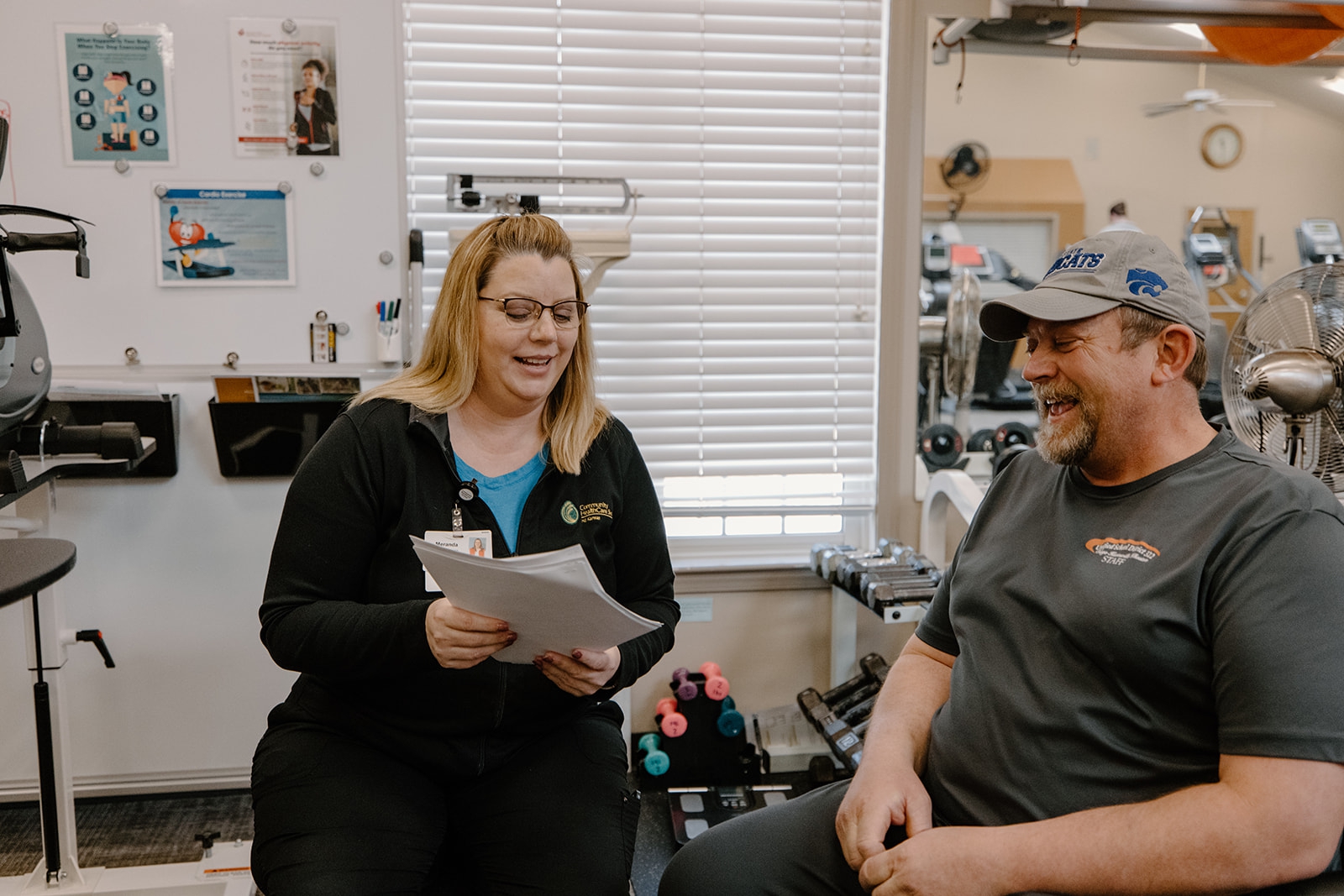 If you have a heart attack or a heart procedure, you can participate in Cardiac Rehab to help regain your health. But Community HealthCare System wants to do more to help people prevent heart problems in the first place. A new program, Heart to Heart Therapy, can do just that.
The friendly, highly customizable program is designed to help people set goals, learn about heart health risk factors, and start exercising with help from a team of wellness experts.
Meranda Schmitz, RN and Cardiac Rehab nurse, said she wants to prevent people from having to see her in the future after experiencing a cardiac event. She also wants to make the environment fun.
"We really want Heart to Heart Therapy to be something people want to do. We're flexible, and our team will make sure patients are doing the activities they enjoy during the four-month program, plus getting their questions answered along the way," Schmitz said.
Those who sign up for Heart to Heart Therapy have access to a caring team of coaches consisting of cardiac nurses, fitness staff, a registered dietitian, and a respiratory therapist. Hours are flexible, and the program is available in both Frankfort and Onaga. Participants can use either fitness center either alone or in groups for as many sessions as they like. Schmitz recommends exercising three to five days a week during the program.
Anyone who is interested can talk to a healthcare provider for a referral. A cardiac nurse will contact referrals to set up an appointment and develop an individualized plan.
Schmitz said she is eager to help people make real, measurable progress toward better health as well as lowering the risk of complications from COVID-19.
"People with cardiovascular disease are at higher risk of a range of problems, including severe COVID-19. We are excited to build on our Cardiac Rehab Program to offer more services to help our communities be healthier," Schmitz said.
Some insurance plans may reimburse costs of Heart to Heart Therapy through wellness benefits. Self-pay is also an option. The program costs $60 plus tax each month for four months. All exercise and education sessions as well as extra consultations with staff are included, and nurses also serve as liaisons with physicians and answer questions anytime. Use of the pool in Onaga will be included when renovations are complete.
"It's a great time to invest in your health. We're here to make it easier to develop a plan and help get good results for people of any background or fitness level," Schmitz said.
Learn more about cardiovascular disease and how Heart to Heart Therapy can help. CHCS also offers Phase 2 and Phase 3 Cardiac Rehab for individuals recovering from a heart attack, heart or heart valve surgery, or heart catheterization, and Supervised Exercise Therapy for Peripheral Artery Disease, or SET for PAD.