Posted On: May 15, 2023 by Community HealthCare System in: News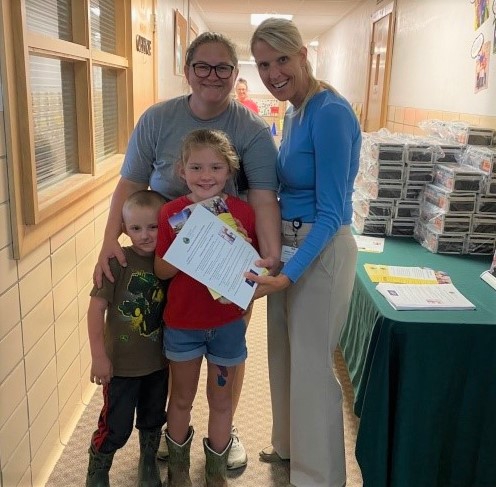 A grant from KDHE allowed Community HealthCare system to give away 150 medication lock boxes at local elementary schools during recent school events. Parents of three- and four-year-olds were presented with the lock boxes for prevention of accidental medication overdose.Participating elementary schools were Westmoreland USD 323, Onaga USD 322, and Vermillion USD 380.
More than 35,000 young children end up in emergency rooms due to accidental medication access, and more than 70,630 deaths occurred in 2019 due to accidental medication overdose in children younger than age 12.
This can be prevented! Follow the tips below to protect your children.
Put medicines up and away and out of children's reach and sight.
Children are curious and put all sorts of things in their mouths. They can quickly get into things that could hurt them.
Pick a storage place in your home that children cannot reach or see.
Put medicines away every time.
Never leave medicine out on a kitchen counter or at a sick child's bedside, even if you have to give it again in a few hours
Make sure the safety cap is locked.
Always relock the cap on a medicine bottle.
Even though many medicines have safety caps, children may be able to open them.
Every medicine must be stored up and away and out of children's reach and sight.
Teach your children about medicine safety.
Teach your children what medicine is and why you or a trusted adult must be the one to give it to them.
Never tell children medicine is candy to get them to take it, even if they don't like to take their medicine.
Tell your guests about medicine safety.
Ask family members, house guests, and other visitors to keep purses, bags, or coats that have medicine in them up and away and out of sight when they are in your home.
Be prepared in case of an emergency. Call the poison control center at 800.222.1222 immediately if you suspect a child has ingested medicine while unattended.