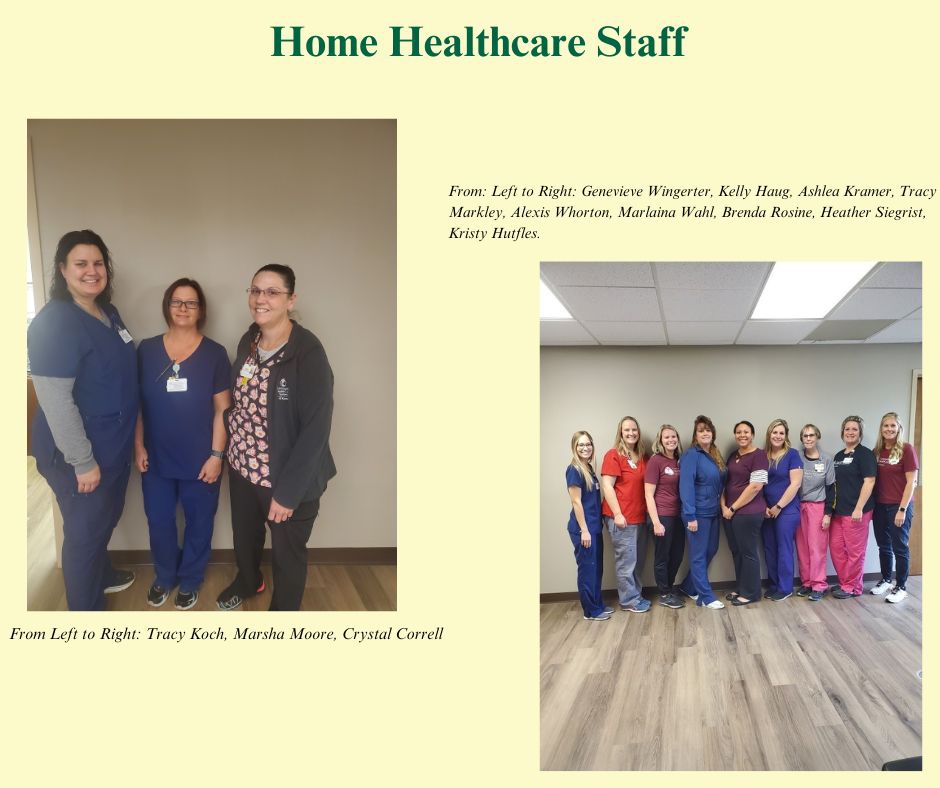 Our award-winning Home Health department provides intermittent skilled care, physical, occupational and speech therapies, as well as nursing, dietician and social services in the home for patients in Pottawatomie, Wabaunsee, Jackson, Nemaha, Marshall, and Western Shawnee counties.
The department is led by manager, Alexis Whorton, RN. Other department staff includes: Tracy Markley, Administrative Assistant; Registered Nurses; Kristi Hutfles, Kelly Haug, Ashlea Kramer, Marlaina Wahl, Heather Siegrist, Genevieve Wingerter and Madison Hargrave will join the staff in August. Korrie Meyer provides PRN nursing services and assists with coding. And, three (3) Home Health aides, Tracy Koch, Marsha Moore and Crystall Correll, who assist with bathing, dressing and other daily living tasks.
Department Awards and Milestones
Several Home Health nurses have received Daisy Aware nominations. Alexis Whorton, Marliana Wahl, Ashlea Kramer, and Kristi Hutfles have each been a recipient of the award which recognizes the "super-human work nurses do for patients and families every day." Patients and their families have expressed gratitude to these outstanding nurses by stating how devoted, caring and compassionate they were in their time of need.
Community HomeHealth was named a HHCAHPS Honors recipient by HEALTHCAREfirst in 2017, 2018, 2020 and 2021. The honor recognizes agencies that continuously provide a positive patient experience and high-quality care as determined by analysis of Home Health Consumer Assessment of Healthcare Providers and Systems survey satisfaction measures.
In 2019, Community HomeHealth also achieved HomeCare Elite status for the twelfth year in a row, meaning it was in the top 25 percent of home care providers in the nation based on performance measures including quality of care, quality improvement, patient experience, and more. The program was suspended in 2020 due to the pandemic.
Community HomeHealth's reputation for quality has translated into more patients, too: Since 2016, the unduplicated census, or the number of individual patients serves in a year, has grown by 81%.