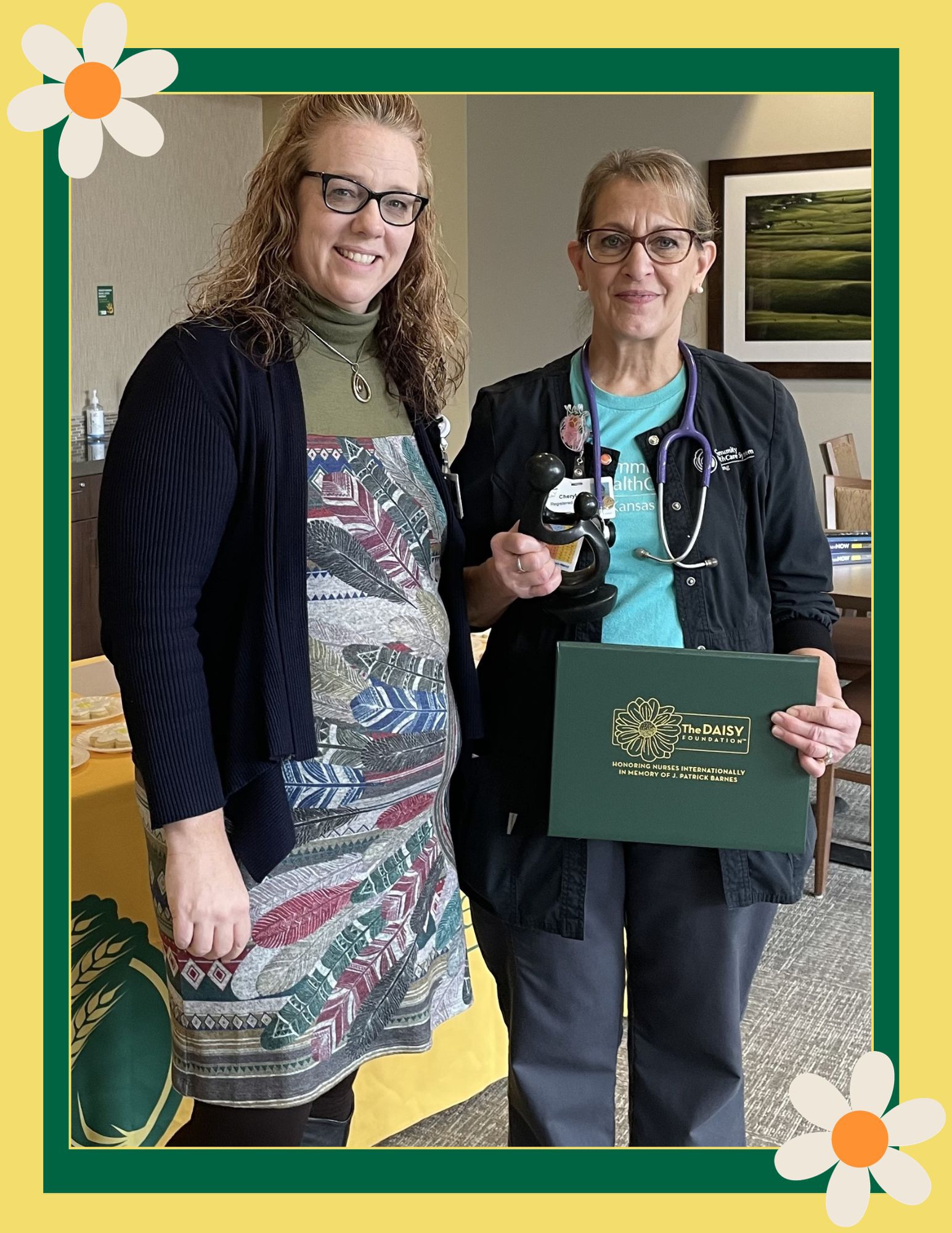 Cheryl Bailey, RN, acute nurse in Onaga, has been awarded the fall 2023 DAISY Award by Community HealthCare System (CHCS). The DAISY award is given for exemplary nursing. Bailey was nominated by two separate patient families who greatly appreciated her compassionate care.
"Cheryl constantly asked if we needed anything, food, something to drink, a shoulder to cry on or someone to talk to. Talk about an angel of mercy, we were blessed to have Cheryl with us," stated Marilyn McCourt. Marilyn's husband, Pat, was critically ill, and in the hospital for over a week. "Cheryl made sure he was comfortable, changing him, bathing him, tending to his medications and other needs. You are in our thoughts and prayers and will forever be a part of our family," she said.
Vicki Flattery also expressed her gratitude for the care her late husband Chris received and stated Cheryl was, "truly interested in Chris' life stories and related them to some of her own. She quickly became more than just a caregiver. She is a special nurse."
"These comments epitomize Cheryl as a nurse, said Mindy Olberding, Chief Nursing Officer at CHCS. She has a special knack to connect with her patients, takes time to truly listen and extends that extra, personal touch to her patients and their families. She is a true gem and we are fortunate to have her."
CHCS selects DAISY Award winners twice each year through a blind selection process. Cheryl has been nominated previously, which is a true testament to her compassion and dedication to providing exceptional nursing.
The DAISY Foundation was established in 1999 by the family of J. Patrick Barnes, who died of complications of the autoimmune disease idiopathic thrombocytopenia purpura (ITP) at the age of 33. During Barnes' eight-week hospitalization, his family was awestruck by the care and compassion his nurses provided. One of the goals they set in creating a foundation in Pat's memory was to recognize extraordinary nurses who make an enormous difference in the lives of so many people through the superhuman work they do every day. In pursuit of this goal, the family created the DAISY Award for Extraordinary Nurses. The simple award and thank you to nurses have grown into a meaningful recognition program embraced by healthcare organizations around the world.
CHCS nurses may be nominated for this award in three ways.
The deadline to receive the spring 2024 DAISY Award nominations is, March 1, 2024.