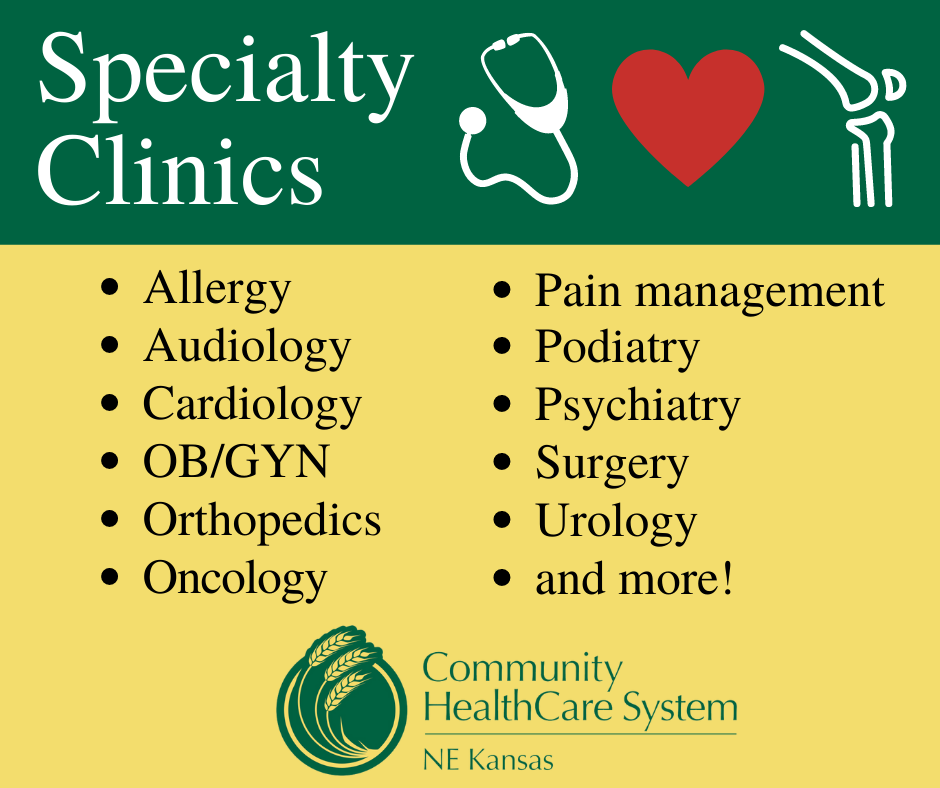 Community HealthCare System offers an array of specialty clinics in Onaga, Holton, and St. Marys locations to better serve patients in rural northeast Kansas. Partnerships with specialty physicians and providers help patients receive needed care without having to travel long distances to Topeka or Kansas City. Specialty Clinic offerings currently include the following:
Allergy/immunology
Audiology
Cardiology
Dermatology
Ear, nose & throat
Obstetrics/gynecology
Orthopedics
Oncology
Pain management
Podiatry
Psychiatry
Surgery
Urology
Several providers are new to CHCS in 2023 or started in late 2022.
Dr. Patricio Alzamora, a physician with The University of Kansas Health System Heart and Vascular Center in Topeka, specializes in cardiovascular disease and joined our Cardiology specialty clinic in Onaga in January 2023.
Dr. David Harden is a dermatologist with and owner of Manhattan Dermatology and will be providing Dermatology specialty clinic in Onaga starting in February.
Dr. Deepti Vellaichamy Manian, a physician with Stormont Vail Health Cotton O'Neil Allery and Immunology in Topeka, will provide an Allergy specialty clinic in Holton starting in February.
Dr. Apostolos "Laki" Evangelidis, a urologist with Associated Urologists in Manhattan, and Amy Meusborn, APRN with Associated Urologists, are now providing a Urology specialty clinic in Onaga.
Dr. Adrian Caracioni, an oncologist from The University of Kansas Cancer Center at St. Francis Campus, began providing an Oncology specialty clinic in Onaga during the last quarter of 2022.
Merica Surdez, CHCS Chief of Provider and Clinic Operations, said she is pleased to be adding to specialty clinic offerings.
"We are always working to expand our specialty clinics to better serve our patients. We're grateful for the excellent collaborations we have with area specialty providers and the new clinics we are now able to offer," Surdez said.
Biographical information for all CHCS providers as well as specialty clinic providers is available on the CHCS website. A monthly calendar for specialty clinics is also available online.
Patients who would like to schedule a specialty clinic appointment should seek a referral from their primary care physician.