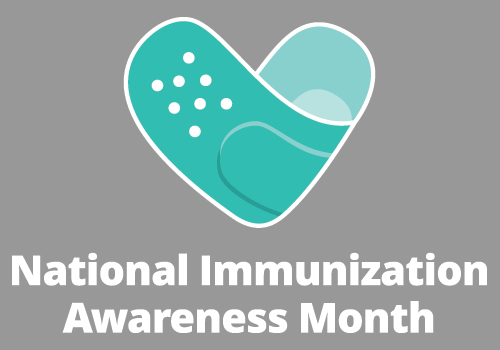 August is National Immunization Awareness Month, so it's a perfect time to make sure your family's immunizations are up-to-date. Many diseases are preventable through vaccines and they help provide immunity to potentially life-threatening diseases.
Immunizations are important as they reduce the spread of preventable diseases that can result in illness and death. According to Michele Reisinger, widespread immunizations have saved many lives and injuries and have even eliminated some diseases such as polio. Reisinger is a board-certified family nurse practitioner at Community HealthCare System, or CHCS, as well as a member of the graduate-level nursing faculty at Washburn University School of Nursing.
Reisinger said parents should inquire with their healthcare providers about vaccine safety, and should also note healthcare facilities have safeguards in place, for the safety of vaccines themselves.
"The benefits of vaccines far out-weight the risks. While vaccines do have side effects, usually soreness and redness at the injection site, some can be serious. If a severe allergic reaction occurs after vaccination, our staff are trained to deal with them," said, Kendra Reith, family physician at CHCS.
"I welcome patients and parents to ask questions regarding vaccine safety, but all should know vaccines are necessary to help prevent many diseases, including chickenpox, measles, mumps, rubella and hepatitis A and B to name a few."
Immunization record-keeping is much easier than it once was. Kansas participates in a statewide immunization information system which helps providers identify vaccine needs quickly. "Patients can request a copy of their vaccines records at all CHCS clinics and public health departments," Reisinger said.
CHCS patients can also access their own and their family members' immunizations in the Patient Portal. Access to the Patient Portal is available through the Apple Health app. Patients who are interested should contact their clinic's registration staff to learn how to register.
Immunizations aren't just for children: Adults need them, too. Adults should receive a tetanus and diphtheria booster every 10 years, and may also need a Tdap vaccine to protect against pertussis, or whopping cough. And it's important for all individuals over the age of 6 months to receive a seasonal influenza vaccine. Reisinger said the flu vaccine is always an important tool in preventing serious illness or complications, and added that hundreds of millions have safely received the flu shot for more than 50 years. "The annual flu vaccine is essential to improving the health and safety of all the patients we serve in our rural communities," Reisinger said.
Find a full list of vaccine recommendations on the Centers for Disease Control Website at: