The sound of a siren, a bubbling brook and cascading laughter all serve to protect or enrich our daily lives. Hearing well is essential for development of speech, language, learning and optimal daily living. The caring team at CHCS identifies, diagnoses and treats hearing and balance disorders in the comfortable, convenient setting of our Family Practice Medical Clinics.
Our diagnostic services include:
Auditory brainstem response (ABR) and auditory steady state response (ASSR) evaluations, which are measures of the brainstem's response to clicking sounds.
Comprehensive, developmentally appropriate behavioral hearing evaluations.
Middle ear function assessments.
Monitoring how ear diseases and certain medical treatments affect hearing.
Newborn hearing screenings.
Otoacoustic emissions (OAE) testing. An audible sound stimulates the cochlea and produces an inaudible sound back that goes into the middle ear.
---
Our services for those diagnosed with hearing loss include:
Assistive listening device (ALD) consultations, fittings, dispensing and repairs. ALDs help with day-to-day communications.
Counseling and aural habitation/rehabilitation.
Counseling regarding communication and educational options.
Hearing aide consultations, fittings, dispensing and repairs.
Periodic hearing evaluations to monitor hearing sensitivity.
Our team works closely with other CHCS hospital services, including speech-language pathologists, and partners with Dr. Michael Franklin, Dr. Douglas Barns and Dr. Tyler Grindal at Topeka ENT (ear, nose and throat).
To make an appointment with a certified audiologist, please view the calendar of upcoming clinics or contact us. Call 785-889-5039.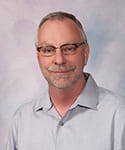 Gary McKnight, AuD
Medical Staff
Location: Holton
Position: Specialty Clinic Provider
Medical Services: Audiology, Specialty Clinics
See My Bio
Close
Gary McKnight, AuD
Dr. Gary McKnight graduated from the University of Kansas Medical Center and completed doctoral studies in audiology at the University of Florida. He has taught at the University of Kansas Medical Center. Known throughout the region as "The Dizzy Doctor," Gary has specialized in dizziness and balance disorders for nearly two decades.